Remember my April Fool's joke?
It was more of a "I hope I'm joking" kinda thing.
I know now that I'm not preg, but I was totally wondering-thinking in the back of my mind that I might be. Not gonna lie- it scared the bejeezus out of me.
For our first pediatrician appointment, two days after Livi was born, we walked past a couple who were walking out of the office with a newborn and a toddler. The toddler was probably a little over a year old. We said hi to them as we walked past, and I think they could see the zombie in our eyes, because the man said, "The funny thing is that we thought it was hard with just one."
I can't even imagine.
Many times over the past 13 weeks, I've thought to myself "what if we had twins?" or "how would I do this if we had a small child, too?" It just seems impossible but it's probably like anything else that's challenging: when you're there, you make it work. I tip my hat to all of women with babies- single moms are rockstars, and so are the women who take care of their children with a husband who is deployed or traveling for work. You all amaze me.
Of course, if we were pregnant, I'd get excited for the idea and count it as a blessing, but ideally we'd like to wait a few years. I was talking to a guest at work last weekend who has 4 girls: one 24, 22, 16 and 14. She asked me if we had kids and I told her about Livi- how old she is, that I'm having so much fun with her and she's been growing so quickly. She asked when we were going to have another one, and when my eyeballs spun to the back of my head, she said, "You have to have a second kid, so she'll have a friend. Wait as long as you need to, but it's something you have to do."
When she told me this, I was still thinking that there was a chance I could be pregnant. My hips were hurting –my first pregnancy symptom- sore boobs, and debilitating fatigue. I realized that it was just soreness from being back at work, and I'm probably going to have to get used to the tired thing until I can drink caffeine again. I'd been off coffee for quite some time, but after I'm finished breastfeeding, I'm bringing it back.
For now, we'll be focusing on one thing at a time over here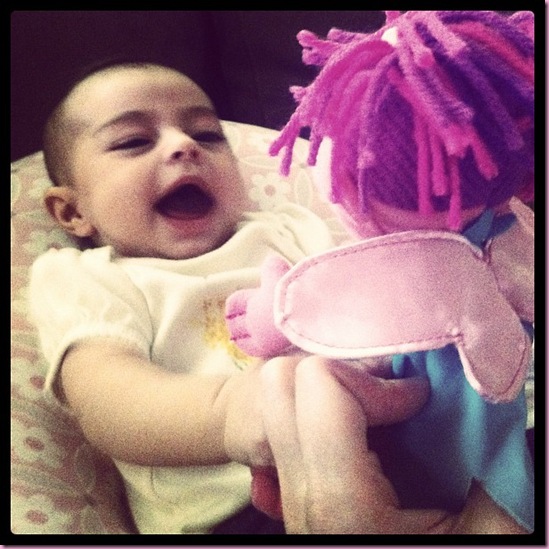 (one funny, lovely, amazing little thing)
and maybe we'll be a little more careful about other things.