Oh spin bike, we meet again.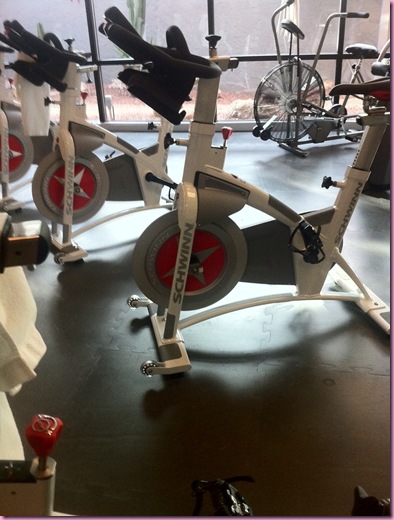 Thanks for the booty-kicking. I appreciate that.
We got new spin bikes at work, and WHOA, they are amazing. I love the fact that the screen shows wattage (power), cadence, heart rate, distance and time.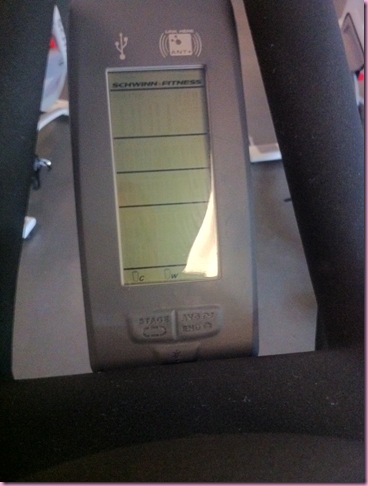 (The bottom left button enables you to create a "stage" that will track your time and distance for a specific round and the right bottom shows your average)
During class we did speed surges, climbs, and focused on beating our previous average watts and distances. It was a great way to push myself –the watt feature made me realize I could work a lot harder- and the number games were a nice distraction.
After class, I enjoyed a smoothie and one of the Trader Joe's macarons I'm currently obsessed with: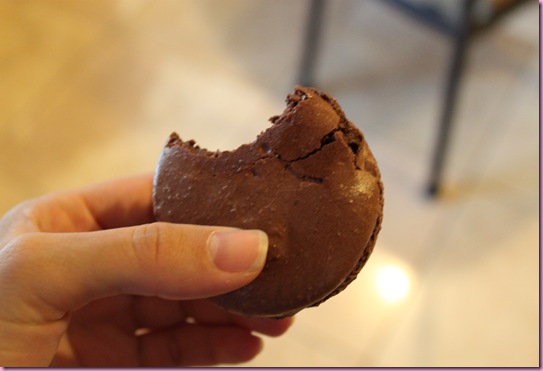 and then proceeded to eat my cookie as I read an email from a work friend about the dangers of sugar.
She said it was a little public service announcement since we all love our sugar and even when you eat well, it's easy for sugar to make its way in there, too. (And this is random, but so am I, so I'm going to tell you this: whenever I'm baking with sugar, the Pilot and I yell out "Don't forget the SUGAHHHHH!" with British accents. It makes no sense at all)
Here's the informative video she linked in the email:
If you're at work, or don't feel like watching a video, here's a little synopsis:
Dr. Robert Lustig, a fairly controversial authority in the field of neuroendocrinology –his most popular video is here– is interviewed. Lustig is a Professor of Clinical Pediatrics, in the Division of Endocrinology Director of the Weight Assessment for Teen and Child Health (WATCH) Program at UCSF and been studying the effects of sugar since the 1990s.

According to Lustig, sugar consumption has gone down, but high fructose corn syrup has made up the difference. They're pretty much the same thing. Our bodies are naturally inclined to seek out fructose –which is the sweetener in fruit- but when you consume it as fruit, the fiber helps slow absorption and consumption. The fructose that is added to processed food is refined, and devoid of this fiber. Sugar is cheap to produce and is hidden in many processed foods, so we end up consuming a lot more than we bargain for.

(this image has been floating around Facebook- not sure of the source. No copyright infringement intended)

Recent studies are starting to back up Lustig's claims that sugar can account for about 75% of the following health complications:

obesity

type 2 diabetes

hypertension and

heart disease.

We've always been told that "a calorie is a calorie" but recent findings indicate that may not be the case. Calories from sugar affect the body differently than calories from other foods.

When we consume sugar, it spikes our insulin levels and can provide the fuel for certain types of cancer. Certain tumors contain insulin receptors, and by consuming sugar and promoting glucose to process, it can encourage the tumors to grow. By limiting the amount of sugar we consume, according to Dr. Lewis Cantley (Harvard Cancer Center), we are decreasing our chance of developing cancer.

In the video, monitored study participants consumed a diet low in added sugar, and following this plan, they were given sweetened drinks with each of their meals. Within two weeks, their levels of LDL ("bad" cholesterol) increased, which is associated with heart attacks.

Sugar is addictive and is triggers a reaction in our brains comparable to drugs or alcohol. The only major difference is that it's legal, cheap and readily available. The more you eat, the less you feel the reward response in your brain and eventually begin to crave more.

New recommendations for added sugar: less than 150 calories from sugar per day for men and less than 100 calories for women
After watching the video, it only slightly changed my view of sugar –I didn't know of it's cancer promoting potential- and just encouraged me to keep doing what I have been since I changed my eating habits: be mindful of how much I'm consuming.
As always, it's a good idea to avoid processed food and like anything else, exercise moderation. Anything in excess is a bad idea, and as long as you aim for whole foods and are mindful of your portions, it's all good. Another important tidbit is to avoid "fat free" foods because when the fat is removed, it's replaced with sugar. We need healthy fats, but don't need the extra sugar.
Just a little food for thought!
Off to a TRX training 🙂
See ya later,
Gina
Something to talk about:
What do you do when you're hankering for something sweet?
If my sweet tooth makes an appearance, I'll enjoy some fruit, a bit of dark chocolate, or a small serving of a dessert. I'll also try to decide if I actually want something sweet, or if I'm just hungry or thirsty in general.
What's your sweetener of choice?
Stevia over here 🙂