-Maternity shirts are worth it. Not that mine were a splurge or anything like that ($14.99 from that fancy French store, pronounced "Tar Jay"), but it's amazing how good it is to wear clothes that fit, instead of wearing a longer tank top underneath or constantly pulling down my shirt.
When I first wore the black long-sleeved shirt that I posted the other day, Tom said "Hey, I love that shirt. You should get some more like that." I listened to the man and bought 3 more colors, a white maternity tank top to wear with blazers and cardigans, and a white belly band (I use my black one all the time).
I also have to thank maternity by lululemon, for preventing me from buying an entire new work wardrobe.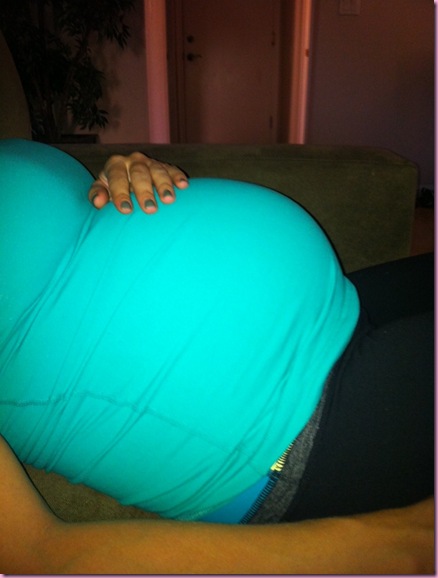 So stretchy, so nice.
On the same note, stripes have been retired until post birth. I wore a grey and white striped shirt last week.. and looked like a sad bumblebee.
-You guys were right about the iron. My low iron levels could have definitely been the culprit of the mind-blowing fatigue. I've been taking Floradix for the past 4 days, and already feel a HUGE difference. I still feel tired, but actually feel human and like I can function now, so I'll call that a win. Bonus: the Floradix tastes lovely <—- floral, fruity and slightly sweet.
-No luck on the Halloween costume front. Last night, I said "I should be Juno! And you could be that Michael Cera guy in the short track shorts." Tom said "That would have been slightly funny about 3 years ago, but now: probably not so much." Womp.
-I have a weird craving for a corn dog. Maybe at Whole Foods they have a gluten-free organic chicken variety?