I wrote this post when I was feeling particularly overwhelmed. I think it's still worth publishing, because I have a feeling some of my reader friends out there can probably relate.
"Am I doing enough?"
"Am I doing too much?"
"Hot damn, I'm tired."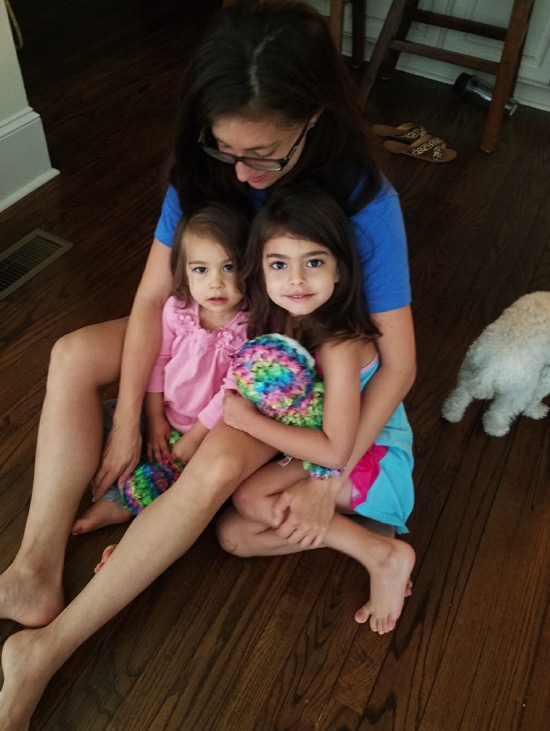 (The side of P's face is bruised from catapulting out of the crib, and Bella is behind me eating a slice of pizza that was thrown from the high chair)
Lately, I've felt burdened with the usual mom guilt, which tends to dissipate and return at confusing times. Right now, I feel the happiest I have, probably in years, and the most chill I have since we first found out we'd be leaving San Diego. To the most pleasant surprise, we are loving Valdosta, we love our house here, and the people we've met and have hung out with have been amazing and wonderful. I LOVE the studio and gym where I'm teaching and training, and feel so thankful that so many pieces have fallen into place.
At the same time, it's that creeping balance struggle that I know so many fellow mamas and women strive to attain.
For me, "balance" has never really been my game. I focus on prioritization, and what needs to be done at that certain time. While I could always do better, I found a groove that works for me. In San Diego, I felt like everything was finally on a steady routine, and had finally started to feel that way in Tucson. Nothing like shaking things up like moving across the country.
With the recent move, I feel like I had the rug pulled out from underneath me. With our past moves, we were able to get things done fairly quickly, and even though Liv was two when we moved to San Diego, quite a bit of my family was able to help us unpack and stay with us for a while afterwards. For this one, madre's trip was cut short because our flights were screwed up, and the Pilot jumped back into his insane work schedule right away. I've been riding the struggle bus trying to get our house together, take care of the girls, teach/train, and maintain this little space.
I feel guilty, because I feel like I could always be doing more. When I take 10 minutes to read a book at night, I can feel the pile of clean laundry that needs to be put away, sitting there and judging me.
Maybe it's the boxes staring at me no matter where I look. The feeling of almost-finished, but not quite there. (The good news is that I think a lot of this stress will melt away as we wind up the major unpacking.)
There's the guilt I feel when I unpack another box or clean instead of playing with the girls because I know it has to be done. Also, I KNOW we have those 2T-3T clothes somewhere. (I couldn't find Liv's last batch of hand-me-downs for P in the moving insanity, and she outgrew an enormous bag of clothes before I could unearth it from the boxes).
It's sitting down to write and feeling like I have nothing to say, because my brain is so.fried. All day long it's, "Don't eat that! Please get down from there. Use your manners, please. Have gentle hands with the dogs. WALK, PLEASE! What do you want to eat?" with a break of "10 more reps! You've got this! Ok, squat it out. 30 seconds left" and then when I finally get a moment of silence to sit down, write, and work, my brain is still vibrating and trying to figure out WTF happened during the day.
It's being flooded with ideas and content and goals for this space when I'm driving from swim class to cook dinner, and knowing I won't have the time or ability to do anything about it until 10pm that night. By that time, I usually forget what I was going to do. (I need to bring my planner around with me.)
It's lacking manpower, resources, and time. I know Beyonce has the same 24 hours in a day, but damn. The lack of time also forces me to be productive. When I have more time, I feel like I just waste more time.
I'm blessed to have a husband who's an amazing partner: we work together to get things done, and he does SO MUCH around here. I know that I'm very lucky to have him, and can't imagine how so many mamas parent and adult (plus work full-time jobs in or out of the house) on their own. I bow down to you.
So why am I writing this? I guess just to share that we're not alone. No matter what emotions you feel, or stresses you hold: there's someone out there who feels the exact same way. The same weight, the same pressure, the same rush against the clock while simultaneously begging time to stand still. The girls are getting so big so fast, and part of me wants to quit everything else just to smell their baby hair and play dolls all day. Even so, I know that the work I do gives me an extra purpose and sanity break, I enjoy it so much, and it helps our family financially.
I've been focusing on changing my inner mantra, which sounds so dang cheesy, but it actually works. Instead of talking negatively to myself, I think of what I would say to a friend. I would never tell a good friend, "You suck, you could be doing so much more, you can't keep up with everything." It would undoubtedly be something like, "Yeah, raising littles is no joke. For what it's worth, I think you're amazing. You're doing so much, and your kids are lucky to have you."
I guess I'm also just sharing this to say that it's not easy. I read so many blogs and Instagram posts, and they just make it look so easy: parenting, working, traveling, life-ing. And for a lot of them, maybe it is, and that's cool.
For me: it's not easy.
Everything I do, I have to work my ass off to make it happen. I struggle. I swear. I cry sometimes. But I'm still doing my thing. 😉
I just like to be honest with you guys and share the happiness and the stuggles.
For every workout Instagram post, there was probably a stubbed toe and an "F" bomb.
For every happy family picture, there were probably some tears 5 minutes beforehand and a "please don't take that from your sister."
For every blog post, there's a girl sitting here in baggy pajamas holding a glass of wine.
But for now, I'm just going to keep riding the wave: failing often, succeeding sometimes, and enjoying it as much as I can.