Hi friends! Hope your day is going well. Thank you so much to all of you who have checked in with us, sent heartfelt wishes, and congratulations over the past couple of weeks. I'm so thankful to you all, and thank you for hanging in there as we got settled back from the hospital and the blog decided to crash multiple times. 😉 Things should be back in the swing of things now, as we switched to a brand spanking new host and server. Some kinks are being worked out now, but I'm glad the blog will no longer need life support. 😉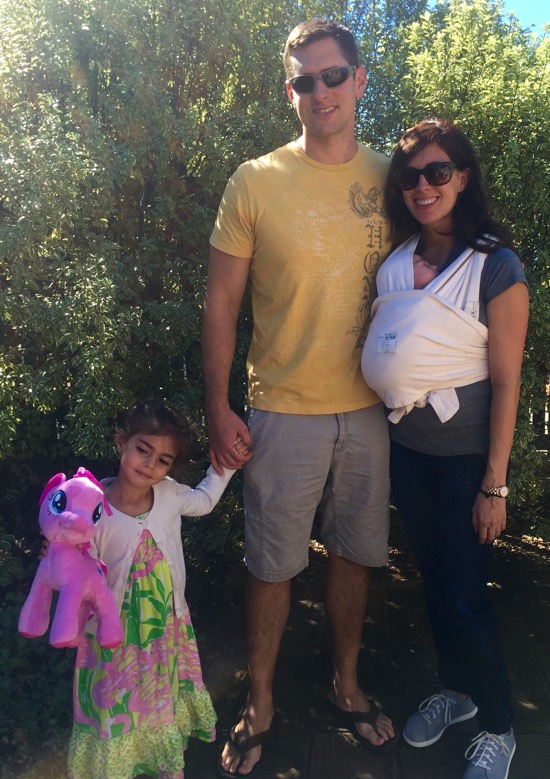 We're finally getting settled and into a bit of a groove over here. Quite a few of you have kindly asked how we're doing and how the transition has been, so here's a bit of an update:
On having a newborn again….
I feel like the sleep deprivation isn't *quite* as bad this time around for a few reasons: we knew what to expect (and that it's temporary in the grand scheme of things), we were kind of already used to being woken up a few times each night (Liv coming into bed, and yours truly waking up to go to the restroom multiple times), and since Tom isn't currently flying (he's an instructor out here), I don't have to worry about waking him up in the situation that he has to fly the next day. Crew rest is critical for safety, and each time Liv would cry, I was worried that she'd wake him up, so I'd grab her at the tiniest sound… and probably was waking HER up. This time around, Tom and I have been helping each other during the night, and it's been amazing.
Newborn snuggles and soft baby snores really are the best things ever. I take every chance I can get for P to sleep on my chest. She is such a sweet baby, and we're all absolutely in love with her.
Everyone said that it's easier the second time around, and having an idea of what to expect has been a game changer. With the first baby, you can read your face off, but you don't know what to expect until you're IN it. It's nice going into the situation with an idea of how things go down. It takes some work to take care of a preschooler + a newborn, but you realize how quickly this stage really passes and it's easier to enjoy it.
On how everyone is adjusting…
The first couple of weeks were challenging, especially for myself and Liv. Since I was in the hospital longer than anticipated, we had to rely on friends and our babysitter to help out with her so Tom could stay overnight in the hospital. I missed Liv so much and wanted our family to be together, which was hard for me, and the instability was tough for her, even though she was a trooper with everything going on. Liv is very spirited, so having my mom here has been a huge blessing. She has been Liv's *person* during the countless feeding and pumping hours, and has helped us so much over the past week.
As far as baby blues and postpartum stuff goes, I feel remarkably different this time, so far. While I was in the hospital, I started to feel a bit of a sad cloud since Tom was gone most of the day and Liv wasn't there. P and I spent a lot of time snuggling together, which was wonderful, but I longed for some conversation and interaction with others. I was stuck in bed for hours, the hospital felt dark and lonely, and the nurses had to wake up P and myself multiple times a night for testing, so I think I got the least amount of sleep while we were there. Now that we're back home, I feel so much better. Having mom here is a huge part of that -it's easy to feel guilty that you can't give both kids equal attention in the early days- and Tom's help with the family and house-related stuff. I don't feel as stressed and anxious as I did last time, and I've been easier on myself as far as resting and down time goes. If P is sleeping and my mom is playing with Liv, I've gone into our room to crash for an hour. This is something I never would have done last time; I'd be too busy writing, cleaning, or finding chores to do. There are a few things that really help me each day: getting out of the house (even if it's just a walk around the block, or quick stop into Target to grab more diapers), taking a shower, and making sure to hydrate and fuel myself with healthy food, even though I've felt like a sugar monster. I've also been taking the placenta pills that my acupuncturist made, and haven't experienced the crazy night sweats and mood swings I experienced last time. I'm not sure if the pills have positively impacted my mood/wellbeing, but even if it's a placebo affect, I'll take it.
On breastfeeding, round 2…
Breastfeeding has been just as challenging the second time around. It was a struggle for me to make enough milk for Liv, an average-sized baby, and since P weighs more, she obviously needs a higher caloric intake. I've been trying to play catch-up since she was born, and my milk conveniently took 4 days to come in. I've met with a few lactation consultants, who have all been wonderful (I highly, highly recommend Robin at San Diego Breastfeeding Center), and for now, am feeding P from the left side and topping her off with formula. (My right side is compromised from a surgery I had to remove a benign tumor. It was hardly producing anything, so the lactation consultant told me to just focus on my left side.) On day 2 in the hospital, the lactation consultant brought in formula to supplement since P was losing weight and had jaundice, and I cried as I gave her the first tube. (I used SNS tubes attached to my breasts for the first week and a half, which is a pretty brilliant way to supplement while still encouraging supply.) I promised myself that I wouldn't give myself a hard time about needing to supplement this time if it came to that, so even though I mourned the end of exclusively breastfeeding, I'm doing exactly what our baby needs: providing her with nutrition to grow and thrive.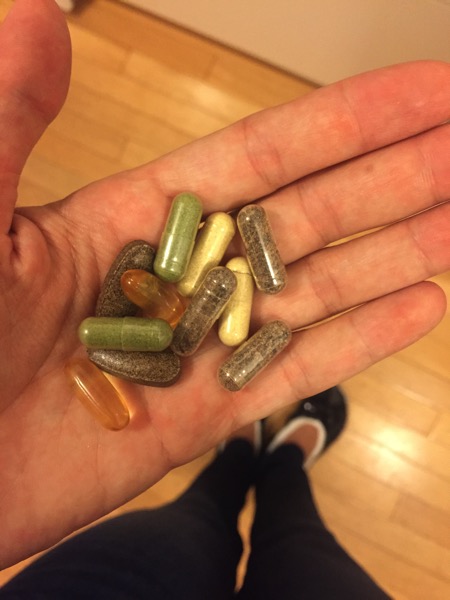 (the pills I'm currently taking for supply, including placenta pills, Golacta, and Fenugreek, in addition to prenatal vitamins and DHA)
Using the tubes worked well for the first week and a half, and then she stopped taking them (the pumped milk or formula would dribble out of her mouth), so we switched to bottles for the top-off. For now, she happily goes from breastfeeding to bottle like a boss, and while it might not always be that way, for now, I'm grateful to be able to give her breastmilk in addition to the formula. I've rented a hospital-grade pump (the Medela Symphony is bomb), and am pumping a few times each day after feeding her to boost the supply on my left. Once we got rid of the tubes, I found myself enjoying breastfeeding after such a rough start. I'm no longer worried about her getting enough milk and not trying to get her to latch onto the right side, when it was hardly making anything. So, I'm taking it day by day, which is really all I can do anyway.
On being a family of 4…
Tom told me while I was pregnant that he was really excited to have "the crew" in the backseat as we drive around. It's pretty exciting that this moment is finally here. We're in the trenches right now -ok, until they're both teenagers haha- but I can't wait Liv and P's relationship grow, and learn more about them as time goes on. I feel very lucky to be their mama. <3
xoxo