Pilot's first BODYPUMP + weekend adventures
Hi friends! Happy Monday! How was the weekend? Hope you had a great one!
This weekend was a bit of a teaching extravaganza. Saturday, we had a huge event at our gym (with all of the Les Mills new release launches), so I participated in some classes and taught some tracks from the newest BODYPUMP, Sunday was 3 barre classes (I coached a lot more than usual) and today, back to BODYPUMP and spin. Needless to say, I'm a little too excited for an off day and maybe a massage tomorrow. 😉
Something else exciting: the Pilot took our BODYPUMP class!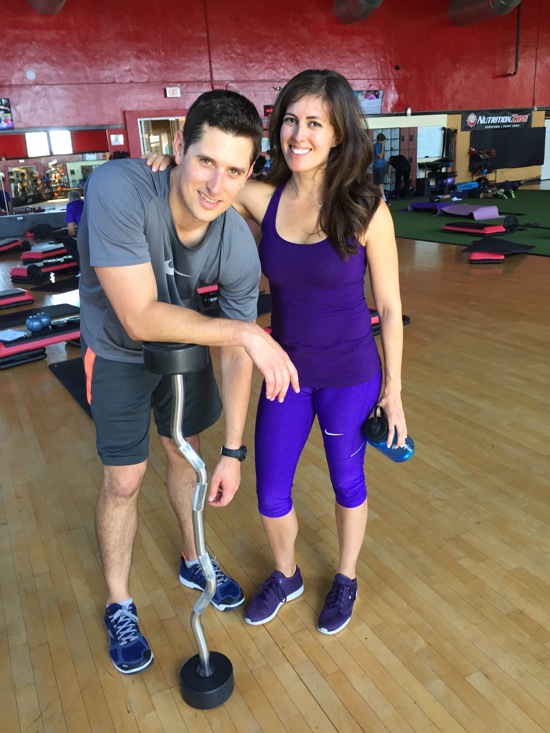 (All purple because the event proceeds were to support the American Cancer Society)
I wanted him to experience the glory of it… and had to take a photo to commemorate the occasion, since I'm not quite sure he'll be back haha.
He does traditional strength training -and is on a pretty intense muscle group split right now- but I convinced him to try a class in between his off days. If you're more into hypertrophy or max strength training (3 sets of 10-12 reps or 3 sets of heavy 5-8 reps, etc), BODYPUMP is an awesome way to shake up your routine and challenge the muscles in a different way. It focuses on muscular endurance, so you do a LOT of reps to fully fatigue each muscle group. It's an awesome workout, and I love the newest release. The lunge track kills, though.
Some more adventures from the weekend: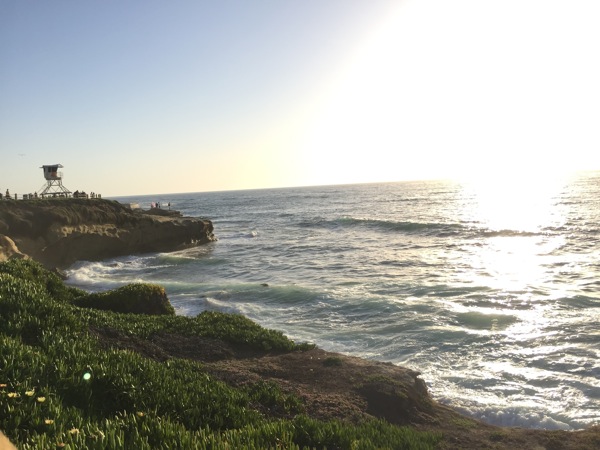 Friday night we were in La Jolla for Liv's 3-year photos! Our photographer friend, Jacquelynn Buck (who did a guest post for me with some tips) visits often, so we were excited that she was in town and offered to take some pics. She does amazing work, and Liv was SO happy while she had her photos taken. (Ok, and I had jelly beans in my purse for her.) We can't wait to see them!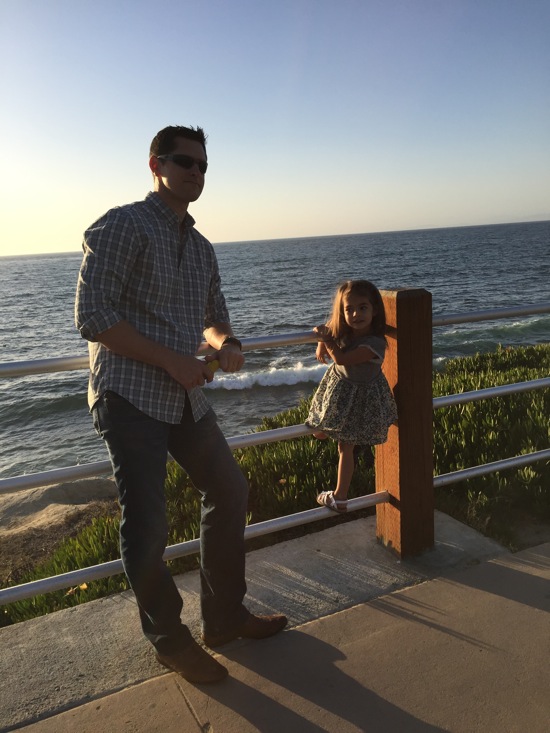 We explored a bit, and ended up at Stella's for Italian dinner. It was SO good, and we capped it off with some gelato next door at Bobboi since we were in the neighborhood and everything.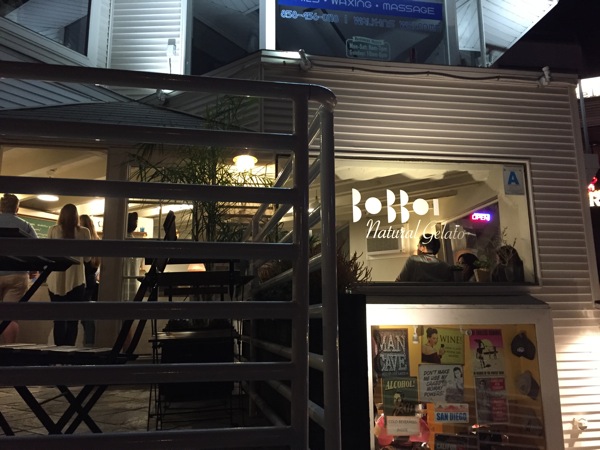 They have a huge selection of dairy-free flavors, and the dark chocolate was decadent and delicious- sweetened with maple syrup!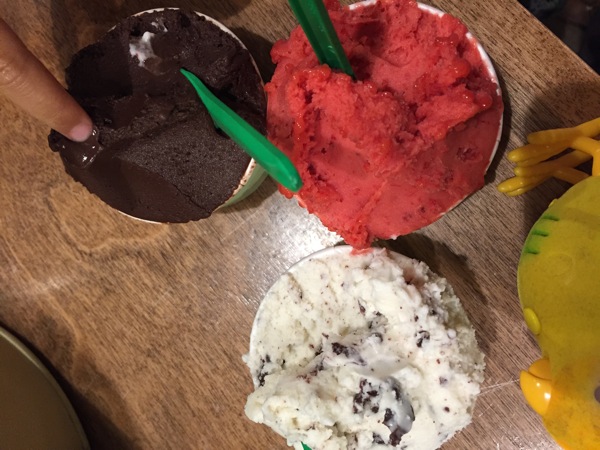 (+ tiny taste-testing finger photo bomb)
After the event on Saturday + yoga teacher training + a limited end-of-the-week fridge supply, cooking dinner wasn't happening. The Pilot had met up with some friends, so Liv and I had a girls' date at the mall, where the Pilot later joined us for dinner at True Food.
We shared the beautiful crudites platter with dips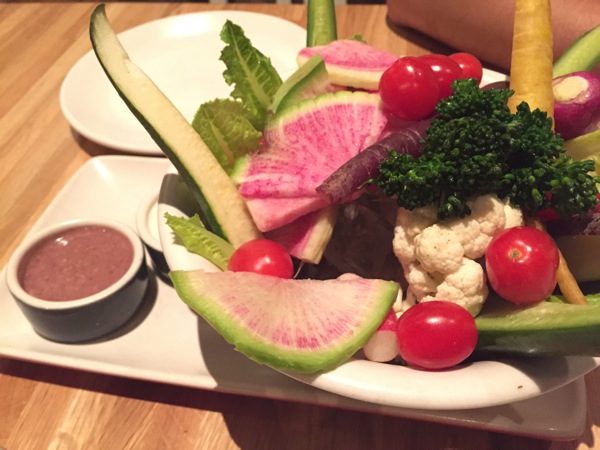 (the kalamata olive dip is my fave! Anyone have a recipe??)
and I ordered the inside-out quinoa burger. The burger patties were the "bread" and it was stuffed with hummus, lettuce, tomato, cucumber and feta. Totally recreating this at home! A little tip I learned from a server, since the kale salad and sweet potato hash are my faves: you can get a 1/2 side order of each with any sandwich or entree. It was perfection.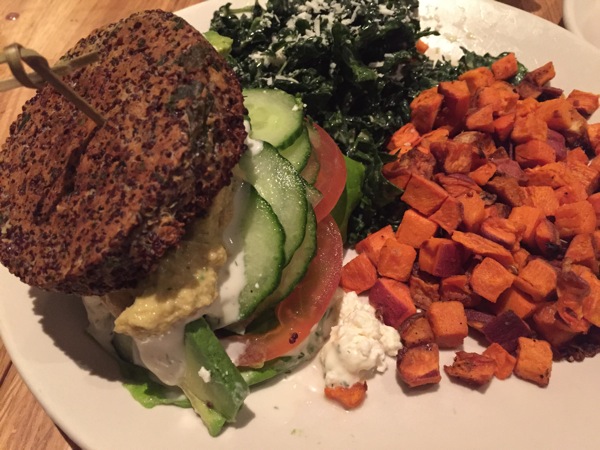 Sunday was barre-stravaganza, chilling with the fam, and prepping for the week ahead.
Hope you had a great weekend, too! <3
Has your partner or even a BFF taken a class with you that you love? Fellow instructor friends: has your spouse taken one of your classes? How'd it go? Did they come back? 😉
See ya later today on the Family page!
xoxo
Gina
Check in with today's workout here!
Sending best wishes to all of my friends running the Boston Marathon today! <3
HUGE congrats to the winner of the Bitsy's Brainfood + Target gift card giveaway:
Meg G.!
Check your email to claim your goodies! Stay tuned for more fun giveaways coming up.