Pinterest: inspiration or intimidation?
The other night, when I finished that one crazy intense workout, I knew I had something glorious waiting for me: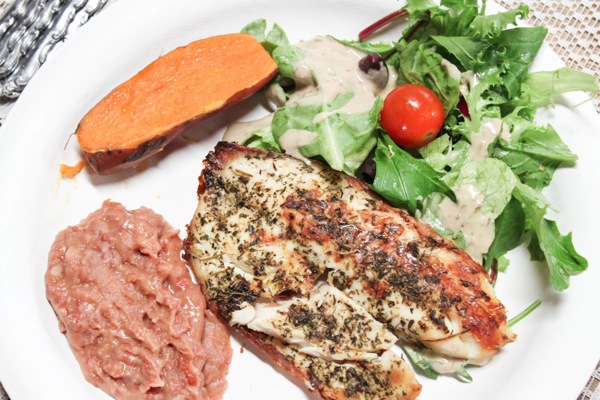 Dinner at the madre's.
It usually takes a little while for the hunger to kick in after a hard workout, but the second I walked in the door, I was ready. The entire family was over to celebrate my stepdad's birthday -the Pilot brought Oliv so they were at mom's by the time I got there- and as usual, mom cooked up a huge feast. Steak, tilapia, sweet potato wedges, salad, beans, fresh salsa and tortillas. I pinched up my tilapia with corn tortillas and salsa to make fish tacos, and it was perfection.
And then there was this: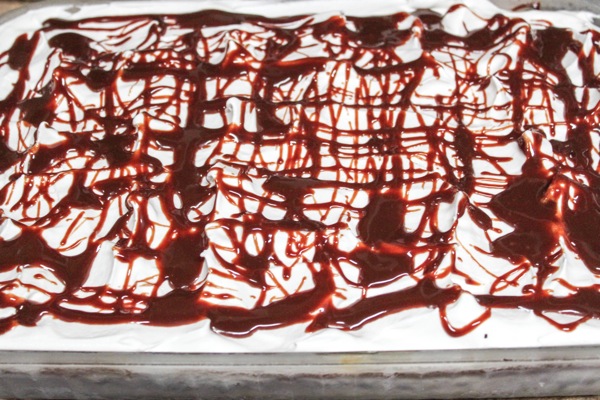 An ice cream cake made with an Oreo crust, and layered with fudge, caramel, ice cream, whipped topping and all things that are good in life.
I was just going to eat it- sometimes dairy and gluten are worth a bit of a stomachache for me, and this was one of those times- but then madre brought out these from the freezer for me and Kyle (he's lactose intolerant):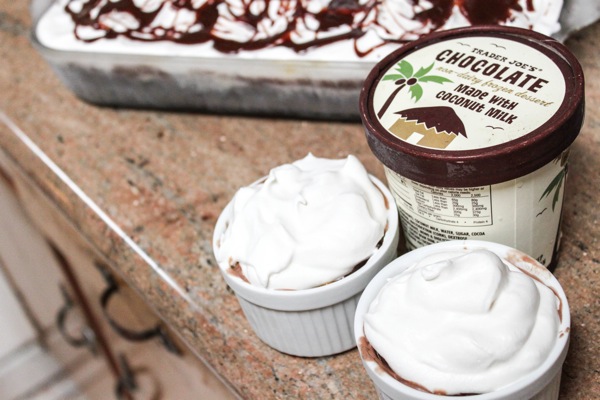 Chocolate coconut milk ice cream, layered with fudge, caramel and dairy-free whipped topping. I die.
That's true love, right there.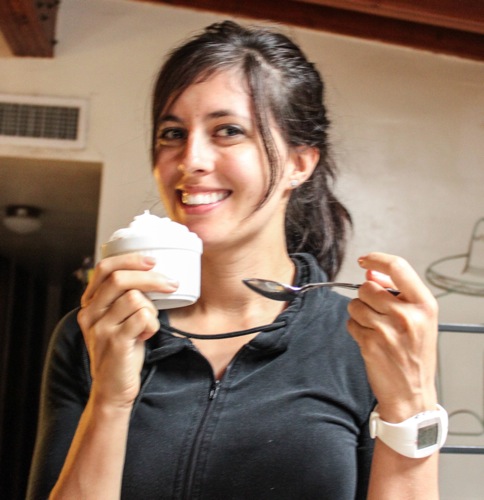 Mom makes awesome desserts, and her earthquake cake ended up being a huge hit on Pinterest -she thought it was so cool when I told her people were pinning her cake like crazy. Dessert the other night reminded me of the earthquake cake, and also got me thinking about how Pinterest could possibly be a source of motivation or intimidation. 
Before heading upstairs for the night, I like to spend a little bit of down time, usually watching trash TV and pinning things on Pinterest for a few minutes before reading in bed. I have a lot of different boards and love adding to them, but very well know that many of them (ok, 99%) I'll never do. I actually have a board called "Crafts I'll never do" because let's be real: I'm not crafty. And that's ok. But that doesn't stop me from appreciating the people that are crafty, and from pinning their projects for a random surge of inspiration and copious free time that will never happen.
Looking at Pinterest, it's easy to become overwhelmed and even possibly like you're searching for unrealistic perfection.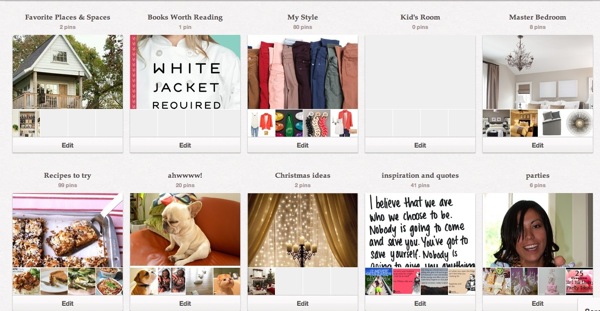 I'll check out the main page and think "ok, first you have to make a Grilled Greek Pizza (I just made that up but it actually sounds really good), host a fabulous dinner party, then make this for your kids' room, and decorate for the holidays, and do this silly workout that someone with no fitness credentials or experience whatsoever made up because here's a picture of a fit girl with nice abs, and organize your house, and pick out fall styles, etc. etc.
I love Pinterest as a fun way to share ideas, but I can definitely see how it could be intimidating instead of motivating. For example: baby's first birthday party. I started looking at ideas for Liv, and even pinned a couple, but let's be real: I'm not going to hand make all of the favors or fill up the venue with expensive and lavish decorations. It's a first birthday party! And if you look at the ideas on Pinterest, it's pretty easy to think, "if I'm supposed to do this for a 1st birthday party, imagine what I'm supposed to do for a 16th birthday party! Yikes." For Liv, all that matters is that the room will be filled with the many people who love her so much, whom we're so fortunate to live close to at this time.
Are you on Pinterest? Have you ever felt overwhelmed by it, or only motivated? Have you made something you've pinned? I'll use the style ideas for outfits pretty often and also love pinnable quotes- sometimes they're exactly what I needed to hear. 
Here's to a happy and healthy Thursday! I'll be filming that arm burner for ya tonight, too 🙂
xoxo
Gina