Tips for DOMS and Friday Faves
It's been quite a while since I've tried anything dramatically new or intense -preparing to get pregnant, being pregnant and recovering is a pretty long stint to keep things lower key- so I'm the most sore I've been in a long time. From all of the pull-ups I did -and they were modified, but it's been quite a while- it hurts to straighten my arms. I have a wicked case of Delayed Onset Muscle Soreness (DOMS).
The plan was to film an arm burner for ya last night, but by the time I got to the gym, I was thinking it would be silly. Barely able to straighten my arms for the extensions, I'd be saying, "Do you FEEEEL THIS?! Are you burning?" and you would say no, as my arms burst into flames and I crumbled to the floor. Sooooo, I owe ya an arm burner. And an ab burner to make up for it 😉 Stay tuned next week.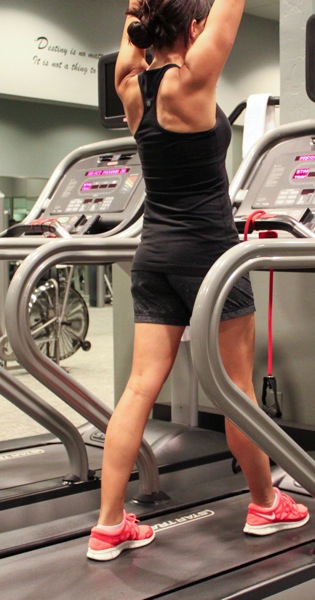 (there's no way I could lift my arms that high right now)
Here are some of my tips for dealing with or avoiding extreme muscle soreness and fatigue:
-Avoid dramatically changing your workout (mode, duration or intensity). This is why I always take it super easy on new training clients. If they haven't been regularly lifting, they'll be sore the next day no matter what we do. I like them to be pleasantly sore, but not to the point where it hurts to brush their teeth, because that will scare them away from coming back. If you want to make drastic changes, easy into it and experiment with small changes along the way. Jumping into anything crazy is a good way find yourself debilitatingly sore, or 1000x worse: injured.
-Follow the R.I.C.E method: rest, ice, compression and elevation. Give yourself a break and try to ice as much as possible. A dip in the cool dip is always a good idea, too (I actually tried to lay on the side of the cold dip at work and dangle my arm in, so I wouldn't have to actually get in, but I couldn't reach. Page the fail bus.)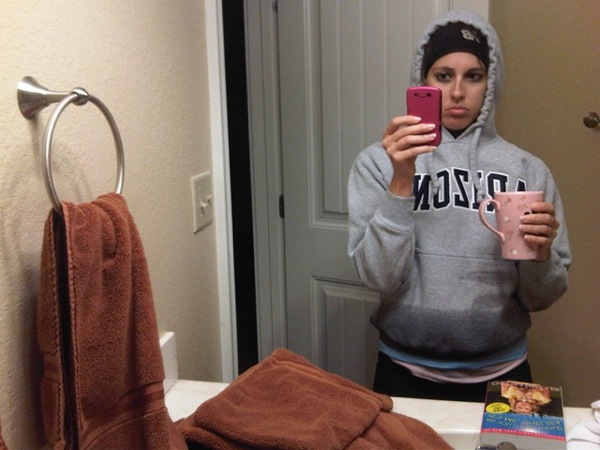 (back in the long run and ice bath days)
-According to various studies, stretching has not been proven to significantly reduce levels muscle soreness. That being said, if you're sore and if feels good to stretch, do it. I had a date with the foam roller, and while it was hard to get through it, I felt so much better afterwards. Remember that extreme soreness usually subsides in 3-5 days (today will be my day!)If you do anything more strenuous than usual, pay attention to stretching and RICEing those particular muscle groups. 
–Meet up with a trainer to ensure that you're using proper form. If you find yourself constantly miserably sore, you might not be performing the exercises correctly. 
Remember, some soreness is a good thing -it means you did something!- but being in extreme pain is totally different. Honor your body, and remember, you shouldn't always feel miserably sore. If you try something new, however, it might be the case since you could be using entirely different muscles.
When was the last time you were reaallllly sore? The last time I felt like this was in college after my first spin class. My roommates had to help me get up my apartment stairs. 
Along with the foam roller, here are some things I'm loving right now:
this lovely body wash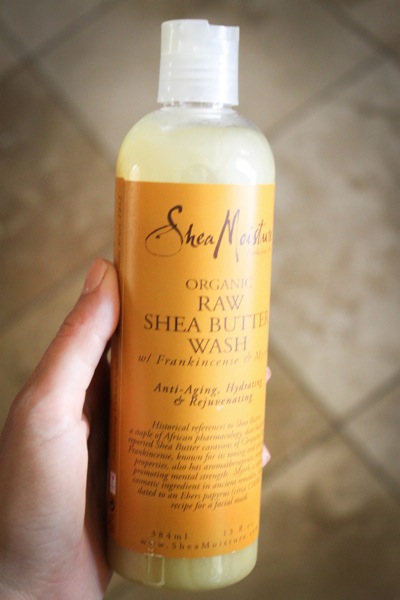 I use the lotion of the same brand and fragrance (both from Target!) and love that they use all-natural ingredients and are not tested on animals. The scent is AMAAAAAZING
Bella's new haircut: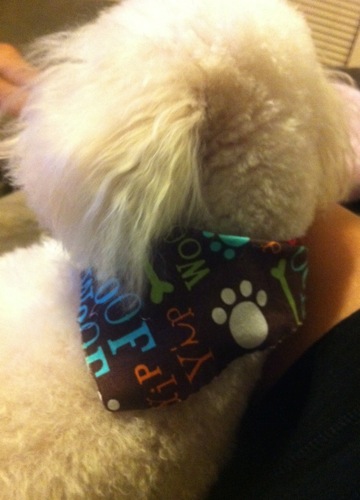 Usually she gets bows, but we took her to a new groomer (who was fantastic) and she put a bandana on her. I love it.
 Champion kindly sent me their new Smoothie sports bra to try out, and first off, I was really excited about the neon color because it matches my sneaks exactly. As far as function goes, it fits great with fantastic (high!) support, straps that you can wear straight or criss-cross for racerback tanks and super smooth fabric (hence the "Smoothie" name). After trying it out, I like it even better than my usual Ta Ta Tamer from lululemon. It's much more reasonably-priced ($38), which is something to be excited about, too.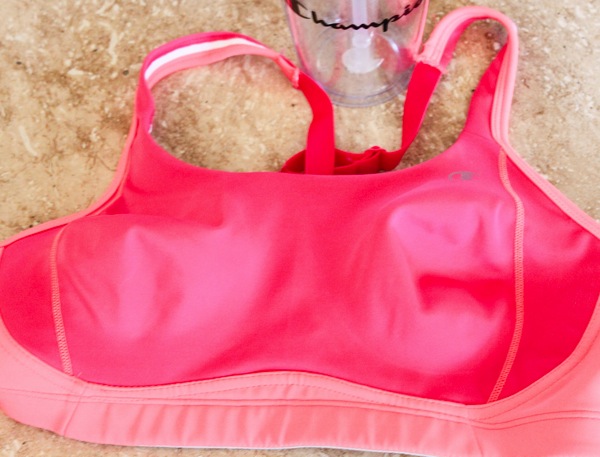 Your amazing pics! Keep sending them in @fitnessista. I love seeing what you're up to, your sweaty workout pics and clean eats.
@healthy_helper busting out a half marathon!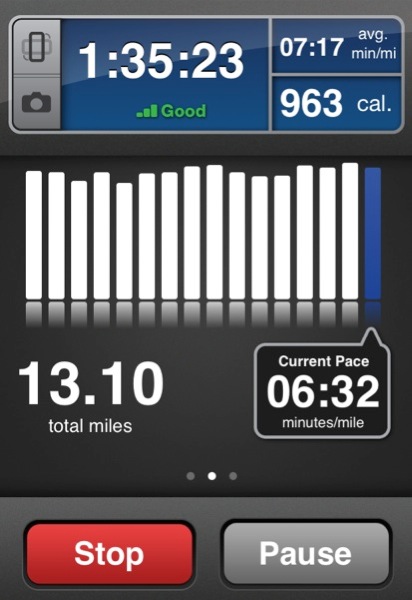 @ariffalala's beautiful perfect protein pancakes: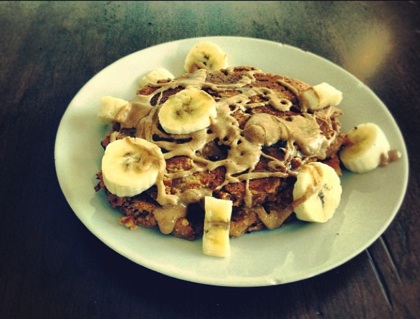 @JTennR made some banana almond muffins: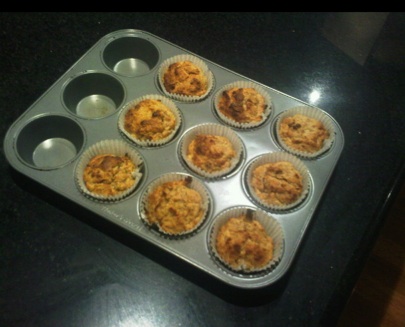 @nattagepatch's amazeballs! Her husband was apparently stealing them as she was making them 🙂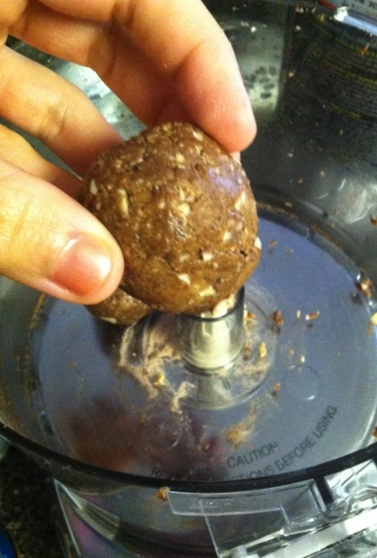 My brother Kyle (@2wavvy) drinking chocolate coconut water. Excuse me while I shed a tear of pride.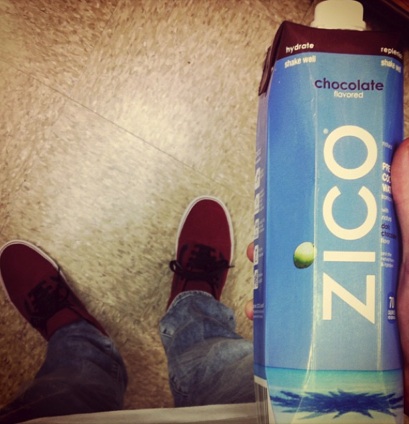 We're off to get Liv's 6 month photos taken…. 2 months late.
Have a happy Friday! See ya later on the Family page.
xoxo
Gina