Quick HIIT workout (bodyweight only!)
Hi friends! How are ya? Happy Thursday! Anyone else getting excited for the long weekend ahead? Are you traveling or doing anything fun?
It's rained all week this week, which has been beautiful to watch, but definitely challenging on the kiddo entertainment front. At least they're still mesmerized by the fact that water comes from the sky, but I can't count on that forever. I think we'll be doing a lot of Pinterest Fail-type craft projects (which will be my fault, not theirs, haha) later today.
Quick HIIT Workout
For this morning, I have an all-new workout for you! This is a quick and intense bodyweight HIIT workout. I LOVE HIIT training for so many reasons (so much that I wrote a book about it), but it's such an efficient way to build fitness/power, increase heart health, and burn a ton of calories and fat in a short amount of time.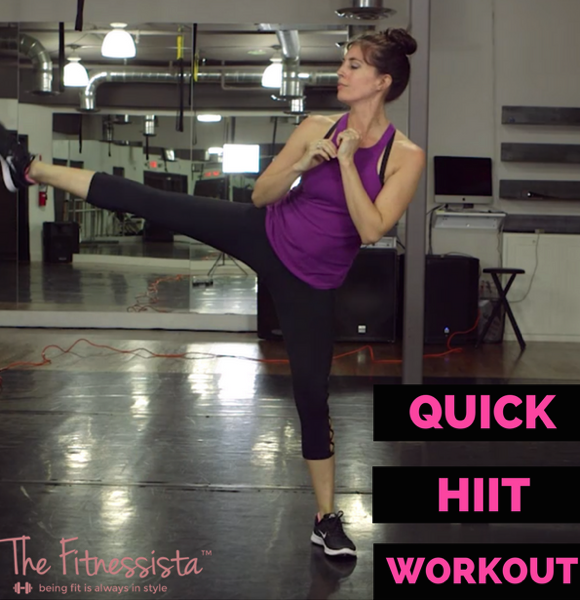 Here's what the workout looks like: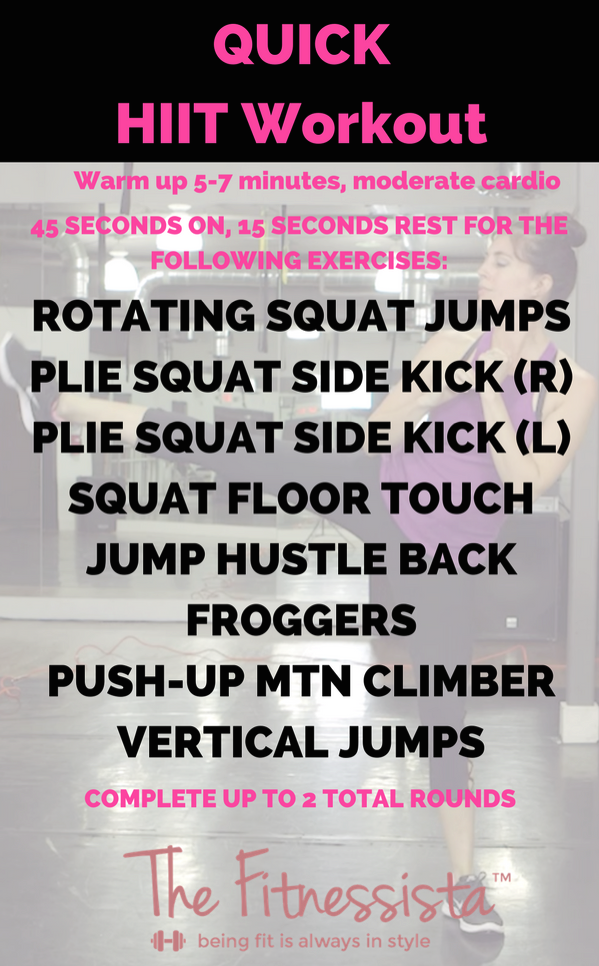 Form cues and tips:
Rotating squat jumps: Start facing one side and sink low into a squat. Jump 180 degrees, and land with a soft knee to squat on the opposite side. To minimize impact, walk 180 degrees to squat on the other side.
Plie squat side kick: For this squat variation, you'll take a SUPER wide stance and turn your toes out. As you sink down, keep your chest lifted and endeavor to get your thighs parallel to the floor. Make sure your knees extend towards your toes but not past your toes. Step one foot in slightly as you kick to other out to the side. Make sure to press out through your heel! Jump back into a wide lie squat.
Squat floor touch: Get into a wide squat position (booty LOW and back), and touch the floor with one hand. Keep your abs engaged and chest lifted. Powering through your heels, spring up and bring your legs together, reaching your arms towards the side. Jump back into your wide squat and touch the floor with the opposite hand.
Jump hustle back: Start with soft knees and jump forward as far as your can, landing in a low squat with your core engaged and chest lifted. Walk back quickly to your starting point. Exhale as you power through your legs, and try to jump farther than you did last time. Hustle back and do it again.
Froggers: Start in plie squat position. Bring your hands down to touch the floor (keep your chest up). Jump back to a plank position, and jump your feet back to the outside of your hands. Keep your hips low, and chest lifted, as you bring your hands off the floor.
Push-up mountain climber: Get in plank position with your wrists under your shoulders. Bring one knee towards the elbow on the same side. Move back to plank and switch to the opposite side. For more of a challenge, move as quickly as possible.
Vertical jumps: Be sure to land with soft knees and exhale to spring up. Feel free to eliminate the jump (calf raise instead) or to add a tuck jump to make things more intense.
And a short video demo:
So tell me friends: how often do you HIIT train?! What's your favorite explosive move for intervals? Any fun rainy day ideas to do with the kiddos?
Hope you have an amazing day.
xoxo
Gina
Wearing:
lululemon top // Fabletics crops // Nikes