Quick slow cooker turkey meatballs + playlist highlights
An easy, healthy crockpot dinner option using ground turkey, seasonings and oatmeal! These turkey meatballs are awesome on their own, with pasta, on a sub, or atop some greens/veggies.
Hi friends! How are you? Hope you're having a wonderful morning. Sorry for disappearing on ya yesterday. I officially have a bit of the funk (I feel ok, but I'm coughing a ton and have a frog voice), so I spent the day taking care of sick Liv while chasing P around the house to keep her from injuring herself (#momlife). P is officially a full-up walker!! She'll look back at us, the start quickly toddling away, shrieking with laughter. It's amazing.
We did get some good downtime, too. Since I took the day off blogging and let my inbox pretty much explode, I laid in bed during P's naptime reading a book while Liv watched a movie next to me on the iPad. She only gets the iPad during travel or road trips, but when she's sick, technology intake goes up so that she'll actually rest. You do what you gotta do.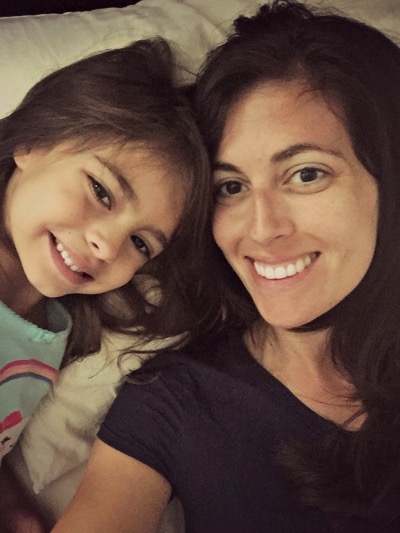 I taught barre Tuesday night with a frog voice, hung out at home with the girls yesterday, and then taught Spin with a frog voice. When I came home, dinner was waiting, and it was surprisingly amazing.
I was realllyyyyy tempted to Postmates some pho for dinner. But, I saw the ground turkey in the fridge and knew it needed to be used before it went bad. I figured I should make something quick at home since we had plenty of ingredients. I threw some seasonings, chopped onion, garlic, said turkey and some oatmeal into a bowl, browned it in ball form on the stovetop, and thew it in the crockpot with some sauce. Boom. Dinner.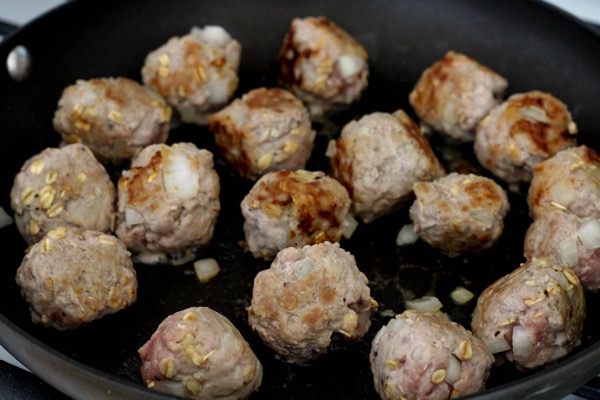 Here's the quick and dirty recipe if you'd like to give it a try!!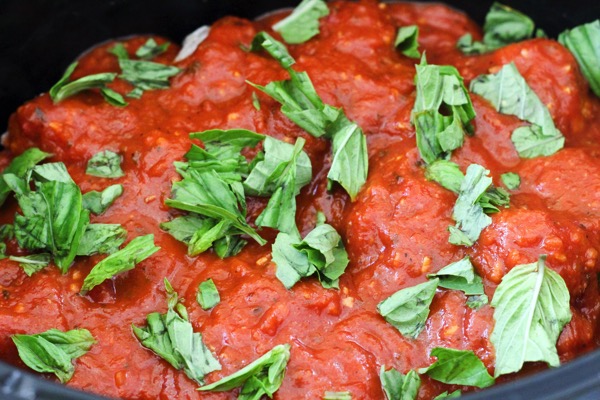 Quick Slow Cooker Turkey Meatballs
Meatballs
1

lb ground turkey

1/2

sweet onion, chopped

2

cloves garlic, minced

1/2 tsp

oregano
Lots of salt and pepper

1/3 cup

oatmeal
Sauce
1

jar of your favorite sauce

1/2

sweet onion, chopped
Handful of basil, torn
Instructions
Mix all ingredients in a bowl, using your hands to mix thoroughly.
Use a melon ball scooper to form meatball shapes with the mix.
Brown on the stovetop on all sides, about 10 minutes.
Add to slow cooker, along with jarred sauce and other half of onion.
Top with handful of basil.
Cook on high 3-4 hours or low 6-8 hours.
Notes
I'm really into the Trader Joe's marinara sauce in a can. It's not overly seasoned and the tomatoes taste excellent. it tastes more authentic than all of the jarred versions I've tried.
w/ Greek salad: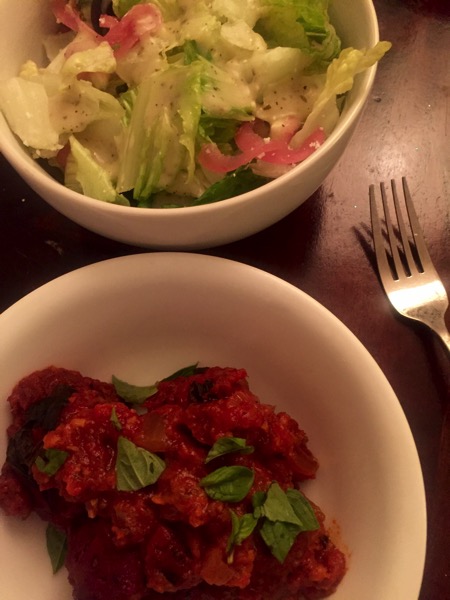 For today, I wanted to share some of my latest favorite workout songs for fall. I feel like I have so many good ones on the playlist right now, and I'm always looking for new songs to pump me up, so I hope you enjoy them!! The Pilot got me an early bday gift: the same thing I got him a couple of weeks ago. I'm so pumped to use these in my own workouts and actually listen to music/podcasts again. My last pair of Bose headphones officially bit the dust after years of use, and these new wireless ones are amaaaaazing.
Here are some playlist highlights if you're looking to spice up your music:
November 2016 workout playlist ideas
"River" – Bishop Briggs
Perfect for: heavy climbing on the spin bike, or hills on the treadmill
"Planetary GO!"- My Chemical Romance
Perfect for: sprints!! Recover during the verses, sprint during the chorus
"Starving (ft. Zedd)" Hailee Steinfield & Grey
Perfect for: moderate resistance/incline. For fun: keep the moderate resistance/incline and push your pace during the funky instrumental breaks
"Diablo Rojo" Rodrigo y Gabriela
Perfect for: building tempo work. Start at a steady quick pace, and increase your speed. Hold for 30 seconds, and increase again. Hold for 30 seconds, and increase again. Recover for about 1 minute, and repeat.
What songs are you loving right now? Any awesome dinner recipes you've tried lately?
Hope you have a wonderful day and I'll see ya soon!
xoxo
Gina