Reader's request: getting started or back in the game
Morning, friends! Hope you had a wonderful weekend <3
Here's what went down over here if you're catching up on blogs this morning:
–Baby shower (so beautiful!)
It's dark, cloudy, cold and rainy today…..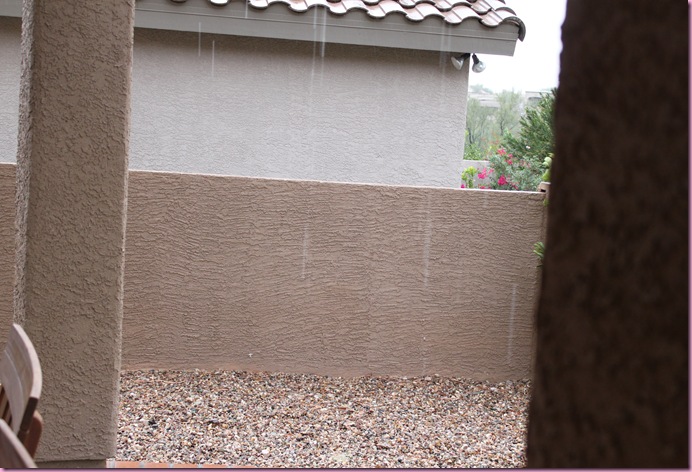 Perfect hot cocoa and moccasin weather.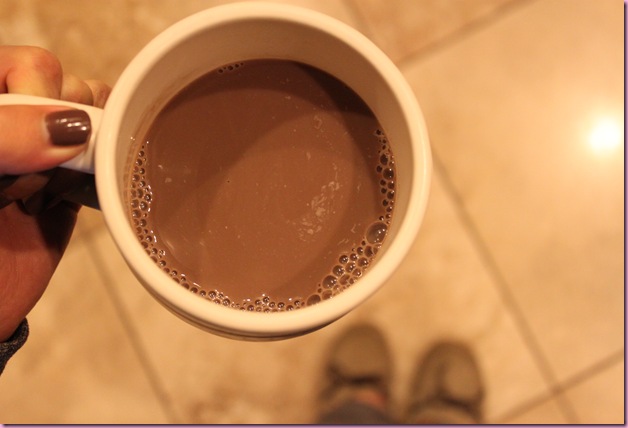 [Still obsessed with the dark chocolate almond milk]
I woke up early to take Hayley to the airport- we had so much fun this weekend, and I was sad to see her go- and munched 1/2 a MacroBar on the way: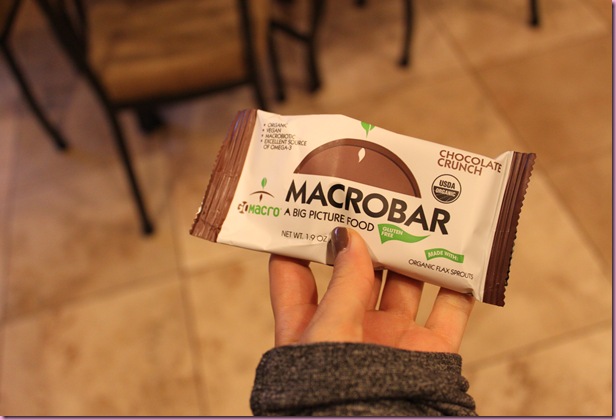 Waiting to finish my hot cocoa to decide what's for b-fast 🙂
In the meantime, I thought it would be fun to do a reader's request post on what to do if you're getting back into a workout routine after hiatus or injury, or getting started for the first time. Many of the workouts I've posted on the blog are for the average gym-going Jane –used to working out, but not a serious bodybuilder or anything like that- so they're intermediate/advanced. I've posted some beginner workouts before, but didn't get as much feedback on those and stuck for the most part with level 2-3 workouts. That's not to say that they can't be modified to suit your workout needs with a little bit of creativity- and if you ever need help, please let me know and I'll see what I can come up with.
If you're just getting back into the game, or just starting up, here are my top 3 tips to help you along the way:
[of course, make sure you're good to go with your doc before starting or resuming a fitness routine]
1. Take it slow and remind yourself that it's about quality, not quantity. Even if you're just able to get in a little bit of activity each day as you build up your strength, that's fantastic. Be patient with yourself and remember that it will become easier over time, especially if you're doing it correctly (not too fast too soon) and maintain proper form with your exercises. If you're coming back from an injury, take special consideration to avoid exercises or movements that will irritate your injury. Usually swimming, walking and MAYBE biking/spinning, yoga or Pilates are good ways to go, along with muscle-specific exercises. If you're testing the weight-lifting waters with your recovered injury, start supersuper light and see how it feels. If it hurts, stop. You can always go up in weights, and you can always come back to the exercise later if you need to.

If you're just getting started with cardio, aim to walk as often as you can. Take a dance class, or find something else you love and look forward to. As far as weights go, definitely start out super light if you're a weight training newbie. You'll get stronger and will be able to increase the weight as time goes on. For help with a basic beginner weights training plan, check out Intro to Iron Pumping and Weights Training 101.

2. Modify the heck out of things. There are so many modifications out there to make things easier as you train your body to go into the full exercise. For example, for push-ups or planks, you can do these on your knees (just make sure to keep your booty down so it's in alignment with the rest of your body- straight line from head to knees), bench tricep dips can be done with knees bent to take some of the weight off of your arms, and cardio classes can always be altered to suit your needs. Don't be afraid to modify or take a break during class- instructors are usually very helpful and understanding and will be happy to give you alternatives. I'm always excited to help someone in class that may need another option or modification- it forces me to think outside the box.

Source

3. Keep and sense of humor and be patient with yourself. When I had my knee injury after the last half marathon, I couldn't go into pigeon pose for a loooonnnnngggg time. It made me so mad because every yoga DVD I had included pigeon pose. After a while, I just had to accept the fact that I'd have to get off my mat, fast forward that part, and give the knee a rest. After a few times, I kind of made a joke out of it (like by thinking the man in the DVD was probably hurting his man parts in pigeon pose anyway) and it wasn't a big deal.

Source

[One of my yoga teachers here in Tucson]

The same goes if you're just getting started: have fun. Working out isn't supposed to be serious business all the time- you need to enjoy yourself or you'll be less likely to stick with it for the long term. Even if you feel like a goofball in Zumba or in any new class, laugh and have fun- moving is burning calories, don't worry about being "perfect." And like I said before, everything gets easier over time—be patient and forgiving with yourself. You are your most important cheerleader.
Do you have any tips for getting back into things after an injury or just getting started?
My biggest help was taking things one day at a time, which kept me from feeling overwhelmed.
Hope everyone enjoys their Monday and I'll see ya later with a Family post!
xoxo
Gina