What a great night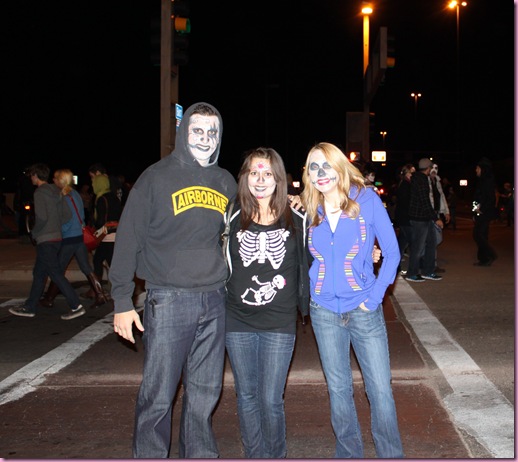 to paint our faces like skeletons and walk around downtown Tucson.
Check out how creeptastic the Pilot looked!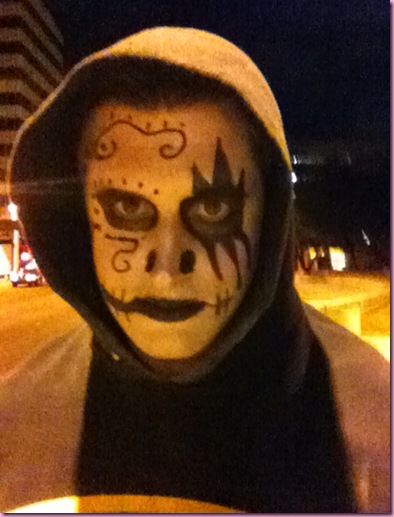 *shudders*
His first time wearing guyliner 😉
Hayley and I were painted up, too: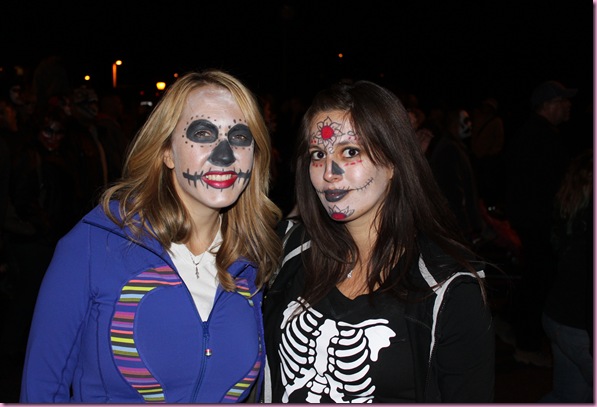 Tonight was the Dia de los Muertos (Day of the Dead) celebration and parade downtown, so we definitely weren't the only people out there with painted faces. The actual celebration is November 1-2, but they always have the parade over the following weekend, instead of during the week.
Dia de Los Muertos is a Hispanic tradition (originated in Mexico) to honor those who are no longer with us. November 1 is to celebrate children and infants that have passed, while the 2nd is for adults. To honor the spirits of loved ones, families will often make their favorite foods, light candles, visit their graves, pray, and display photos of the family members. The events aren't as somber as one would imagine- often they're more lighthearted and focused on honoring the person's spirit and reflecting on fond memories. [There's a lot more that goes into it, which you can read all about on the Wiki page for Day of the Dead]
The skulls, or skeletons, are the symbol of the holiday, which is why many people will don masks or paint their faces. So even though the skeletons can kind of look scary, there's nothing demonic about the tradition- it really is rather beautiful.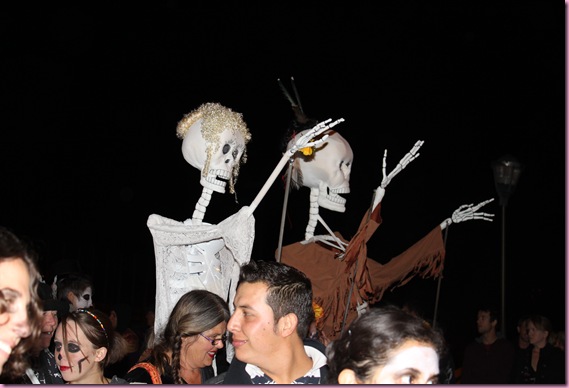 When I asked Hayley if she wanted to check it out, she was totally down with it, so the Pilot went to Walgreens to get our supplies, we painted up our faces and drove down to Congress St.
During the parade, thousands of people walk the course, holding photos to honor those who have died,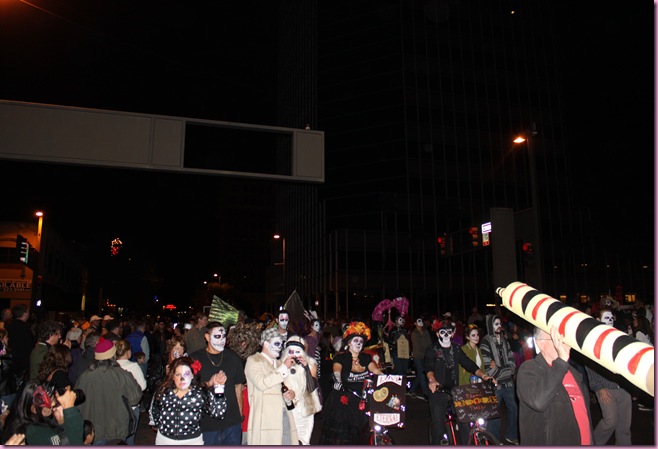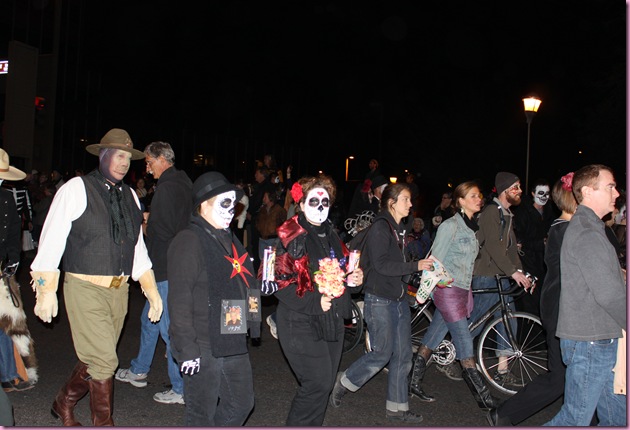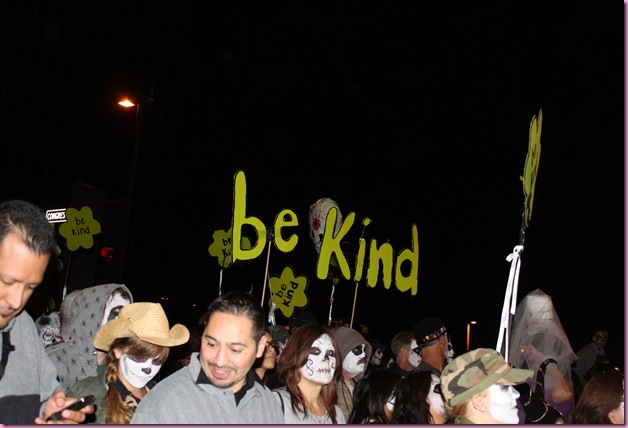 play music and dance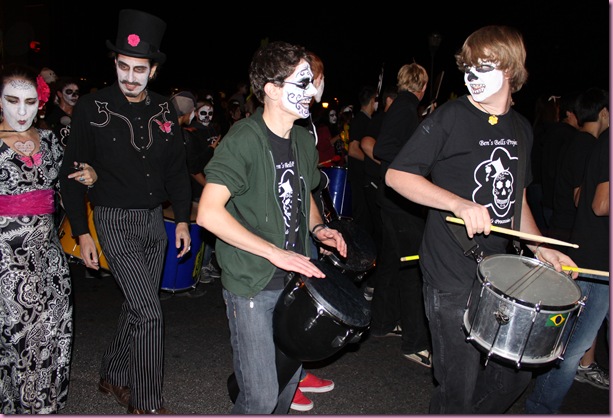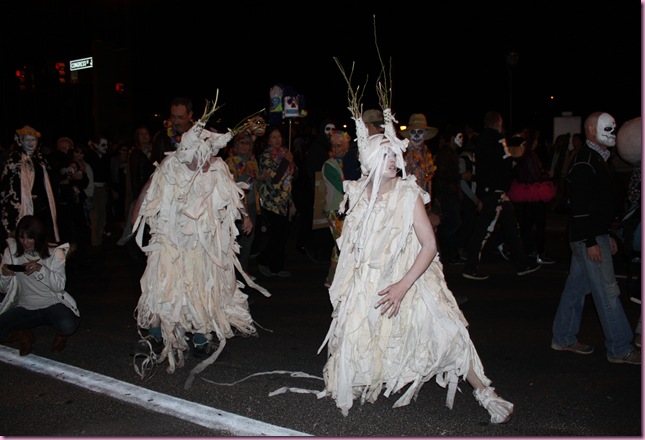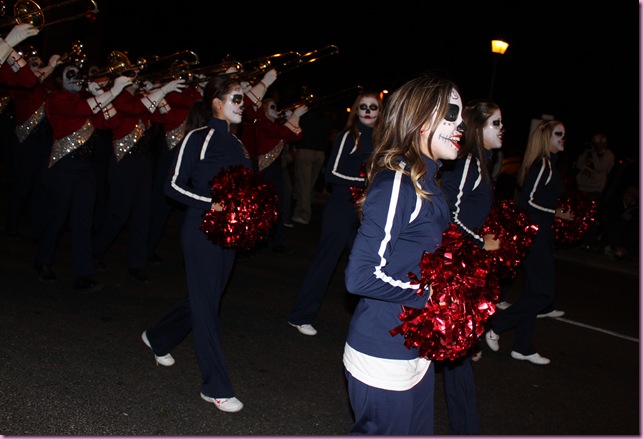 spectate,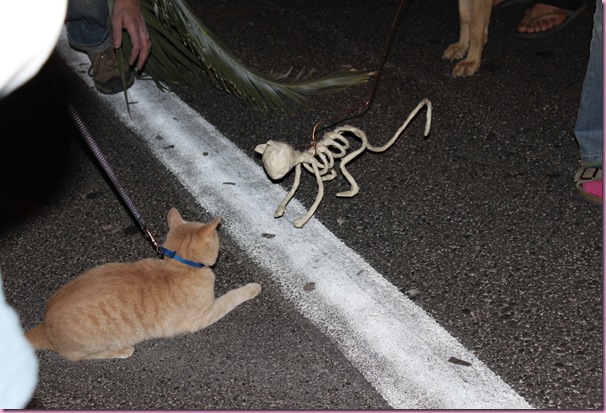 [Kitty on a leash, meet skull kitty on a leash]
wear stilts and dress in costumes,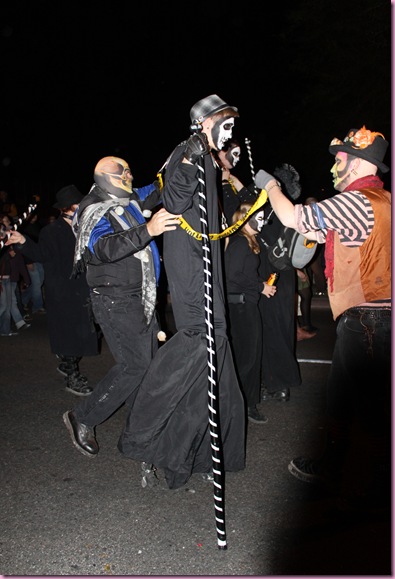 some of which have everything to do with the holiday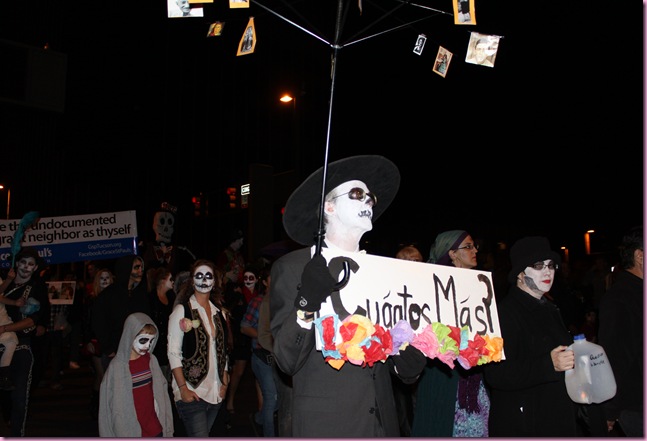 and others that…. don't. [but are awesome]
The bonus: the Pilot estimates that we got in about 4 miles of walking during our people-watching and parading 🙂
After the parade, we met up with Kyle (my bro) and little Meg at Frog & Firkin for some burgers and football: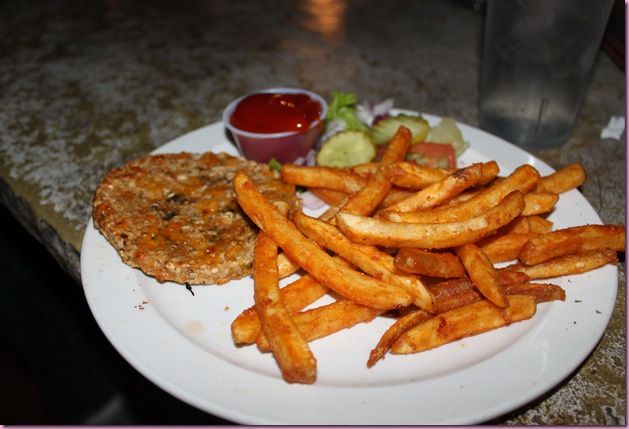 Veggie burger for me, and I had asked for a side salad instead of fries. As you can see, it came out with a plate full of crispy, well-seasoned fries, so I took that as a clue that I was supposed to eat them instead of sending them back. They were fantastic.
Time to wash my artwork off and call it a night!
See ya in the morning <3
xoxo
Gina
Where's your favorite place or way to get in bonus cardio? I love walking around at the mall or outdoor mall, and think theme parks are amazing for this, too. It's especially amazing when you can people-watch <— my fave sport
What cultural traditions do you celebrate?