Reader's Request: Healthy Restaurant Eats
Hi friends! How's your morning going? It's Friday!!!!! I'm thinking that makes it a good day already 😉
So this post has been a long time coming –so many requests for this one- but I want to preface it by saying that sometimes going out to eat is a special occasion, or a weekly treat. In that case, get whatever the heck you want and enjoy it.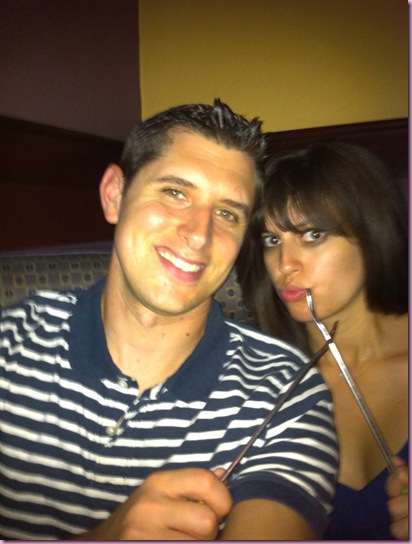 Case in point: fondue 😀
This post is more intended for readers who have to travel or work on-the-go and have to do the restaurant thang often, but want to stick to their healthy eating goals.
Usually when I go out to eat, I'll navigate a menu according to what I'm feeling. Sometimes I want fish (like salmon), other times I'll want a salad a veggies. Usually there's an option I can swap stuff out for, order 2 appetizers or a la carte. I'll try to decide between a cocktail/wine, bread or dessert, unless the Pilot orders dessert and I steal a few bites 😉
Here are some of my favorite clean eats for some popular restaurants:
Italian:
The trap: lots of cheese, casserole dishes of pasta served for one, but made for a family of four, sodium overload.
No-fail veggie option: minestrone soup, salad, bread (if desired) – Olive Garden has AMAZING soup and salad combo. I say no to the breadsticks, but before gluten started messing with me, I'd have one breadstick at the end of my soup to sop up the last little bit 🙂
Fish: Italian restaurants usually offer some type of light, grilled fish dish. Ask for it with a side of veggies instead of the pasta/potatoes and a salad.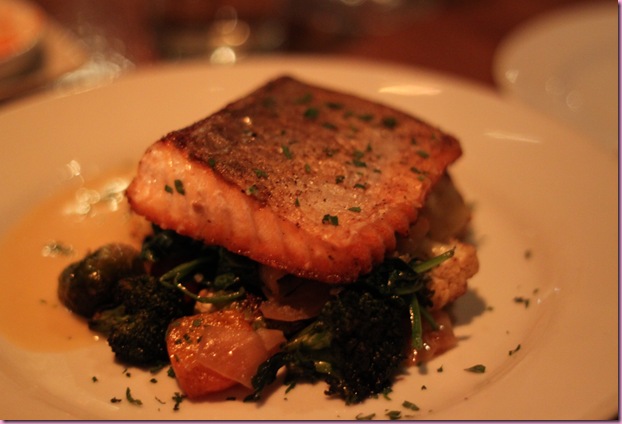 Pasta: Many restaurants are offering whole wheat pasta instead of white. Order your pasta with whole wheat noodles and ask for half packed up to-go, which can be tomorrow's lunch.
Chicken/meat: Once at Olive Garden, I asked if there was any way they could make chicken and veggies with marinara. The server was more than happy to ask for me and presented me with a beautiful plate of veggies, chicken and marinara. It was fantastic. If there's something you want and aren't seeing, just ask politely. Usually I'll start off by saying, "I'm sorry to bother you, but is there any way I might be able to get *this* or *this*?", saying please and thank you with a smile usually does the trick. [And if they say sorry, no substitutions, or "we can't do that", that's ok too, but it's always worth asking politely for something you'd like]
Asian:
The trap: fried, lots of sugary sauces and SODIUM.
No-fail veggie option: Egg drop soup or miso soup, house salad (with ginger dressing! yum) and veggie roll with brown rice [<—this is my standard sushi house order]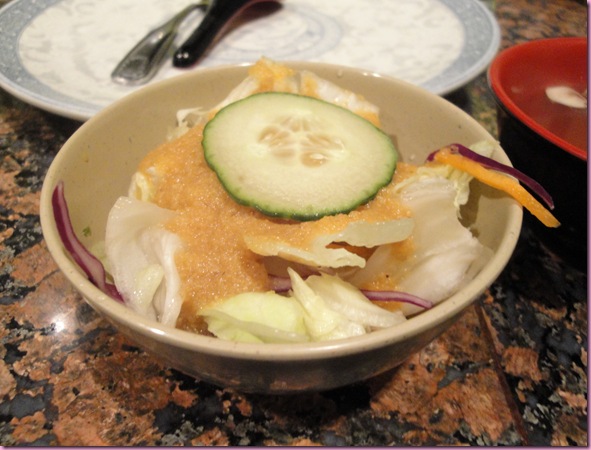 Fish: Sashimi is a great option if you're at sushi, or a brown rice and veggie bowl with shrimp
Chicken: Chicken salad, no wonton crispies, dressing on the side or lettuce wraps
Tips for Pei Wei:
-I'll always order the kid's size. Why? All of the entrees are actually two, very calorie-dense portions and I haaaaaate to waste food (or have a trunk full of leftovers if we're out and about). I'd prefer to just order the amount I'd like to eat.
-Add veggies. They will add veggies to pretty much any dish, just ask 🙂
-Steamed instead of fried. You can ask for your fish and veggies to be steamed instead of fried, NBD.
Tips for PF Chang's: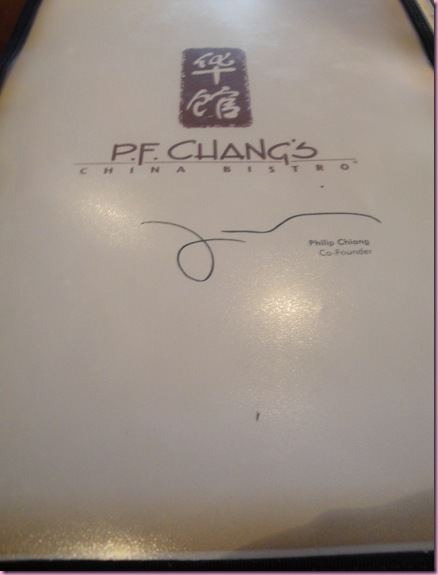 -The appetizers are usually more than enough for a meal. The lettuce wraps are AWESOME
-Buddha's Feast is my go-to meal, with brown rice and steamed shrimp instead of tofu [or sometimes, I'll get the tofu]
-If you get a salad, ask for dressing on the side, or it will most likely arrive swimming in dressing.
Mexican:
The trap: Cheesy, gooey, fried, carby (hi chips and salsa), spicy goodness. This is the food of my childhood 😀
No-fail veggie option: Veggie fajitas with corn tortillas. Nix the sour cream and cheese, but go after the guacamole and beans (just make sure the beans are vegetarian)
Fish: Shrimp fajitas, or a grilled shrimp salad + beans
Chicken: Most Mexican restaurants offer a chicken topopo or taco salad. I'll get this and ask for it in a bowl instead of the taco shell, no cheese, and use salsa for the dressing.
Lighter: If you really want something, order it off the a la carte menu. Sometimes we'll go to Mexican and I really want a tamale or enchilada. So I'll order a side of beans with no cheese and one tamale or enchilada, instead of the whole combo plate.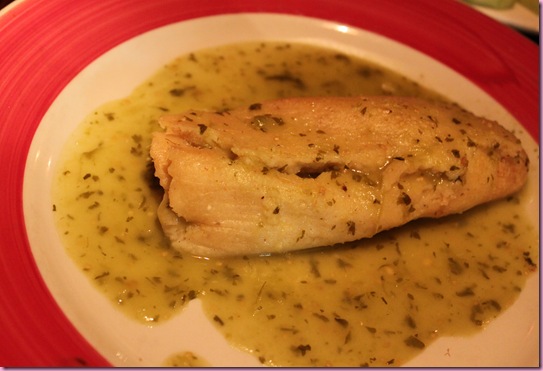 Tips for Chipotle:
-I nix the rice and get extra lettuce instead. I'd rather get leafy green nutrients than feel totally stuffed from eating rice
-Faves: burrito bowl with lettuce instead of rice, or soft tacos. No cheese or sour cream, lots of salsa, and guacamole (calorie-dense, but it's all good stuff)
Steakhouse: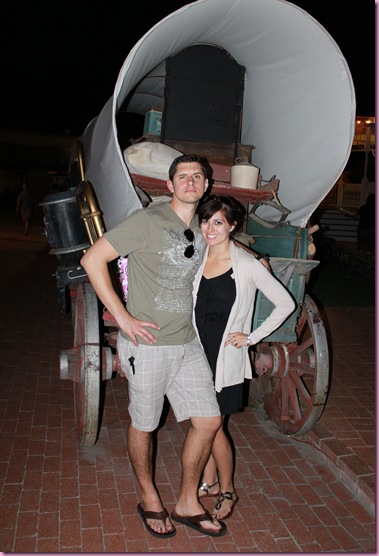 The trap: fried food, crazy portions, lack of veggies.
No-fail veggie option: Baked sweet potato, beans and a salad. Plop the beans on the sweet potato and feast.
Fish: Grilled salmon or shrimp skewers with baked sweet potato, veggies and/or salad.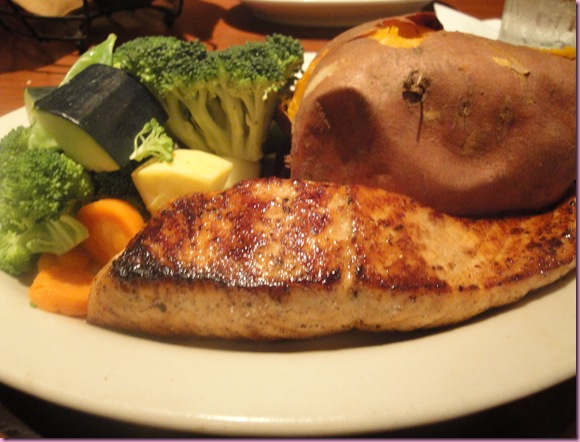 [I miss Longhorn!]
Chicken/Meat: Small steak, or chicken salad. Or meat, veggies and baked sweet potato/salad.
Places that make it easy:
-Panera
-Pita Pit
-Subway
-Sweet Tomatoes
-California Pizza Kitchen
How often do you go out to eat? We try to keep it to 1-2x week max over here. What's your favorite restaurant meal?
For me, it's the gluten-free pizza and salad combo from Renee's Organic Oven. I could eat it every day 😉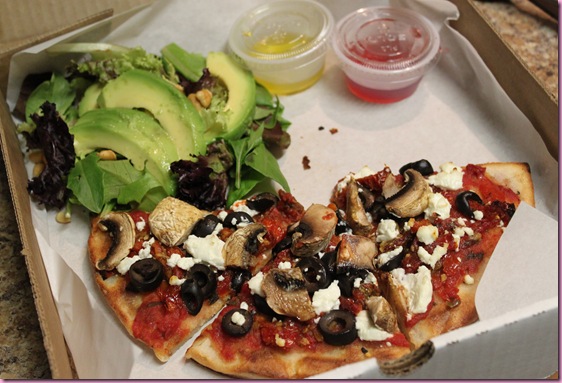 Enjoy your Friday and I'll see ya later today with a Fashion post!
xoxo
Gina
Similar reader's request: Fitnessista-fying meals
Something to watch: A closer look at what the Pilot's job looks like: [It was filmed at our previous squadron in Valdosta – last night he said that one of the landing shots is him landing. Crazy! Awesome video]