Reader's Request: Wear to What
Heyyyyyy 😀 How are you? Hope you're having a great day so far <3
I get a lot of questions regarding which types of clothes to wear for each type of workout- thought it would make a fun Reader's Request 😀
As you guys know, it's beyond cool to go to the gym in your grungy finest. I promise you that no one cares what you're wearing. Before I started working at the gym (as a trainer/instructor, you're supposed to look professional), I was lucky if my gym clothes matched. Usually they didn't, and I wore my hair in a messy bun on top of my head. Ain't no thang.
However, if you like to go the extra mile (heh), or wearing cute workout clothes helps motivate ya, here are some of my favorites for different types of workouts:
(Note: As always, brand and price range variety are included)
1. Spin and Run:
For spin, tight, wicking crops reign supreme- tight, longer shorts work well, too. When I used to wear Sofeee shorts to spin, I was left with a lovely bruise/cut on each thigh from the seat. Long pants are often too hot, so crops work perfectly.
For run, you can roll with crops or shorts, just make sure they're a light technical material.
Run Inspire Crop  (run or spin)                                  Speed Short   (run)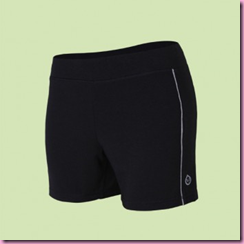 As far as tops go, it's usually a good idea to roll with something sleeveless for spin– just make sure it's lightweight and wicking. I also bring a hoodie or sweater to throw on after class.
For running, you can do short-sleeved, sleeveless or long-sleeved. Just make it a tech fabric- cotton is the enemy.
Inner Awareness Tank                  Distance top
BodyPump or weight training:
For any type of weights-based class, or your own on-the-fly weights workout, I usually roll with pants or shorts, depending on the rest of my workout. If I'm just doing weights, I'll wear pants, and if I'm sandwiching it with cardio, I'll roll with shorts. I get WAY too hot doing cardio in pants.
Tops: Same thing—roll with sleeveless, or lightweight short-sleeved, make sure the fabric is wicking.
Personal Best Singlet            Cape Elizabeth Racerback
Dance Cardio (or Zumba):
I always like to get a little funky with my dance gear 🙂
You'll want to wear a looser-fitting pant (for all the booty-shaking)- it's always a bonus if the bottom has a drawstring, so you can scrunch the pants up the crops and pull the drawstring.
Two of my all-time faves:
Studio Pant                                     Fusion Cargo Pants
Tops- anything goes!
Yoga or Pilates:
As far as tops go, you can pretty much wear anything. For hot yoga, wicking, tank or spaghetti strap (or just a sports bra) is perfection, and if you're going to be doing lots of inversions, try a longer tank or one with a drawstring so it doesn't creep up on ya.
These both have drawstrings:
And these are just cute and fun:
Happy Buddha Tee                            Henna Lotus Tee
I almost always roll with pants or crops for yoga. It makes me feel more comfortable than shorts (freedom to move without flashing anyone is always a good thing), but I'll wear shorts for Bikram and cropped leggings for hot yoga.
For Bikram: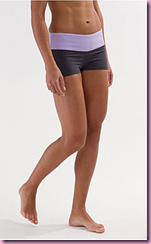 Power Yoga
Wunder Under Crop (my pant lurve. You can dress them up or down, too)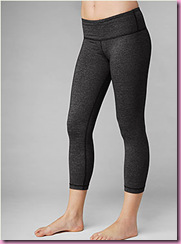 For vinyasa, Pilates, anything else: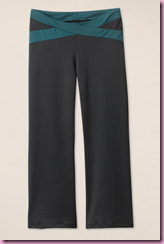 Whew!
I think that's it! I had so much fun putting this post together! Hope it was helpful 🙂
What's your workout of choice and what piece of athletic clothing have you used and abused?
See ya later today <3
xoxo,
Gina
PS. Eat some Indian Food for me, mmm k? 🙂