I tend to go through major shopping droughts. I think our wallet enjoys it because I live in workout clothes and get my monthly StitchFix box -which doesn't feel like "real" shopping, haha- but then all of a sudden, there will be an avalanche of awesome deals and… things happen. Since I always love when fellow bloggers tell me about a great deals or recent shopping finds, so I figured I'd share some of the latest and greatest.
Here are some fun things I've found lately:
(not affiliated with any of these companies; all purchased with my own dinero)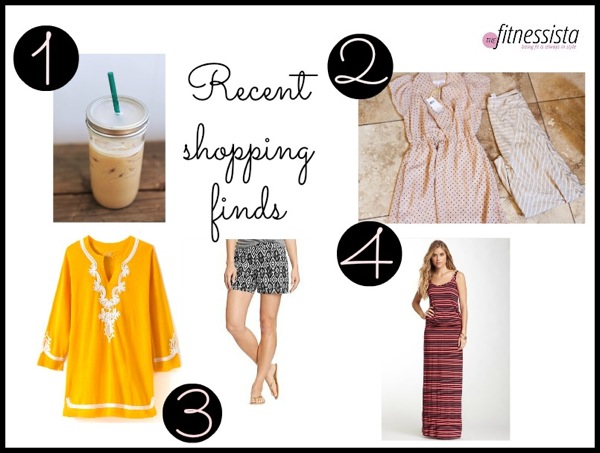 1.) The Mason Bar Company glass tumbler
I love drinking fresh juices, smoothies and iced coffee out of glass jars, and especially love that this one has a lid with a straw. It's a great portable option!
2.) Dillard's dress and skirt.
I got the above BCBGeneration dress for $39 (!) and the maxi skirt was $20 after the sale (everything was marked down and then an additional 30% off. Can't find links to either, but might be worth checking out your local store if they're having a similar sale). I can't wait to wear the dress for a date night, and maxi skirts are basically fancy sweatpants. So comfy 🙂
3.) A J copycat outfit. When I saw the ikat shorts with the fun tunic, I decided to check out the links online. The shorts were $17 and the tunic was $30 (including shipping- when I went to check out it automatically added another discount). Score! 
4.) Hautelook TART maxi dress. I'm at the point right now where I want to find things that will easily transition into fall, so this will look cute with a sweater. It was a little pricier ($89) but I'll wear it a lot. I also got Livi a pair of fall boots in the fall boot sale for $15, and they're absolute adorable.
Any awesome shopping finds lately? I still need to take my thrifted goodies to the seamstress so I can wear them. I've also received a couple of requests for a post with my latest Stitch Fix box, so stay tuned for one of those on the Fahsion page later this week.
xoxo
Gina