-Livi is officially enrolled in the military system as our child. She's legal now 😉 The good news is that she can keep going to the pediatrician we've been seeing, whom we all adore. She seems almost like a midwife meets pediatrician, and helped offer so many solutions to the great breastfeeding debacle of 2012. She's kind and knowledgeable, and the thing that makes us the happiest is the way she treats Livi. She's so delicate to her –it's surprising how rough doctors can be with little babies- and talks to her the entire time she's examining- Liv just looks up and coos. The doctor calls her "girlfriend" or "buddy," takes the time to answer questions (even the first-time parent "silly" ones we may have) as is absolutely wonderful.
Liv is getting her 2 month shots tomorrow :/ We'll probably both cry, but she'll be in good hands and we'll spend a snuggly and snoozy day together.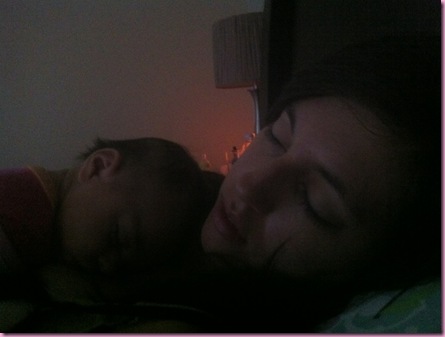 -You can kind of see it in the pic above, but Liv is still losing her hair. Word on the street is that I'm next 😉 She also has a little bit of cradle cap going on, which looks like baby dandruff- flaky skin on her scalp- so we've been rubbing olive oil on her head at night, since keeping the area a little moist helps with that. You can purchase baby creams for cradle cap, but the EVOO has been working wonderfully.
-Can't wait to read this book, which I just downloaded on the Kindle: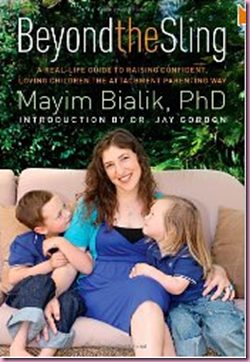 Source
(written by Blossom!)
Since I'm a fan of attachment parenting, I'm really excited to see what she has to say. I'm already a huge believer in babywearing- I like to believe that it makes Liv feel safe and comforted, while being able to see the world around her. I also think it's positively affected milk production to have her so close to me. She still plays independently throughout the day (she loves her activity gym, the Baby Einstein toys in her pack n' play from her nana- they light up and play music, or chilling and observing from the Boppy lounger), but I think babywearing is important for her development.
Another aspect of attachment parenting that I agree with: answering her needs as soon as she starts crying. One of the things that really stuck with me from The Baby Whisperer is that babies cry for a reason, not to be an inconvenience. They need food, to be burped, a fresh diaper, sleep –Liv cries big time when she's too tired and can't wind down- to feel loved and comforted instead of lonely, and their mother. The author of the book said that a baby's need for their mom is just as strong as their need for food. When they are forced to cry for long periods of time, when they stop crying, it's because they've given up hope that their needs will be met, or that someone will rescue them. When I read that part, it made me extremely sad. I think by trying to answer her cries as quickly as possible, it's helped her become (for the most part) a very happy, mellow baby.
Some parts of the book that won't be applicable to our family:
Co-sleeping. I can see why it's a great idea, but we want to keep our bed as our bed. She's welcome to come snuggle anytime, though 🙂
Elimination communication aka diaper-free babies. Major props to the moms who can do it and for the benefit of the environment, but it would be too much of a challenge for me with everything else involved with taking care of a newborn.
Un-schooling. This is a version of homeschooling that gives children the chance to determine their own curriculum based on their interests. It's another interesting concept, and I've met a few un-schooled children, all of whom were extremely bright, but Liv will be attending school in a traditional setting.
I'm not sure how long the book will take me to finish –it's a before bed "wind down" read- but as soon as I complete it, I'll post a review. Please let me know if you have any other parenting book recommendations!
-Speaking of recommendations, I need a serious nursing sports bra. They don't make the Ta-ta tamer in my size, and the ones I picked up at Target are comfy, but not enough support. Halp meeeeee……