One of the things I'm frequently asked is how we got Liv on a "schedule." I remember when she was 3 weeks old and someone asked us if we had her on a schedule yet. I wanted to laugh because I was just proud of myself for getting dressed that day. A schedule was pretty far down the list.
We've never had a schedule, and probably won't for a while.. if ever.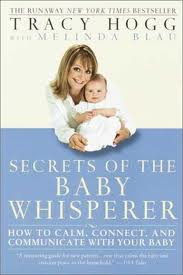 (source)
We've been using a routine that we've followed from as close to the beginning as we could -thanks 100% to the Baby Whisperer- and have just kind of rolled from there.
Why I love it:
-We can usually tell right away what's wrong if she starts to fuss. When she first wakes up, she eats, plays and then gets tired for nap time. She snoozes for however long and the whole process starts again. Of course, teething has changed that a little bit, and every now and again she'll have an "off" day (which I think continues through adulthood.. at least for me, anyway) but for the most part, I think she likes knowing what's next.
-It's easy for others to take care of her and pick up on her cues as well. My mom and nana are pros at Eat, Activity, Sleep and anyone who comes over can play with Liv and she'll be happy as long as she's already eaten, or if it's nap time, she'll snuggle up in their arms for a little sleep time. 
-It's adapted with her as she grows and gets older. As the time in between her naps increases, it's no big deal, and we've been adding solid food in "for fun" during the play time. It's sill eat, activity, sleep, even though the activity part is much longer now.
It's worked well for us, and I was going to do a day re-cap post to show how much things have changed since the early weeks.
Here's the big thing that makes the routine challenging:
-It's really hard to plan things by time. Usually I'll plan events for late afternoon, because if she has a catnap while we're out and about, that's ok, but I never know when times her naps are going to be. Her first one is pretty predictable, but before I know how long her first nap is, I have no idea when the next two will fall. Quite a few of my friends have their babies on exact nap times (9am, 12am and 3pm, or something similar) so they know when to plan things, some of their babies are fine being out and about all day (Liv turns into a red-faced angry elf if she doesn't have at least one long nap in her crib), and we've just had to go with the flow. I've had quit a few breakfasts and lunches with her sprawled out on my chest fast asleep, while I try not to drop lettuce on her head.
I've also have had to wake her up for pediatrician appointments. Once, she shrieked the entire appointment because she was still tired- I felt bad for her. 
-I love the Babycenter emails -they give me an idea of what's going on development-wise- but many of them are nap and schedule focused. I'm thinking we might not just be schedule people… or maybe as she gets older things will fall into times?
Mamas out there, what was your experience like? Did you follow a schedule, a routine, or just wing it? Do nap times eventually fall at the same time everyday, or is it something you have to initiate? I'm starting to realize that as soon as things become predictable, everything changes. 
And just because she's so cute:
(The full iPhone needs to be cleared out – it told me the video was 19 seconds and then only saved 3. Bah)