Hi guys 😀 Happy Sunday! Hope you're having a beautiful and relaxing morning.
It's been a pretty amazing weekend in Orlando <3 To be honest, I almost didn't come. We just got back from the Bahamas last Wednesday -our house is a vacation tornado- and traveling will suck the life out of ya but it was so worth it 😀 I had to come celebrate with my cousin and seeing the familia always makes me happy.
Something else that makes me very happy: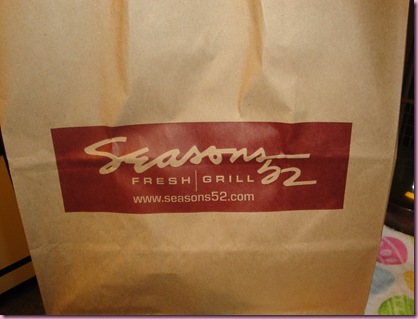 We did the to-go thing last night since we were all tired from the graduation festivities. Everyone else ordered Olive Garden, so I had a little minestrone soup: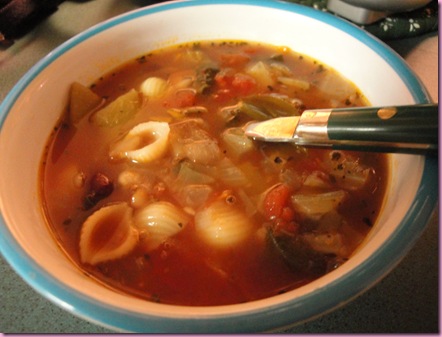 I just eat around the noodles- it's one of my favorite soups 🙂 I never thought I'd miss Olive Garden so much- we don't have one in Valdizzy
And the Mediterranean Shrimp Salad from Seasons 52 with goat cheese instead of feta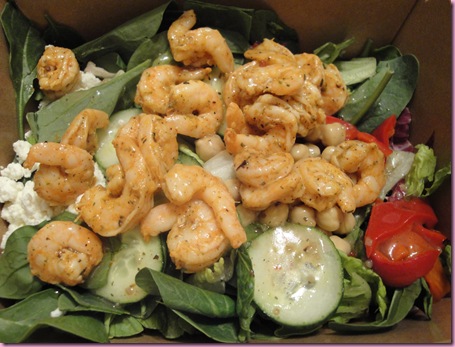 I don't really "eat" salad… I attack it! I devour a glorious salad with such gusto and vigor, it's probably startling to most people. That thing had no chance 😉
Little beggars: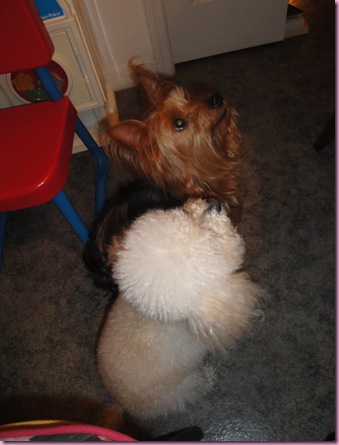 The pilot and I called it an early night and then bright and early this morning, my little bro did Insanity with me. Pure Cardio! He's a trouper 🙂 I took him to Whole Paycheck for a smoothie and got a green juice for myself: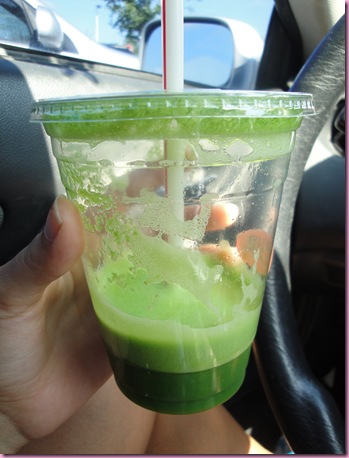 We make a little stop at Einstein's and brought back some bagels for the fam.
My carby delight: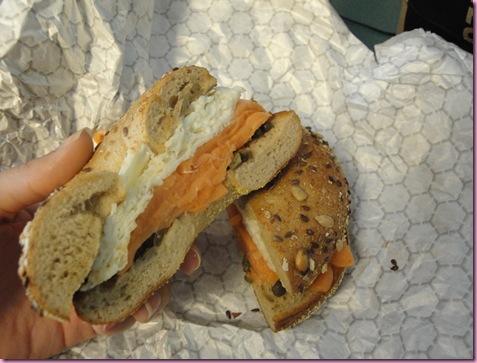 Good grains bagel + egg white + lox + capers
Why am I so in love with smoked salmon lately? I could eat it all day 🙂
Well I'm off to shower my stinky face, go to my cousin's graduation party , get on the road to Valdizzy and then write up this week's Summer Shape Up workout! Yeahhhhh 😀 I'm so excited about this one!
Enjoy your day lovely bloggies <3
xoxo,
Gina
Something to do: Meet me back here in the morning for Summer Shape Up 2010 😀