Southwestern stuffed sweet potato
Heyyyyyy 😀 How are ya? Hope your morning is treating you well!
Thank you so so soooooo mucho for your sweet get well wishes for Bella. She had some food for the first time in a little over a day last night- I had to put the wet food from the vet on my finger and have her lick it off (lovely right?) but she ate!!!! I'm so happy she's going to be ok <3 Pets are like our babies and it makes me so sad when they get sick.
Yesterday afternoon's snack was an Ezekiel with cinnamon and mesquite: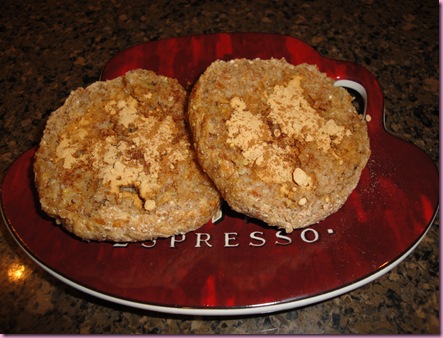 And then I took off for pilates and then taught Zumba. I choreographed a warm-up dance to "Sexy Chick" while I was driving 🙂 It was very exciting because even though they forgot to put my classes back on the schedule since I got back, we still had a packed class!!!!!! It was a PARTTTAAAAYYYY! It feels like we're having secret Zumba classes since they're not on the schedule 🙂 Such a blasty- I love teaching Zumba.
When I got back to the casa, I was ready to gnaw my arm off, so I made a Southwestern-stuffed Sweet Potato and Brocc for dinner.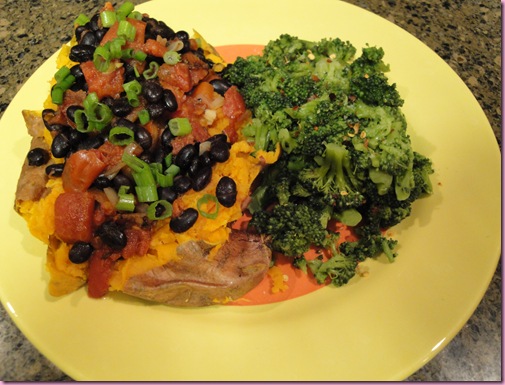 I sautéed up a shallot and a clove of garlic in a little olive oil, and added 1 ts chili powder, a sprinkle of cayenne, 1/2 t cumin, sea salt, pepper and the zest of one lime. Then I added  a can of organic black beans and 1/2 can organic fire-roasted tomatoes.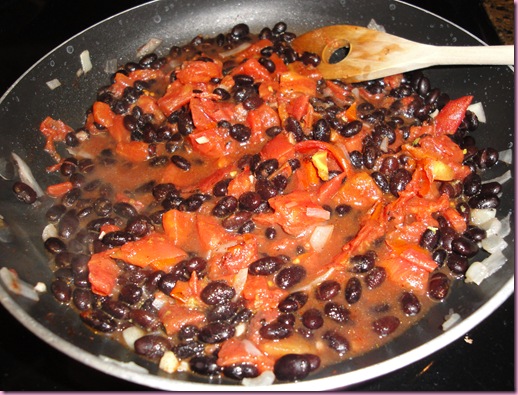 When it was done heating through, I added the juice of one lime and took it off the heat.
Next, I smashed down a baked sweet potato, topped it with the filling and some scallions (greek yogurt, cilantro and salsa would be wonderful too!)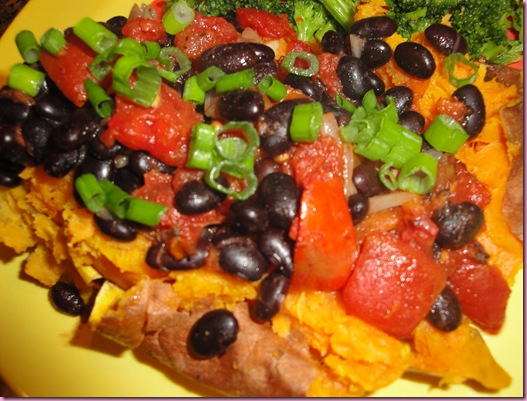 and paired it with a bag of organic steamed broccoli with red pepper flakes, olive oil and sea salt.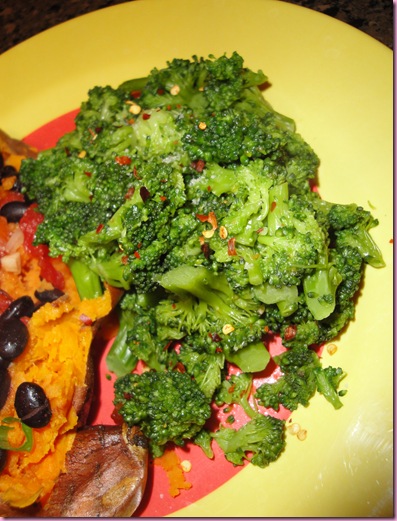 Pretty tasty wasty 😀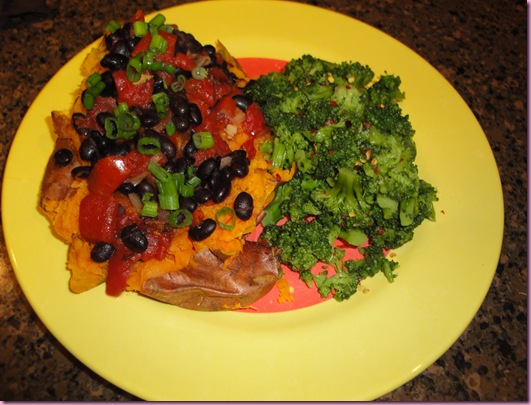 I chilled with the puppies, watched Dancing With the Stars and called it a night.
The plan was to wake up early, take the dogs out and go on a run. Two problems: it's pouring (and now there's a tornado watch.. yikers), and I overslept an hour. I'm kinda glad it worked out that way though—staying up with Bella the other night had me a little out of it.
Bfast was the classic with goji berries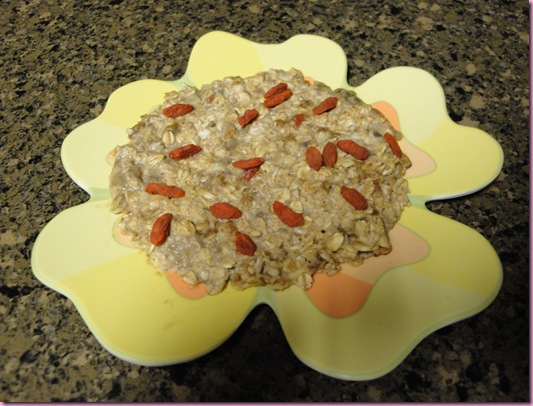 You guys might have noticed that I've been eating a lot more cooked food lately. I'm COLD and it's all I've been craving… so I'm gonna go with it 😀 I'll still try to have at least a raw meal and snack each day but if it doesn't happen, then it doesn't happen 😉
Today's plan:
-Finish organizing the closet and office
-Yoga podcast
-Make phone calls (Blahhhhh. Why can't we just text in the professional world? haha)
-Put together Halloween packages for my little bros
-Run (3-4 miles)
-Training appointment
Enjoy your Tuesday!
xoxo,
Gina
Workout jam of the day: "Meet Me Halfway" Black Eyed Peas