After staying away from Teavana for quite a while –it's an expensive habit, and I like my teas from Sunflower Market just as much- we made a little caffeine stop today.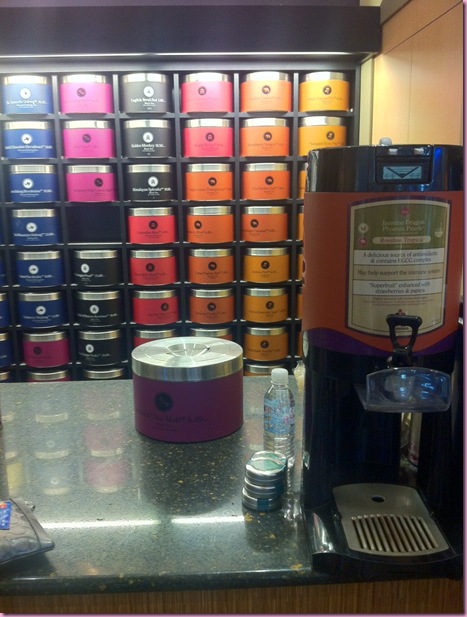 Bzzzzz
After a night of high hopes with the swaddling, she busted out of her swaddle every hour or so, screaming like an angry elf, and I couldn't wake up the Swaddle King because he had to fly this morning. So we partied all night: me re-swaddling her, bouncing and singing back to sleep on the stability ball, lather, rinse, repeat, with the necessary eating/burping/diaper change sessions in there.
After her all-nighter, she spent a lot of the morning crashed out in the Moby, and then we did tummy time, read books, the usual shenanigans, and went to the mall. We've turned into a couple of mall rats lately. It's not even with the purpose of buying anything, but because I have all of the good breastfeeding spots figured out (the lounge at Dillard's, fitting rooms), it gives us a chance to get out of the house and walk around if we don't have plans that day with friends, and I appreciate the mall options here so much. In Valdosta, the anchor stores were Belk and JC Penney, and they didn't have a Banana, Gap, or Express. The Victoria's Secret was the 1980s floor plan with pink and gold heart wallpaper.
So, since I have no idea where we'll be stationed next, in the meantime I'm going to breathe in all of the goodness that is Tucson, including the mall 😉
Today,
I've heard a lot of overtired cries, remedied by lots of food and snuggles (food and snuggles would make anything feel better though, right?)
been spit-up on
peed on (I had to laugh at that one)
and it felt like one of the most challenging days in a while, which I think is only because of the crazy night last night.
And then this morning, while I was changing her diaper and singing the good morning song
she looked up at me, cooed, and gave me the biggest, toothless smile.
I melted into a puddle of mush in front of her crib.
She can pee and spit up on me whenever she likes.. at least (I think) she knows who she's doing it to 😉