Flowers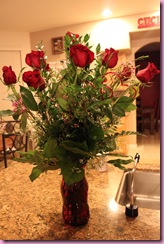 vino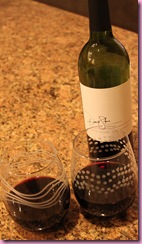 and a pizza picnic with three valentines (a baby, a man and a creature). How lucky does a girl get? 🙂
Hope that you had a fabulous night, too!
This morning's bfast was one of the usual suspects: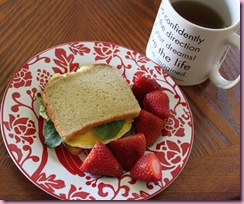 (egg puff sandwich with greens, goat cheese and hummus, with strawberries and tea)
I can't believe I forgot to blog about this yesterday morning, but my pleasantly sore hammies just reminded me: I finally got the chance to try a Winter Shape Up workout the other night!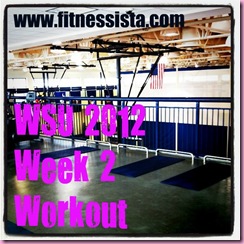 I always like to test out workouts before I post them, but with my pregnancy and recovery process, I've had to treat the things I post more like I would personal training sessions- get an idea of what I'd like to do and wing it from there. It was so much fun to try a workout that I'd already created and posted, instead of going through the process at the same time.
So Monday night, the Pilot chilled with snoozing Livi while I went to the gym for a little while. It felt so nice to clear my mind and sweat a little, even though I did hear phantom crying a couple of times 😉
Workout of choice was the Week 2 workout with a few modifications:
-jump roping instead of mountain climbers
-no pullover crunches (it's best to avoid crunching motions after having a baby to give the abdominal muscles a chance to fully heal – TVA, aka transverse abdominis, exercises like plank pose are ok. If you crunch too soon, it could increase the chance of diastasis recti- separation of the abdominal muscles, which can sometimes require surgery)
-taking the HIIT a little easier than I normally would- it was more like traditional interval training than HIIT.
While I was working out, there was an older man in the gym busting out plyo moves the entire time. He was like a jumping bean! It made me think about when I first got into plyo and explosive cardio blasts and how apprehensive I felt about doing them in the weight room… I'd always go in the side aerobics room to do BodyRock workouts. Here's the thing, though: at the gym, everyone is too worried about their own workouts to care about what you're doing. Unless you're jumping plyo man- then I just think you're hardcore.
Are there any exercises you avoid? I used to think hip raises were slightly inappropriate, then I got over it 😉
Hope you're having a wonderful day and I'll see ya later with a Family post.
xoxo
Gina
Zumba song of the day: An old flamenco fave