We had a major sleep victory over here two nights ago: Livi slept through the night!
I thought my eyes were messing with me when I heard her start to cry to let us know she was awake, because SUNLIGHT was peeking through the blinds. Sun! Morning! I picked her up out of her bassinet, glanced at my phone, and who knew: 6:45am. I can definitely get used to that.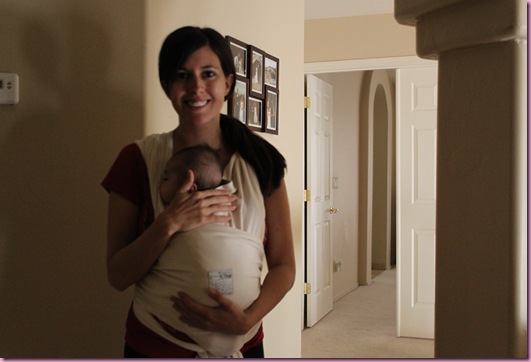 (It's Naked Face Project almost everyday over here)
We had been getting up anywhere from 3-4:30, again at 6:45 or so to eat then back to sleep until ??, which was great, but it was an amazing surprise to have a full night of sleep.
Just to mess with us, she wore her cranky pants all day yesterday 😉
I never really knew how important sleep was until I read The Baby Whisperer. It made me realize that many of the days that Livi would be crying and crying, she was overtired and didn't know how to unwind. By following the routine in that book –I love the fact that it's not a set time schedule, just a sequence of events- it really helped me to recognize her tired signs and take her to nap mode after the first yawn. Sometimes it's swaddled in the pack n' play, usually it's in the K'Tan or Moby, and today, it was rocking for an hour and a half in our new downstairs rocker.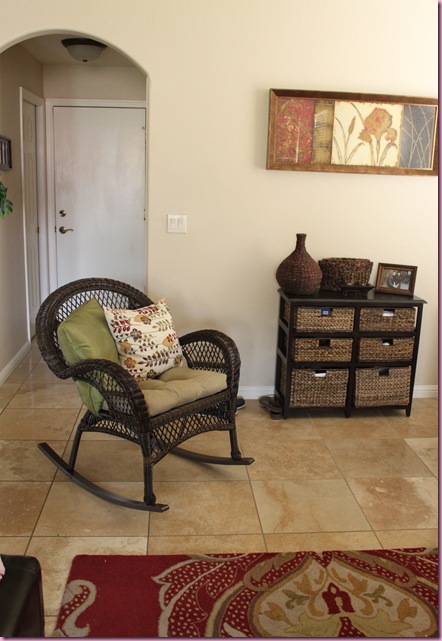 Had to test it out 😉
As you guys know, I'm not a huge rocker/glider fan and the only time I've ordered one, it was a legendary fail. Well, we wanted to get a downstairs rocker for mom and nana to have while they're watching Livi and I'm at work, and my stepmom found that one at Pier 1. She said it would add texture to our den (since our couch is cloth) and the bonus is that when we no longer need it for baby rocking, we can put it on the patio (along with this egg chair that I need in my life).
This morning, I got the chance to read more of Healthy Sleep Habits, Happy Child while we were rocking, and I'm excited to learn more about establishing good sleep habits. We learned the hard way that less sleep continues the cycle of even less sleep, and when she naps better during the day, she sleeps better at night.
After following The Baby Whisperer routine, like clockwork, every hour and a half or so after she wakes up, she's ready for a nap. The morning and afternoon naps tend to be longer, but it's always Eat, Activity, Sleep over here.
During the first couple of months, I seriously thought I might never have a full night of sleep again. As much as I love hanging out with Livi, it tends to be a little more fun during the daytime and I don't feel like a zombie 😉 Her sleep stretches continued to extend throughout the night, to the point where I started to look forward to her 4am eating/snuggle sesh.
To all the moms who are going through the first round of sleepless nights, there actually is a light at the end of the tunnel! They weren't lying.
And if you're pregnant, go take a nap.
The end.