Hey hey! Happy Thursday. So glad the weekend is almost here. Hope you have something fun planned. We're having friends over for dinner Saturday night and plan to do a Sabino Canyon hike sometime this weekend, too- now that the weather is cooling down a little, we'll be able to get outside more often.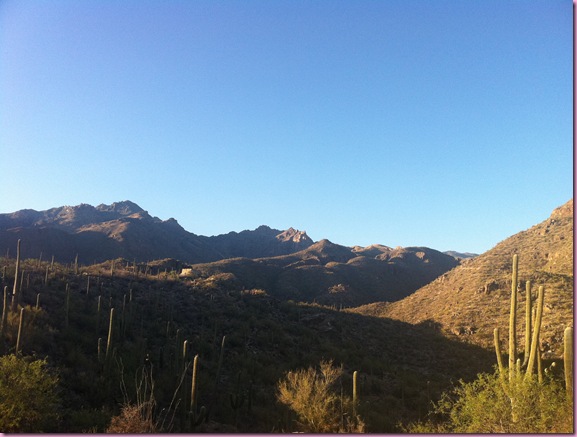 Bella is grateful.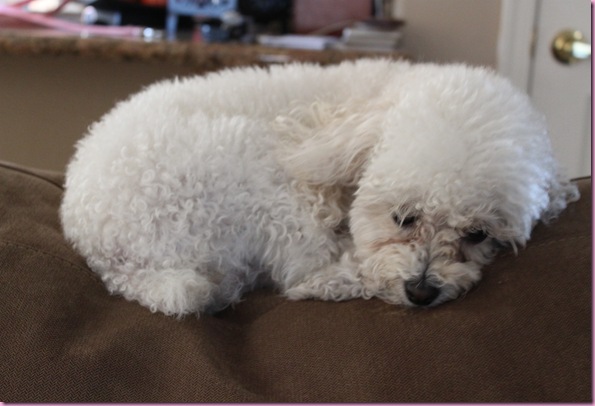 [All tucked up into a Bellaball]
The only thing I worry about with the cooler weather is that rattlesnakes come out to play. The neighbor actually found one in his front yard last week and the Pilot had to carry it with a stick out into the desert. We have to work on rattlesnake-proofing our backyard and I'm also considering enrolling Bella in a rattlesnake class. It teaches dogs how to recognize the scent of a rattlesnake –I think they use one with the teeth removed?- and shock the dog as it gets close to the rattlesnake, so they can learn that it's dangerous.
The thought of anyone shocking Bella freaks me out to no end, but I think a rattlesnake bite would be exponentially worse…. so we'll see what we decide. Has anyone else done a class similar to this?
Some eats
This morning's bfast was a waffle + eggs
and for lunch I packed up the rest of my Renee's salad and sandwich from last night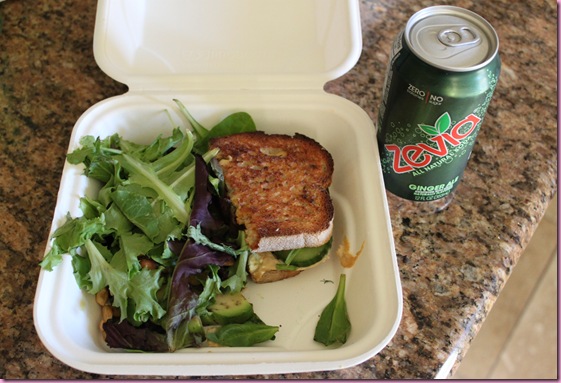 along with a Larabar and plum for snack.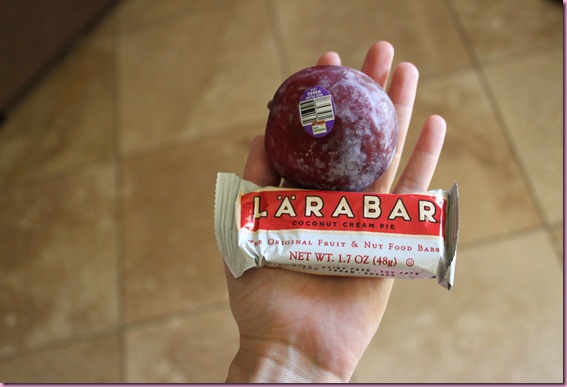 I'm off to teach, but I hope you have a wonderful Thursday!
xoxo
Gina
Show Me Your Fit: Check out these amazing and motivational pics from fellow Fitnessistas- I always love seeing what you're all up to. [Send any "Show Me Your Fit" pics my way to fitnessista at gmail dot com, subject: Show Me Your Fit]
Lisa: Myself (in the purple and black) and my friend Caitlin (in the red and black) before the Parkway Run 5k held in Philadelphia, benefitting the Cancer Center at The Children's Hospital of Philadelphia. 7,000 people and $650,000 raised for children with cancer – what better way to feel good about giving back, and at the same time giving back to your body with a good workout?! Loved it!
Niki from Alberta, Canada, shaklining- she said it's a great way to work balance and core:
Kimberly: Self pic of me running a 13.5 km trail race in the Beautiful Vancouver area on September 24. Notice the sweaty beast I became and the dirty shoulder and face…yes, about 7km in, I took a little tumble, nothing serious.
Loved this pic that Laura sent:
Allie:  My favorite workout is anything involving chin-ups. They make me feel so strong and awesome!
These aren't the best pictures, but it's hard to get a good angle in my tiny hallway 😛
Kristina: This is my best friend Jeny and I after running the San Diego Marathon. We both managed to get a PR on this race. It was my fourth full Marathon and her first!