something a group fitness certification won't teach you
Once upon a time -I'm being vague here because I don't want to directly call out the company/studio- some blogging friends and I went to take a fitness class as part of an event. The studio knew we were bloggers, were wonderfully kind and accommodating, and made a point to let the instructor know that a group of fitness bloggers were taking her class. She came over and introduced herself, and I was excited to try something new. Even though we were there to potentially blog about the experience, we all laid low (no camera flashing or anything like that!) and did what we could to follow along. 
During class, she made a point to call us out and correct us during many of the exercises, which were new to most of us. Whenever we started on the next thing, you could pretty much guarantee that she'd be there to physically correct our form, tell us how we were doing it wrong, and point us out in front of the class. I didn't think that much about it at first, but by the end, I knew I probably wouldn't want to return to her class. Right then and there I also promised myself that I'd do my best to make my class attendees feel the OPPOSITE of how I felt when I left: attacked for being "new" and not really knowing what I was doing. (For what it's worth, this was supposed to be an all-levels fitness class, so it's not like we were jumping into something advanced without the proper prerequisites).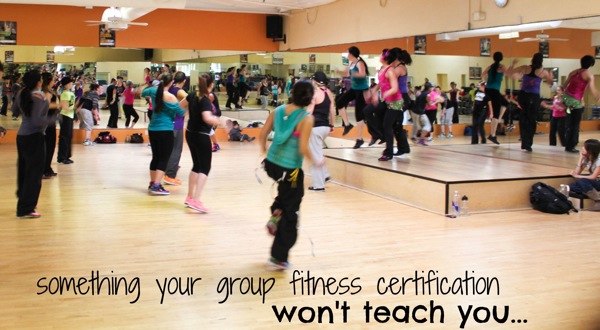 I've only been teaching group fitness for five years, but I've been taking classes for much longer. I've had the opportunity to watch and learn from many incredible instructors and also pick up strategies on how to motivate my classes, modify or progress according to fitness levels, and create relationships with frequent class participants. I'll never forget how kind Marilyn (<– my favorite spin teacher in Tucson!) was to me when I took my first spin class ever. She asked if there were any new people in the class during warmup, I shyly raised my hand, and she took her mic off during warmup to come over and give me the basics.
Something she told me that I've made an effort to consistently tell my classes:
"Listen to your body. Don't be afraid to scale back or take a break if you need to."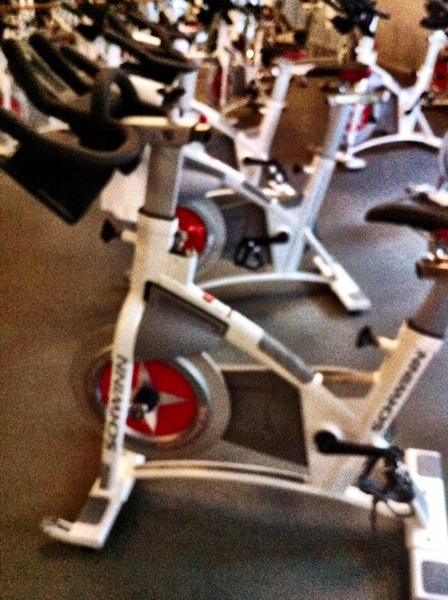 She didn't make me feel badly for pedaling more slowly during the sprints because I was already fatigued beyond belief, for chugging water when it wasn't an "official" break, or for not knowing the proper positions. She made me feel welcomed, and even though I was exhausted when I left, I also felt successful because I got in a great workout. That is what made me come back, and continue to take her classes until I moved to North Carolina with the Pilot.
So why am I posting this?
I got an awesome email from a reader, and it really got the gears turning in my brain and heart. There are so many "x" factors in health and fitness, and demonstrating kindness have a dramatic impact, especially because we have no idea where someone may be on their fitness journey. 
A snippet of the email (which she gave me permission to share with all of you):
Dear Group Fitness Instructor,
Sometimes, I really need to hear you say it. Your motivation is part of what brings me to your class, and I promise I am trying my absolute best, but sometimes I need to hear a couple little phrases from you.
They're not "keep going!" or "try harder!" or "this is where the change happens!" or "sweat is fat crying!" or "no pain no gain, cupcake!" in case you're wondering.
Surprised?
I need to hear you say "It's OK to take modifications and honor your body." Or "It's OK if you need to drop and rest for a minute, just rejoin us when you're ready!" Or "Way to go! You're doing awesome! Stay where you are, or add this for more if you're ready…"
You see, I'm not stopping during your class or leaving out reps or grabbing an extra water break because I'm lazy. I know I'm overweight and not as flexible or strong as most of the fit, awesome looking people in here; I'm here because I want to change that. I promise you I am trying my hardest. But I have some limitations.
I have a cardiac problem. I have bad joints, and a tendency to injure easily. I have asthma. And I am the sole breadwinner for my family. If I hurt myself and I'm unable to do my job (which has physical requirements) I will be in deep trouble. And so will my family.
When I stop for a minute, I'm assessing my body. I'm listening to my joints, and my heart, and my lungs, to make sure I'm just feeling fatigue. Or because I'm feeling dizzy and I need to check my pulse rate (or see if I'm skipping beats). Or because I only got three hours of sleep last night, and I'm debating how much I can push this time without getting hurt. I'm here because I know doing SOMETHING is better than doing nothing at all.
I'm not overweight because I'm stupid… or because I'm lazy. I'm overweight because I worked night shift and went to school full time for several years and I didn't take as much care of myself as I should have. I knew better, but life can get in your way sometimes until you get enough breathing room to figure it out.
I'm really proud of being able to participate in your class. I am building strength, and endurance… I am starting to lose weight, and my clothes are starting to fit better. You have a lot to do with my motivation; you can make or break a class for me.
When you shout the wrong thing at me, I feel attacked. Or defensive. Or discouraged. I feel like you are pointing me out to the rest of the group, which makes me compare myself to them even more than I already do. "Keep going!" when I'm trying to check in with myself feels like "Not good enough!" I won't stop coming to class, this time, because I know better… but what about the girl next to me, who's only been to class twice and is at a point in her journey where she gives up easily?
I know I'm doing overhead triceps instead of tricep pushups. My biceps tendon isn't agreeing with that today. I know I dropped one set of reps during the squat track. My heart was pounding badly enough I needed to let it settle, so the chest pressure would go away. I envy your ability to power through with twice as much weight as I can handle. Or your ability to dance and look coordinated. Or your ability to lead the class, carry on a conversation, and still be pushing through your workout when all I can do is focus on getting through it and breathing.
Be kind to me, and to the others in your class who are like me. It seems so small… but it makes such a big difference. Acknowledging you see me trying and affirming my taking time to check in with my body makes me feel encouraged, and helps me to grow stronger and stay committed to my goals.
Sincerely…
Me
So here's a little fun challenge for today: show some extra kindness to someone next time you're taking a class or working out at the gym. Compliment someone on their shirt/sneakers/headband/whatever, give a fellow class participant a high five after class, or just make an effort to say "hi" to someone you see frequently and introduce yourself. A little kindness goes a long way!
xoxo
Gina
More:
Confessions of a group fitness instructor
Confessions of a personal trainer