Hi friends! How's the morning going?? We are off to play with some friends, hitting the gym, and enjoying this beautiful fall day. I have a new post up on the PBB site if you'd like to check it out!
For today, I thought I'd share a little Stitch Fix review/update with ya, since I've received quite a few great things lately. It's funny because there haven't been many instances lately where I've liked everything and kept the entire box. (You get a discount if you keep everything, so if I'm on the fence about something, I'll just keep them.) Instead, there are one or two things that I am absolutely crazy about, and I'll send the rest back. So all of the items below aren't from one box, but instead are a mix from different boxes that have turned into staples.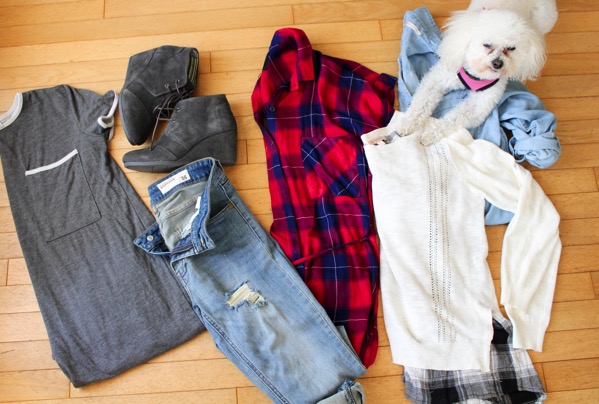 (Skies Are Blue Chambray top, Skies Are Blue mixed material sweater, Rails plaid dress, Pistola destroyed jeans, TOMs booties, and RD Style pocket tee dress)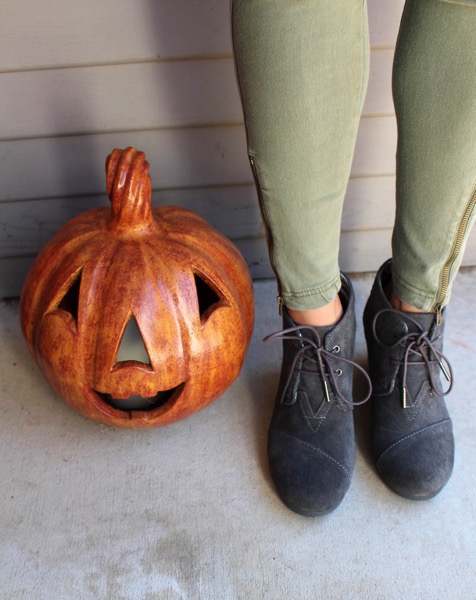 Let's start off with the shoes! When I opened the TOMs booties, I wasn't quite sure how I'd feel about them. I don't tend to wear wedges or heeled shoes daily because #clumsyAF, but was surprised by how comfortable they were. They're easy to walk in and feel amazing; I can tell I'll be wearing them a lot this fall and winter. Also, I appreciate a little extra height. 🙂 I'm a huge fan of TOMs and their mission, so I was happy to update my shoe collection with these!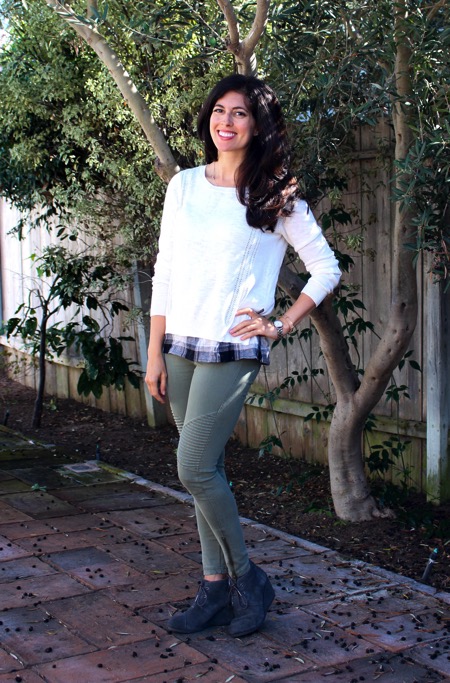 Wearing the Skies Are Blue mixed material sweater (similar in black), moto leggings (similar here for $39! I also have burgundy), and TOMs wedge booties
I knew when I took this top out of the box that it was a keeper. I love the neutral colors, understated plaid, and mixed material. I can play around with different colored bottoms (like my fave moto leggings; thanks for my friend Julie for the obsession), or plain destroyed denim.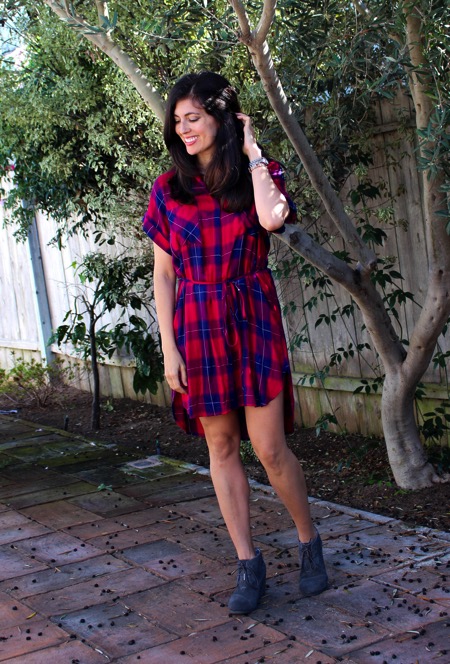 Wearing the Rails plaid dress + TOMs wedge booties
I was a little unsure about this dress. I loved the color and print, and it's similar to a cupcakes and cashmere version I'd been wanting, but it felt a little too "holidays" for me? I don't know. But, when I put it on, I knew it was a keeper. The fabric is super soft and I love that I can wear it with low-tops, sandals, or booties.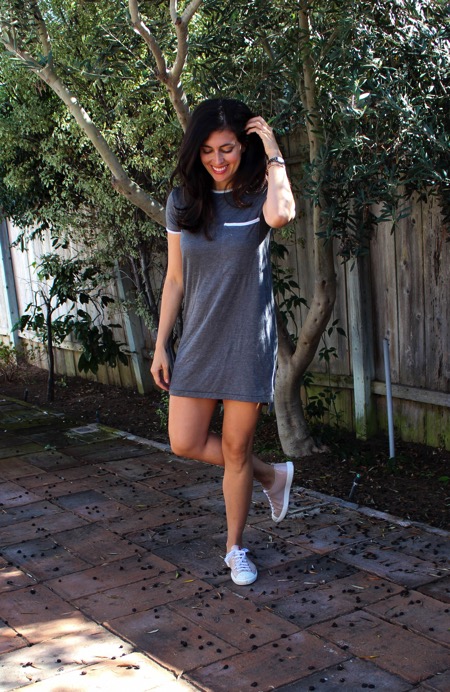 Wearing the RD Style pocket tee dress (striped at Old Navy for $10, ssimilar grey version here for $33) with my favorite Prada low-tops (the newer version is SO cute)
Looking at this photo, I realized this t-shirt dress is a little boxy on me and wrinkles easily, but yolo because I love it. (Do people still stay yolo? Let's just go with it.) I've worn this dress so many times, and love it for running errands, travel, and it's pretty much like wearing a giant soft t-shirt.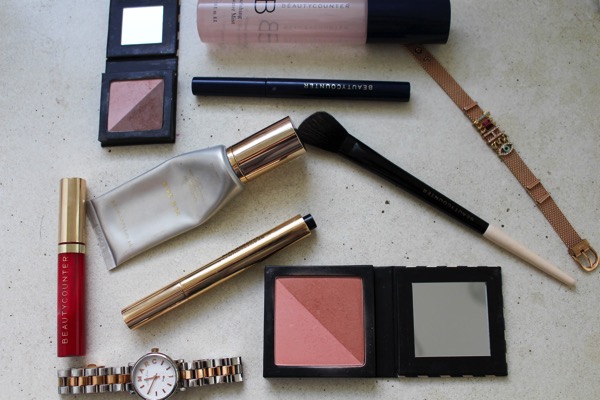 All the makeup I'm wearing in this post is from Beautycounter <— the best. I'm wearing the dew skin moisturizer (my very fave), concealer pen, eyeshadow, ruby lip gloss, blush/bronzer combo and mascara. They also just released their holiday sets and they are toooooo.diieeeeeee.forrrrrrrr.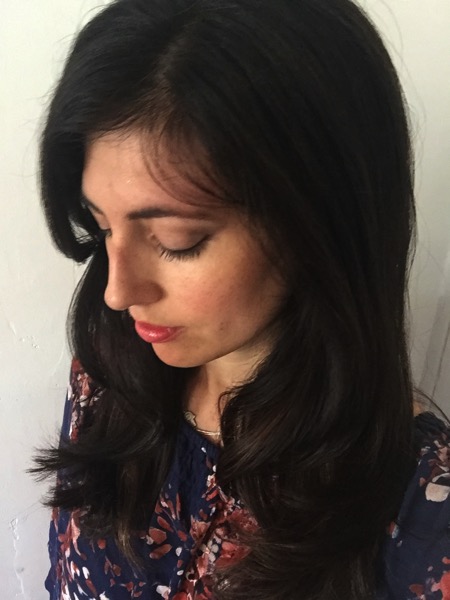 In the hair world, I finally got a much-needed chop and color. As tempted as I was to revert back to mom cut land, I resisted. Whenever I cut my hair, I love it, and then instantly want to grow it back. I considered just cutting bangs since my baby bangs are driving me insane. Instead, I'm just going to try and let them grow out and do their thing.
She just trimmed the dead ends, and used a deep ash brown color all over. She added some highlights to the bottom to take the edge off, and it feels healthy and shiny. For my fellow San Diego friends, go see Shaylin at Jol Salon. (She doesn't know I have a blog or anything like that. She is amazing!)
So tell me friends: what are you loving this fall? Any fun new finds or hair changes??
Some of my tips for getting a better Stitch Fix are here, and my fall fashion faves are all here!
xoxo
Gina
None of this post is sponsored, and I paid for these goodies using my own $ or shop credits. Affiliate and referral links are included, which don't affect purchase price, but allow me to earn a small kickback. Thank you for supporting this little blog. <3