We're on a roll…..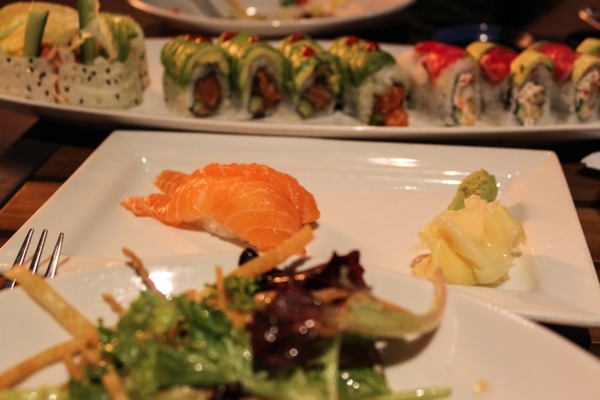 We've been on a huuuuuuge sushi kick lately. If we can't decide where to go for dinner, sushi has become our default. We had a sitter last night, so the Pilot and I decided to hit up Ra, which is one of our favorite spots.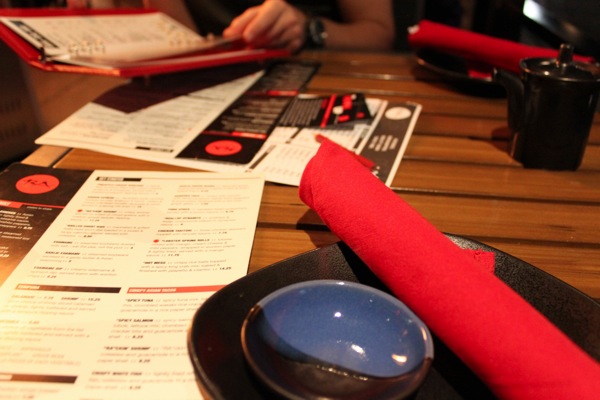 Margaritas for both of us: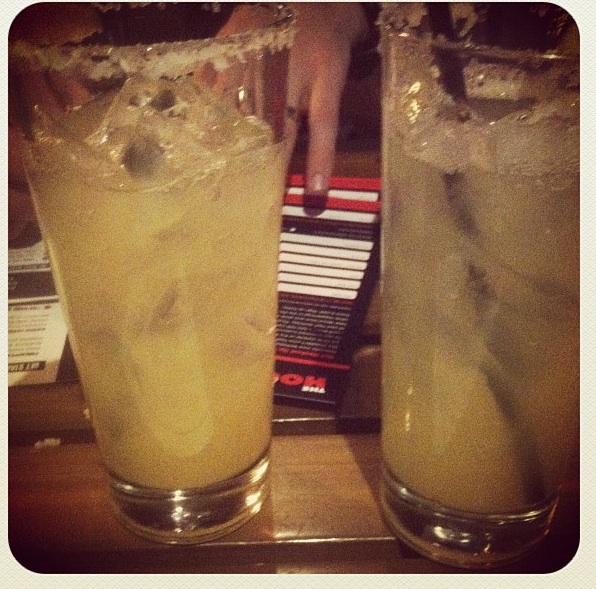 (it was 80 degrees = perfect margarita weather. 40 degrees also = perfect margarita weather)
and ordered house salads, salmon nigiri, the spicy lobster roll (Lobster, cilantro, jalapeño, lettuce, avocado & cucumber wrapped in soy paper), the ultimate shrimp (Spicy kani kama crab mix, cucumber & shrimp tempura rolled & topped with seared tuna & avocado) and the Zonie roll (Spicy salmon, cucumber, cilantro & jalapeño rolled & topped with avocado & sriracha)
It was everything I could ever wish for… but really, you could take anything and cover it in a thick blanket of wasabi and I'm a fan.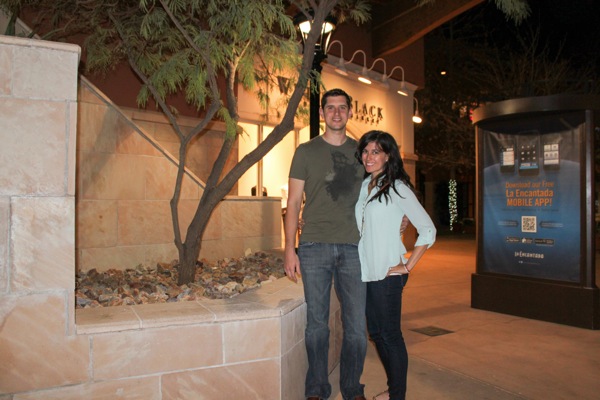 We called it a fairly early night after watching the Wildcats get defeated, and came home to chill. I'm officially hooked on Downton Abbey… just one episode left in season 1! I'm so late to the party, but glad I arrived 😉 I haven't been this excited about watching something since I first got into Grey's Anatomy (like 5 years ago?).
While I was at work yesterday, the Pilot and Oliv went for a daddy-daughter Sabino Canyon hike: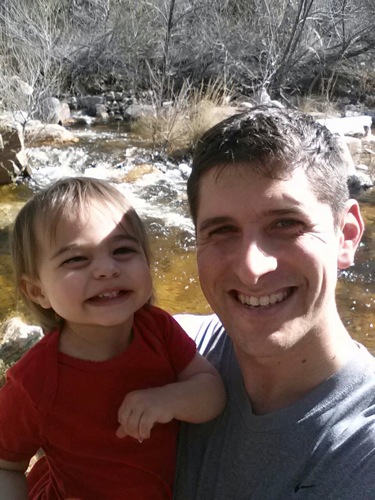 (I can't even handle it.)
I'm hoping to make it back to Sabino sometime today for a run, but we'll see how it goes. We're off to a bday party for now! The rest of the day, you can find me outside 🙂
See ya later with some pics from the day <3
xoxo
Gina
Something to do: Check out the March workout plan and schedule your tentative workouts for the week! Also, time some time to plan, prep and grocery shop- planning leads to success! It's so much easier to make healthy choices when you've taken a little time to create an action plan.
Here are some of the meals we'll be enjoying this week:
–Jerk-chicken stuffed sweet potatoes (using Sasha's recipe)
–Black bean burgers and sweet potato fries
–Spring rolls and healthy fried rice
–Chicken Cacciatore with pasta
What's on the menu this week? Are you trying any new recipes or fitness classes?