that one guy's bday + weekend adventures
Hi! Happy Monday! Hope you had a wonderful and relaxing weekend.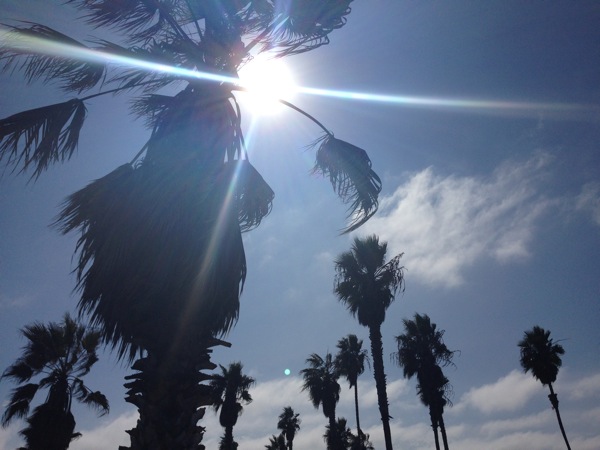 We spent ours celebrating the Pilot's bday!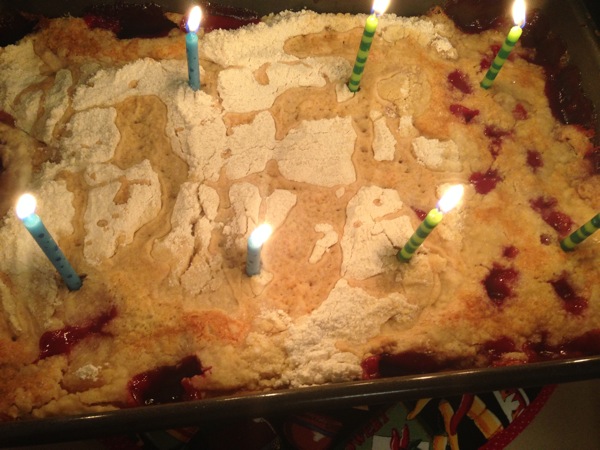 (the famous dump cake)
It started off with an amazing dinner at Stone Brewing in Liberty Station. As expected, they had an incredible beer selection, in addition to house wines and fantastic food.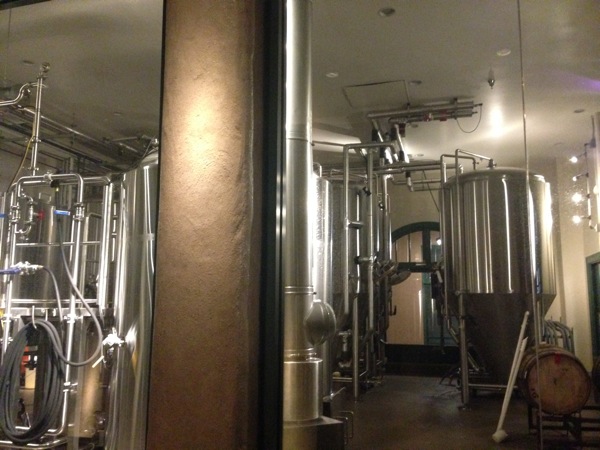 It was too dark to get a good pic, but they have fabulous outdoor garden seating with huge boulders ("Stone" brewing. I got it. Ha.), fire pits, and built-in space heaters. It was a really unique spot, and we had no idea it existed in Liberty Station. We venture out there fairly often and there are tons of restaurants and fun shops; I feel like we always discover something new! We'll definitely be back.
Saturday, we had a day of free classes at the gym, so I taught a short Zumba class and took BodyCombat. I've only tried it twice, but it may be one of my favorite Les Mills formats. It's always enjoyable to unleash the inner ninja. The choreography matches the music perfectly, and I especially loved the capoeira elements.
That night, we got to get a little fancypants.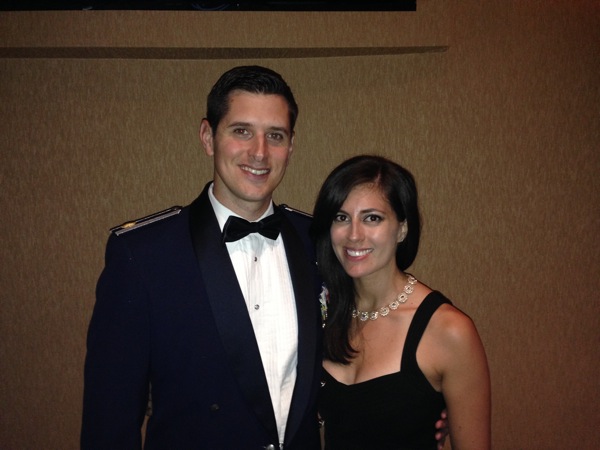 The Pilot had a formal event for work, so we enjoyed a lovely dinner, shenanigans with friends, and dancing.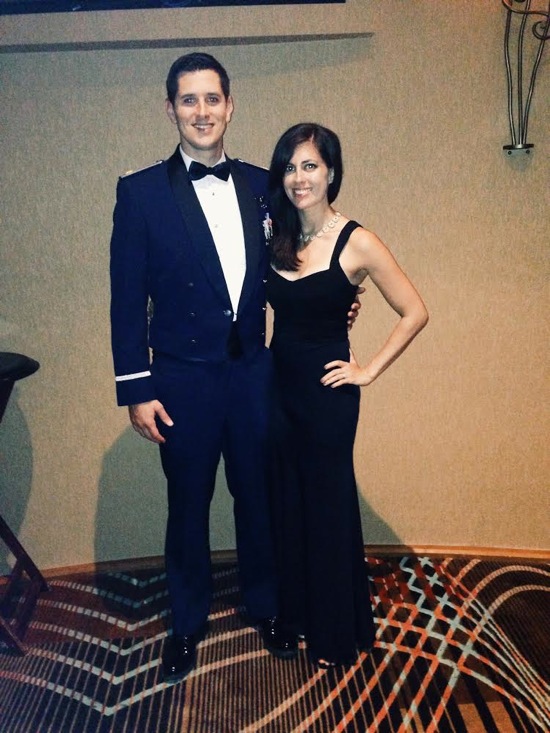 (I rented my dress and necklace from Rent the Runway. In the past, I haven't had the best experience with them -especially because I'm short and you need to size up for designer pieces, so nothing fit me- but was really happy this past time. They have a new way to narrow down the selection according to body type, so I was able to choose a dress that worked. It was nice to avoid spending $$$ for a dress to wear one time.)
Party hostesses, take note: the only centerpiece we really need for the holiday season.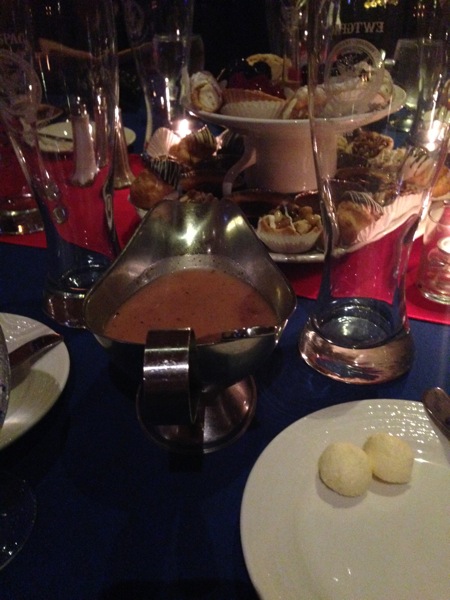 Dessert tower > flowers
We had a blast with everyone and it was great to meet some of the wives who live in the area, too.
Sunday was an OrangeTheory date with a friend (thanks for meeting up with me, Ryane!), errands, and a stop at the dog Halloween festival, complete with contests and a costume parade. I'm pretty sure there's nothing better than a dog in a Halloween costume, even though I'm sure Bella would vehemently disagree.
Butterscotch, in her lovely peacock costume: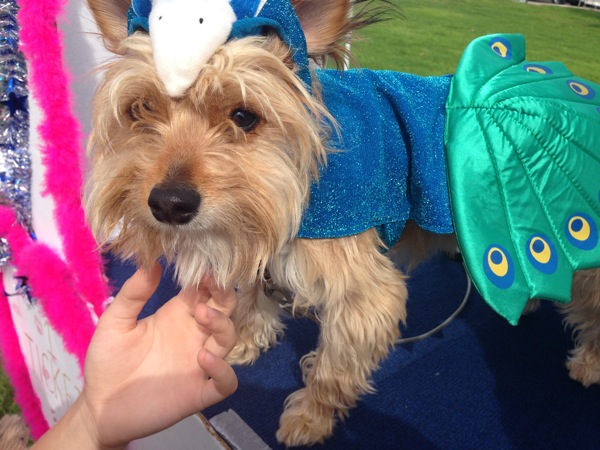 Nacho, in his fancy taco getup: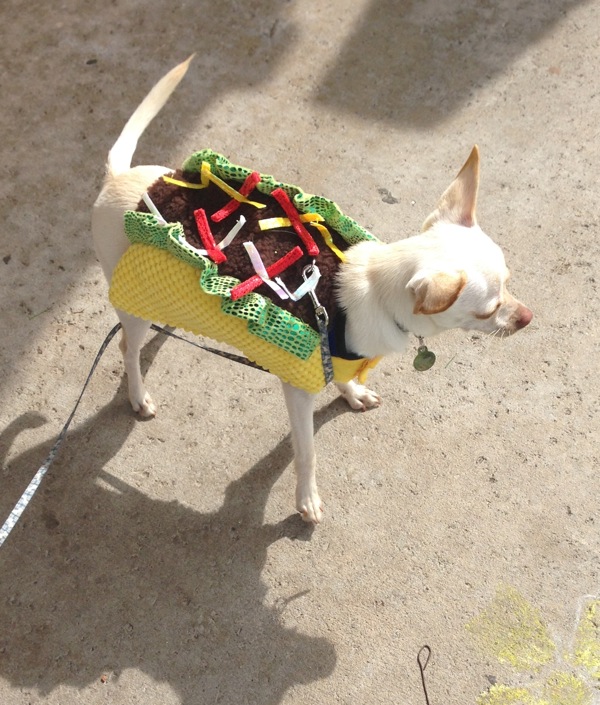 and we also had to participate in the doggy kissing booth.
This morning it's back to the usual teaching schedule, and recipe testing extravaganza for a fun project I'm working on.
What did you do this weekend?
Are you dressing your pet up for Halloween??
xoxo
Gina