The Bailey's took my yoga
Hey everyone! Happy (?) Monday! We're back from Orlando and even though it was a very short trip, we had a blasty!
Saturday night included a little of this: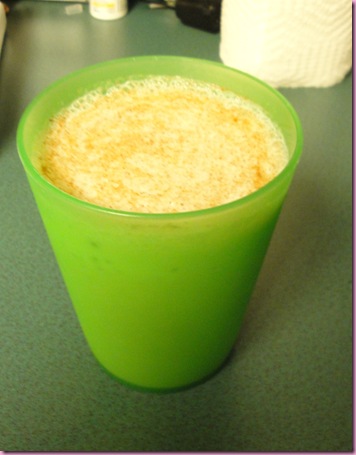 That is a Bailey's shake. I have a torrid love affair with Bailey's and that might be the best creation ever. It has almond milk, Bailey's, Kahlua, fresh banana and cinnamon. Pure evil >:) We also watched 17 Again, which I thought was a great movie… we'll the 3/4 of it that I saw before crashing out on the couch;)
Sunday morning, I was feeling slightly dehydrated, so I hit snooze about 5 times and slept through oven yoga. I'm glad I did because I wouldn't have lasted but at the same time, I'm also bummed because I really wanted to go.
Bfast was a fruit plate: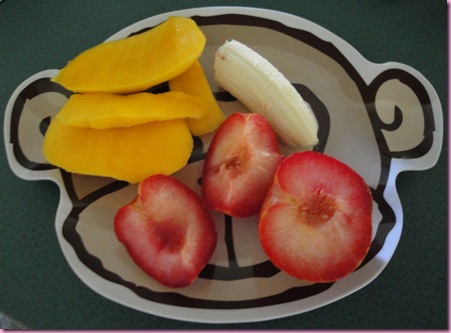 Mango, pluot and half a banana.
And a little while later, a smashed Larabar from my purse: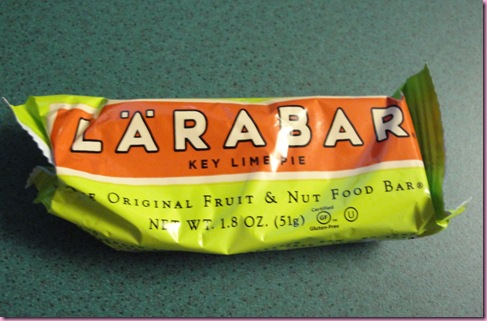 We hit up the outlet mall so I could get some plain T-shirts from Banana to wear under my cheffer coats, and since I had been harassing begging the pilot to take me to Cafe 118 (to get into the raw culinary spirit! haha), he said we could stop there for lunch.
I hadn't been to Cafe 118 for a while (last time we visited was here– I made the mistake of stuffing my face with every nut-based food offering and got sick), and didn't quite remember how to get there.
Crackberry saved the day- I can't believe it has GPS!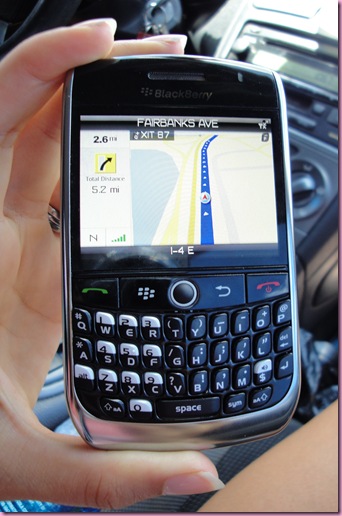 Bummer though- when we got there, it was CLOSED!!! BAHHHHH. Hahah I had to remind myself that in exactly one week from today, I'll have all of that glorious raw food available to me when I get to school 🙂
So instead, we hit up Bosphorous, a Turkish restaurant in Winter Park.
We started with the babaganoush: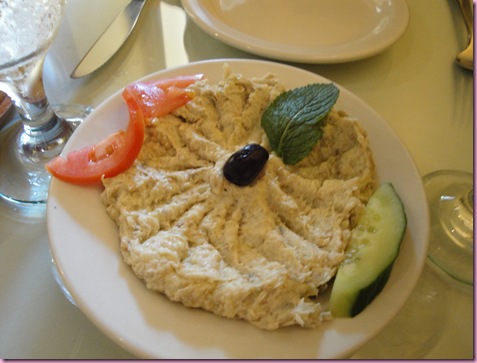 Which came with the most beautiful lavash bread I've ever seen: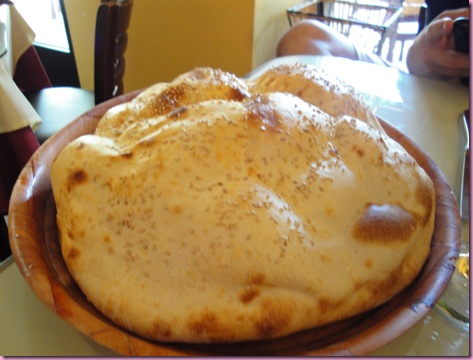 I adore bubbly bread and if I ate white bread, I would have been all over that. The pilot said it was amazing.
We were kind of in a time crunch to get on the road because we had to get Viesa from the kennel and meet up with friends for dinner, so we asked for our food to-go.
I ate my house salad (no cheese, dressing on the side)  in the car: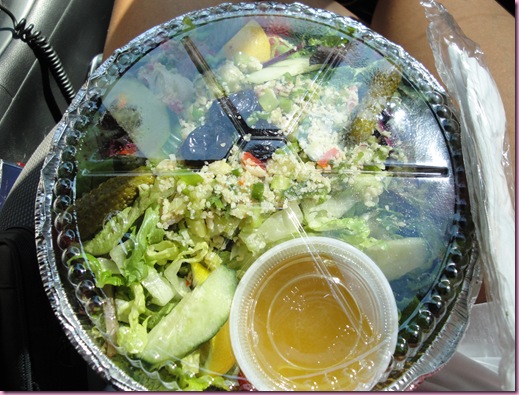 And it may have been the best restaurant salad I've ever had. Fresh leafy greens, tomato, bell peppers, kalamata olives, tabbouleh and 2 little gherkins with lemon and olive oil dressing. That salad had no chance.. I devoured it 😀
The pilot loved his lamb wrap ("Mary had a little… lamb"), and I know we'll definitely be going back to this restaurant. It's more of the kind of place you need to go to when you have a couple of hours to relax and enjoy your food—not eat and run like we had been planning to. Everything was so fresh and delicious 🙂
My aunt is watching Bella for the week while the pilot drives me to OKC –he's flying back to Orlando and picking Bella up- and I miss her already!! 🙁 Thank goodness I still have one puppy this week!
I'm off to walk Viesa and chill with the pilot since he doesn't have to go in until later 😀
Have a wonderful morning and I'll see ya for lunch!
Much love,
G$

Happy (belated) birthday to MY DADOO and the beautiful Erin from Care To Eat!!!!