Hey guys! Sorry I disappeared on ya today! It's been insane in the membrane but now we are finally in beautiful, civilized Orlando 😀
Last night was a little random.. I got home from work, exhausted, crawled into bed and crashed out at 7pm. I woke up at midnight and decided to make some middle-of-the-night cookies with my newfound energy.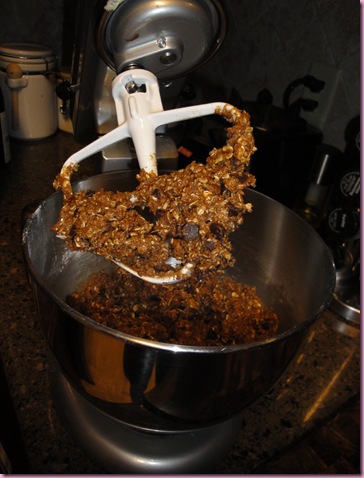 I made Vegan oatmeal chocolate chip (from Eat, Drink and Be Vegan) and used half spelt flour and half brown rice flour.
Also, some Carob Peanut Butter Swirl (also from Eat, Drink and Be Vegan)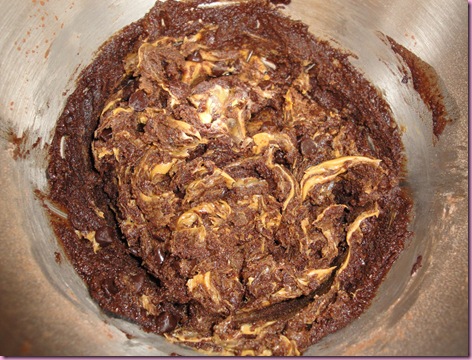 Some on a plate to give to my friend Jeni and also made a container full to take with us to my aunt and cousins in Orlando.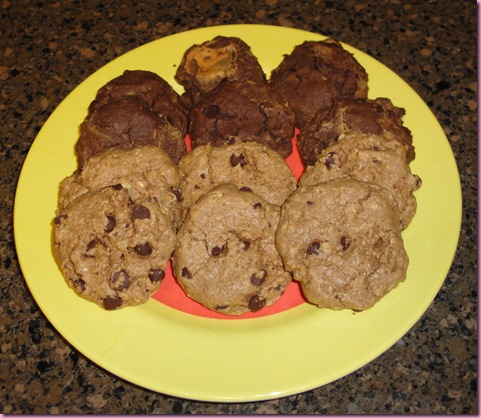 I finally made myself go back to bed around 3 and woke up nice and LATE this morning 😀 My sleep schedule has been so out of whack since the dog disaster occurred.
This morning, I woke up to a lovely almond butter and jelly breakfast cookie: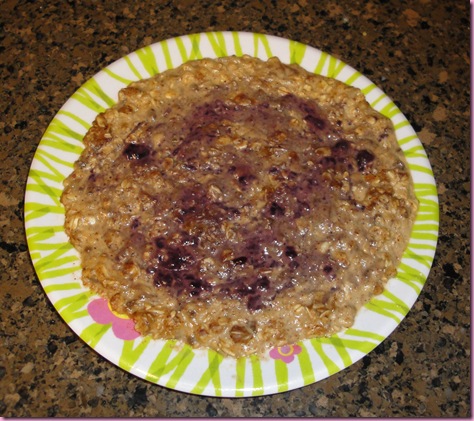 It had 1/3 cup oats, 1 scoop sprouted brown rice protein, 1 tbs almond butter, 1 small smashed nanner, vanilla hemp milk, Stevia, cinnamon, sea salt and TJs Superfood Spread.
After devouring the delicious bfast, I hit up the gym for some cardio and abs.
I did 5 miles on the revolving apparatus of death (aka the treadmill) and followed it up with some plie squats, stability hamstring curls, leg extensions, and calf raises on the Pokemon balls.
I came back to the casa, Jeni and her pilot stopped by to pick up their cookies and some tamales, I packed up and we were on the road.
Best little car buddy: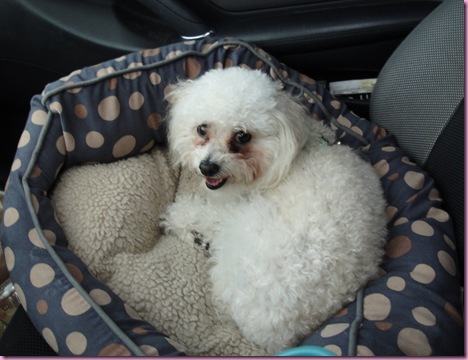 I munched a fruit cup from Publizzle while I drove: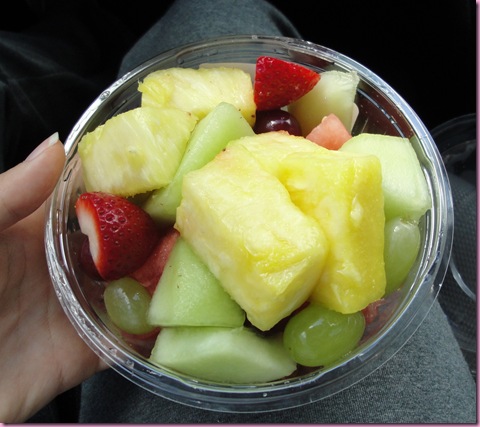 (and an unpictured Cashew Larabar)
While I was driving, I was chatting with my little bro and a little turtle was crawling across the freeway. I smashed him and immediately started crying on the phone. My brother just laughed at me. I couldn't swerve or break, so I just drove over him. I'm a turtle killer. I'm very sorry, little turtle and hope you're in turtle heaven 🙁
We got into Orlando just in time for dinner, so the pilot and I hit up my longtime favorite: Seasons 52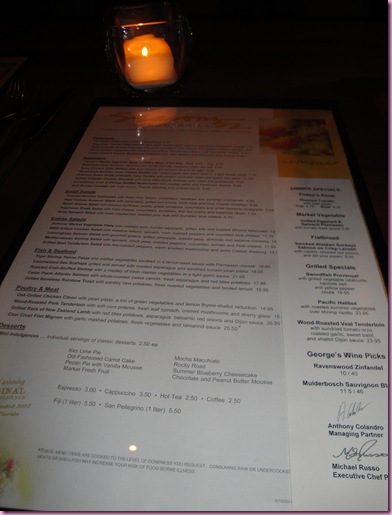 I wasn't really feeling like wine, even though it's been a week since I drowned myself in guacamole and wine, so I rolled with a Bloody Mary.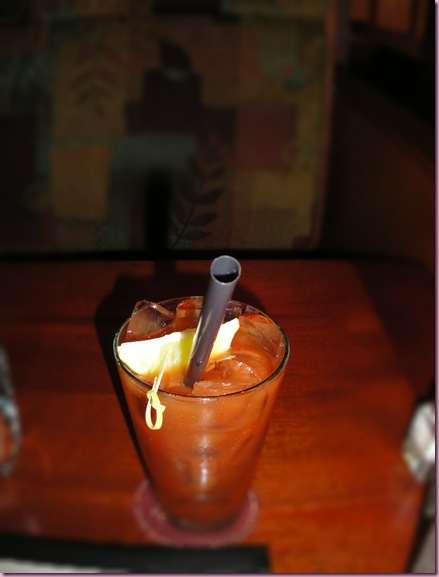 We started with the tuna tartare with pickled cucumber and a sweet chili glaze: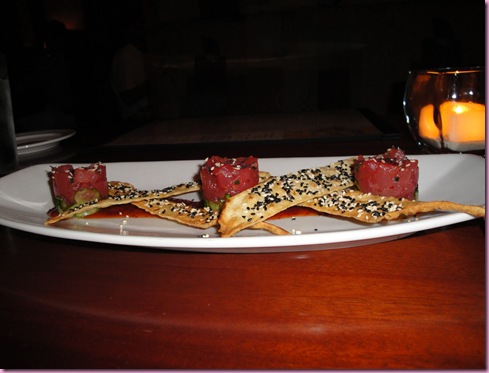 I got the usual lemongrass salmon salad: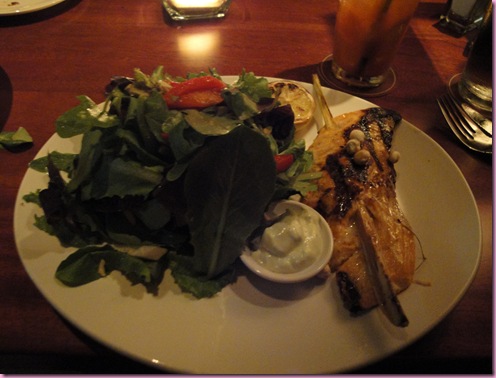 And the pilot got the crab-stuffed shrimp: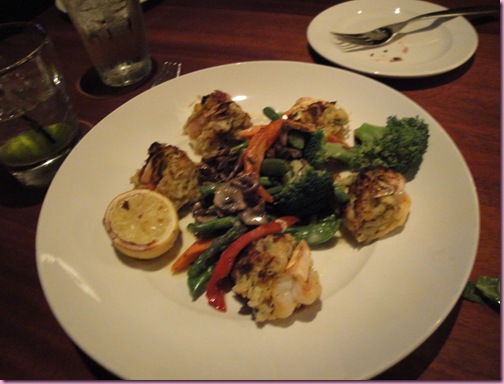 When they came by with the desserts, you know we were all over it.
I got the carrot cake: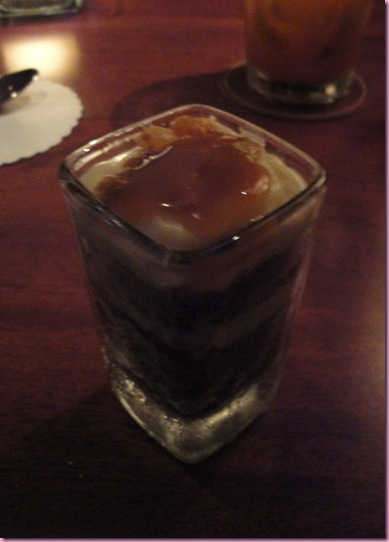 The cream cheese frosting rocks my face off
And the pilot had blueberry cheesecake and Key Lime pie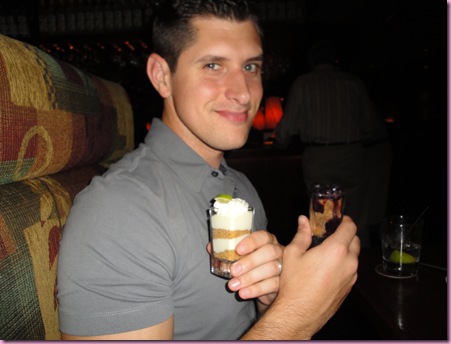 (ow ow!)
I'm not sure what we're doing for the rest of the night, but I promise shenanigans are ahead 😉
Hope you're having a wonderful weekend and I'll see ya tomorrow!
xox,
G$