Sup bloggies? How's your Monday going?? Hope you're all having a great day 😀
I started mine with the classic breakfast cookie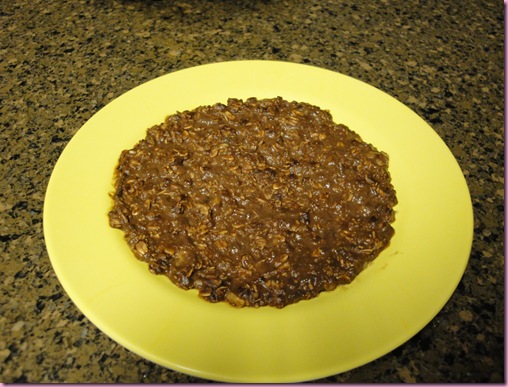 I've been on such a kick lately! They're not technically raw since the oats are toasted, but it's all I've been hankering for lately. They're just so convenient and delicious 😀 Today's bfast delight included 1/3 cup oats, 1 small mashed nanner, vanilla hemp milk, vanilla sprouted brown rice protein, raw almond butter, carob, Stevia, cinnamon and sea salt. Glorious.
The pilot didn't have to go into work until late, so we took Viesa for a walk. The nervous Nelly got scared of a garbage truck, escaped from her leash and ran home. What a goober 😉
On base they're having another exercise, in which they all pretend they're deployed. This mean two things: 1) aerobics classes will be empty this week, and 2) the pilot brings out all of his deployment and combat gear.
I had a little too much fun with his combat hat…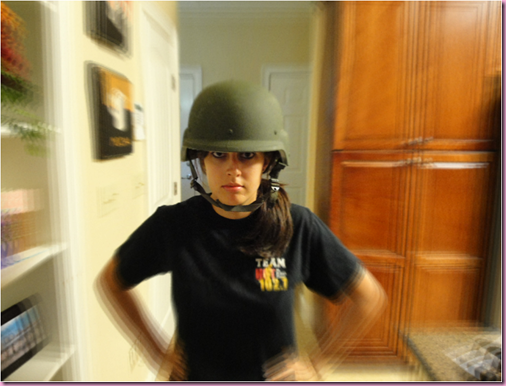 Drill sergeant Gina says: STAY AWAY FROM TRANS FATS!!!!
Haha!
The pilot left for work, and I finally cleaned out my car. It's totally empty, with the exception of enough dog hair to cover a small animal. Thank goodness I'm getting it detailed tomorrow—it will be sparkly clean for our road trip 😀
Lunch was a salad beast: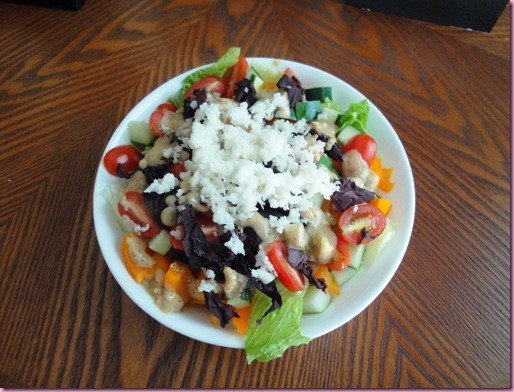 It had romaine, cucumber, bell pepper, grape tomatoes and dulse drizzled with a dressing of lime juice, garlic, Nama Shoyu, almond butter, sesame oil and cayenne pepper. It was pretty much the "classic" beast with the exception of the topping—I used grated jicama instead of goat cheese.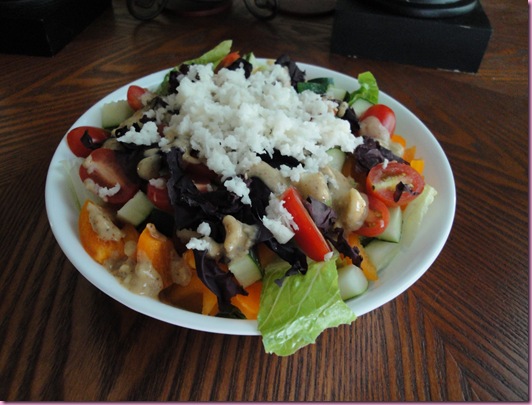 I LOOOOOVE me some jicama! So crispy and fresh 😀 (For help on "cleaning" jicama, check out this post)
And half an Ezekiel muffin: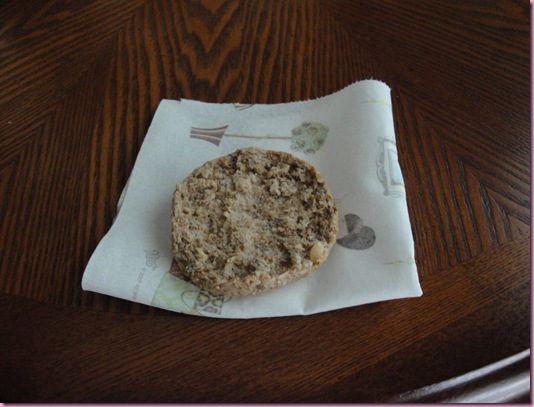 I hit up the gym with Jeni for some shoulders, triceps and chest and I'm off just about to get my spin and Zumba playlists together.
Hope you enjoy the rest of your day and I'll see ya tomorrow!!!
xoxo,
G

  HAPPY BIRTHDAY to the lovely Rose!!!
Updates to the bloggy: New playlist tab!
Today's tip: If you're looking to change your eating habits for the better, try breaking it down into little mini-goals each week. When I pick up new clients, instead of freaking them out and telling them about all of the things they should avoid, I focus on 3 goals for each week and give them healthy swap-outs. When they get the hang of that –usually about 2 weeks- I'll add 3 more mini-goals.
Usually, the first week goes like this:
1. Instead of fried, go for grilled, baked, steamed or poached
2. Instead of mayo, use nonfat plain yogurt, vinaigrette or just mustard
3. Instead of soda, sip unsweetened tea and add Stevia if you need sweetener
After about a couple of weeks, I'll add it wheat over white, more fruits and veggies, less processed stuff, etc.
I also have all of my clients keep a food journal. NOT with calories, but just a list of what they ate each day, how much water they consumed and if they completed their cardio. It's a great way to stay accountable, without letting the "tracking" part take over their lives (with calorie counting and all of that mumbo jumbo).