I think it goes without saying that by far the scariest part of pregnancy is the birth itself. When you've never experienced it and always hear horror stories from other people, it's easy to let the fear overcome you. When we first decided we wanted to start trying last spring, the Pilot was deployed a lot, and I was home by myself with the puppers. I decided to read as many books as possible about the birth process, because one of the things that helps me feel better and less afraid of the unknown is educating myself.
I was seriously horrified of the process and would spend nights laying in bed, scared out of my mind and had nightmares about the birth itself. I think it was a red flag that even though it was something I really wanted, at the time, I wasn't mentally ready.
I read twelve books (almost all of which I'll be writing about on this page), and when Tom deployed to Afghanistan, they went into the bottom of a large reusable shopping bag and I didn't look at them again for the entire deployment.
Since we got the positive test, heard the heartbeat and finally are starting to let reality kick in that this is really happening, I've brought the books back out as refreshers, bought some new ones including a couple for the Tom, and put together a birth team.
Fantastic books about childbirth itself: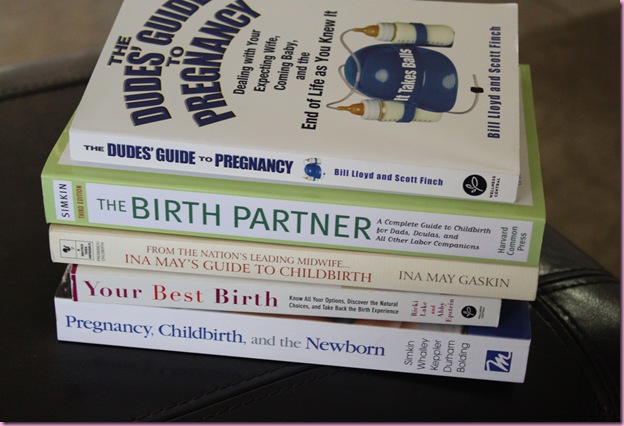 (the top two are Tom's)
I've known from the beginning that I've wanted to have a birth with minimal medical intervention, so have read books that correspond with that ideal, as well as medical intervention stuff in case I'm in a situation where it needs to happen. I'm going through the birth process with an open mind, a great idea of what I'd like to happen, and knowledge on possible scenarios if plan B arises.
I can't recommend these books enough: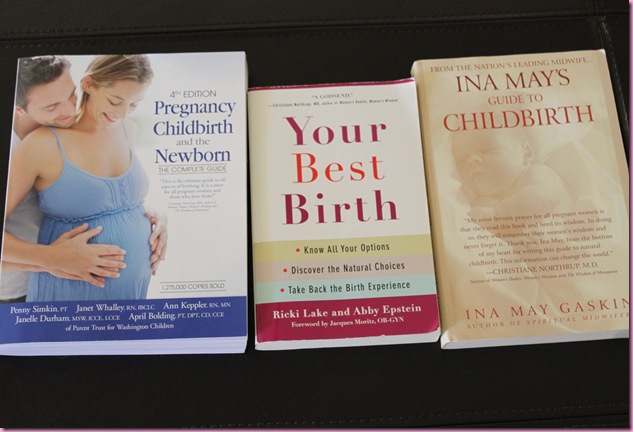 –Pregnancy, Childbirth and the Newborn: a very thorough guide to EVERYTHING. I like the layout much better than "What to Expect.." and anything you could want to know is in this book.
–Your Best Birth: This book is about taking back the birth experience, since many women who have a hospital birth end up with unnecessary C-sections due to the doctor's convenience and the fact that pregnant women are treated like they're sick. Pregnancy is a natural life process that our bodies have been capable of handling since the beginning of civilization. While this book does have a focus on home births, it provides a variety of birth options, what you need to know about the various types of medications offered, and gives empowerment to make the best decision for you. I've also seen the documentary from the authors of this book (The Business of Being Born), which is incredibly informational (and can be viewed for free online).
–Ina May's Natural Guide to Childbirth: This book is my absolute favorite. It's beautiful and so well written. It's by Ina May Gaskin, who is one of the top midwives in the US- she learned her birthing techniques from the Mayans in Guatemala and emphasizes the low risk of morbidity and medical intervention in natural births. This book includes birth stories from women who have had natural birth experiences (which always make me bawl) and the second half of the book is purely informational. I'm excited to read this one again now that the time is here.
Books for the husband: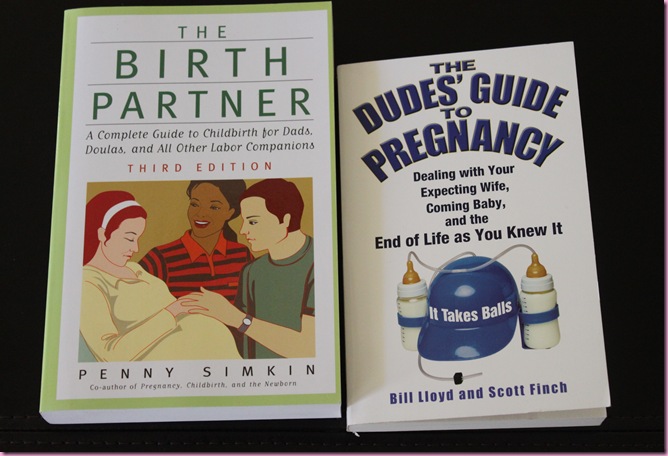 The Birth Partner– Tom is going to be a key part of the birth process (from my neck back, haha. But seriously), and I wanted him to read this book for ideas on what to do and what he may need to know about the birth process. It gives the husband ideas of ways to support their wife during labor and is also recommended for doulas to read as well.
The Dude's Guide to Pregnancy- I bought this book because I knew he'd actually read it (and he did, in 1 day)- it's crass, straight-forward, borderline offensive and he loved it. I read some parts and were cracking up because 1. they're actually true and 2. it was totally written in dude language.
Midwife:
Our midwife is actually going to be performing the entire birth in case medical intervention is necessary, in which case there will be an OB on hand. I will be in a birthing room at the hospital –Tom was 100% against the birth center since it's a few minutes from the hospital, which is a long time in an emergency situation- and my midwife has the exact same ideals as I do. She's confident that I'll do "quite well" with the entire process and while she doesn't baby me in the least (I find that if medical professionals baby me, I turn into a baby and cry a lot), but will be encouraging and is so knowledgeable that it's very comforting to know she'll be there.
Doula:
You'll never believe this but our doula is actually Viesa's new mom 🙂 Our families have been friends for years and she's a nurse who will beginning midwifery school in the fall. I told her that I wished she could be our doula and she told me that she was already a certified doula who has done a few births already. Done and done- she'll be perfect for physical and emotion support. The fact that she'll be there with me and also knows exactly what I want (and will fight for it), makes me even more excited for the whole birth process. I'm confident that she'll get along great with our midwife, too 🙂
It's funny because I was so scared of this a year ago, I feel totally ready (and even excited) for it right now. I'm looking forward to see what my body is capable of and the reward that we'll get at the end will be beyond worth a few hours of being uncomfortable or in pain. I'm an athlete and can get through anything over the span of hours.