The End of the 4th Trimester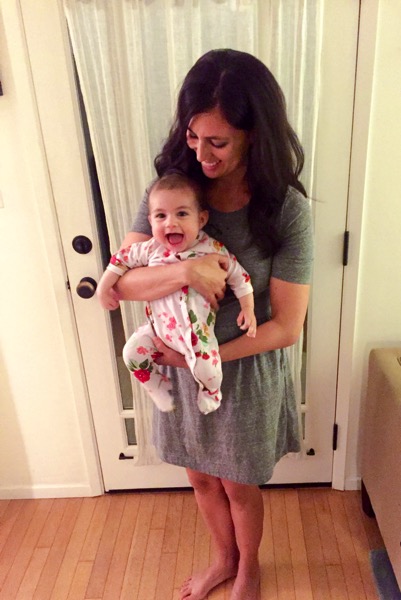 At a point in time that once seemed SO.FAR.AWAY.
Everyone tells me that they miss the newborn times and the early days. I smile and say, "Yes, aren't they the best?" and then laugh in my mind because I personally think the newborn days are kind of terrible. Sure, it's amazing to have a sweet baby snoring on your chest, see the beautiful first smiles and listen to soft coos. But, I can't say I'll miss the four thousand diaper changes, constant wake-ups, breathless screams, and from this situation, the never-ending vomit. 😉 I certainly don't miss seeing P in pain from the reflux, choking, or lying awake all night next to her, worried sick with anxiety. (Thank goodness for the Owlet.) I've said it here on the blog before, but to say it again: babies are awesome, but I think kids are SO much more fun. If I could birth 3-year-olds (you know, without my body breaking), I'd be the next Octomom. Of course, you have to go through the newborn phase to raise these amazing humans, and I don't regret any second of it because I'm so in love with our girls, but instead of lamenting the past, I'm loving the present and looking forward to what the future brings. It just gets better and better.
I also won't miss postpartum depression and anxiety.
Like the prolapse stuff, PPD is something I don't think is often discussed, so I'm going to talk about it. Because it's not a common topic of conversation, it can make you feel isolated and even more alone when you're going through it. And I get it. It's obviously not the happiest subject, and it can put the ones you love in a tough situation. They're worried about you and want to help you, but aren't sure how. They want to be there for you, and don't know what you need. It's tough all around.
I had postpartum anxiety and initially undiagnosed postpartum depression after Liv was born. It was undiagnosed because I figured I should fight through it, and had a hard time accepting help from anyone. I couldn't talk about it while I was in the trenches, and it wasn't until Liv was a year old (a year old!) that the fog lifted and I finally started to feel myself emerge from the shadows. It was horrible, and I promised myself with baby #2 that I wouldn't let myself get to that point.
Steps I took to Combat PPD
I did everything in my power to be proactive about it.
-I started therapy sessions and got an action plan of steps we could take. Tom went with me so he knew what to look for, and how to help me
-I pre-wrote almost 20 posts for the blog so I could take a "maternity leave" without the site going totally dark. I'm still really proud of myself for doing this, and I was able to take almost 4 weeks off from the blog (except for a couple of sponsored posts that popped up and adding in a couple of current posts). It was amazing, and there's no way I would have been able to maintain my posting schedule with all of the doctor's appointments, etc. that became necessary. I was able to nap whenever possible, shower, and take care of our girls, while easing back into work.
-I rounded up my "village." My mom came to visit, my nana came to visit, and Tom took two weeks off. We also extended Liv's preschool hours. She had a few weeks of difficult transition when P was born, mostly from being bored at the house while I was holding P (who was crying and spitting up constantly, for hours), she wanted to be with other kids, play outside, and enjoy learning with her wonderful teachers. It was a smart choice, and she has been thrilled ever since. At first I felt guilty that she was at school longer, but my therapist put it perfectly when she said, "Do you really feel bad that she gets to be at an amazing place she loves, learning and playing with her friends? Or do you feel bad because you think you're supposed to feel bad, and think you're magically supposed to do everything on your own?"
The Return of the Black Cloud of Depression
Even with all of the things I did, I felt so discouraged to feel the black cloud creeping back on. The reflux, diet changes (from cutting out multiple food groups as the pediatrician recommended to see if it would help P), and constant doctor's appointments compounded with the worry, stress, and my own medical issues began to take a toll.
It went from "Ok, I can handle this" to "Ok, I'm dealing with this now too, but it's ok" to "this is just too much." A significant endorphin contributor (sweaty exercise!) had been put on hold shortly after I was cleared. I knew we were surpassing the normal baby blues, and heading into PPD territory. There was a span of a few weeks where I cried every.single.day, sometimes multiple times a day.
And then there's the guilt. Here are I was with such a beautiful, wonderful family, and feeling so sad at the same time. It's very confusing to be simultaneously overwhelmed with love, happiness, and despair. I felt guilty from feeling sad, and also felt guilty every time I needed help from anyone else. I felt like I was failing at everything, and the negative voices in my head started to crush me.
I lost my energy. I didn't want to get dressed, or eat, or blog, or do anything, but I forced myself to keep on keeping on, because my girls needed me. They didn't need a mom who was in bed crying all day, so I put on my happy face and did what I needed to do. I felt like I wasn't good enough at anything, and often felt helpless with everything going on. I recognized that I needed help, and sought it immediately.
Seeking Help for PPD
I upped my therapy appointments, started going back to acupuncture, talked to Dr. Flynn about getting my hormones balanced and started herbs for that, and also addressed things I was doing that made the situation worse. I knew I felt worse when we stayed home all day, so I forced myself to get out of the house. I met up with friends for coffee or went on walks with P for some sunshine.
I finally asked for a prescription for depression (my doc prescribed Lexipro) and the weekend I picked it up was when I ended up in the ER for the second time, postpartum. It's funny, because sometimes you have to hit the bottom to start creeping back up to the top. When I found out that the Urogyn wasn't worried at all about the prolapse -she said it's exactly what she'd expect at this stage postpartum and expects it to fully heal- but rather another issue (which is going to be fixed, even though it sucks), and when P turned a corner with the reflux, I started to feel better. It was like a light switch was turned on, and the difference has been astounding. My energy is coming back, I feel productive, and I don't feel like I'm wearing a mask all day.
When I was at the ER, I was talking to my nurse about the PPD (it's in my medical chart) and she said something that I really needed to hear,
"Whatever you're going through, just remember that it's ok. You're going to be ok. I know you will."
To all of my friends who are going through something similar: you are going to be ok.
Please, please don't hesitate to take to someone, call your doc, and get the help you need. I waited way too long last time, and I regret it. Even if you're away from family (like me), you can find a village. Talk to a therapist. Hire a postpartum doula to take care of YOU. Get some reliable childcare, even once a week, so you can sit in a coffee shop alone, meet up with friends, take a long shower, or nap. Hire help with the house or anything else you think that could reduce stress for you. Don't be afraid to take medication if you and/or your doc think you need it. Tell your partner and friends how to support you, because they want to. They just might not know how, or know what you need. Get fresh air. Take deep breaths. Know that you are doing an amazing thing and an amazing job, even if you don't feel that way. Remember that you don't get a medal for doing everything on your own. You don't have to suffer anymore.
Sending so much love to you all <3 Thanks for being there for me during the ups and downs of life. Thankfully, we're hitting an up after some downs.
xo