This was almost the post where I tell you about majorly screwing up the easiest recipe of all time: Summer Dump Cake.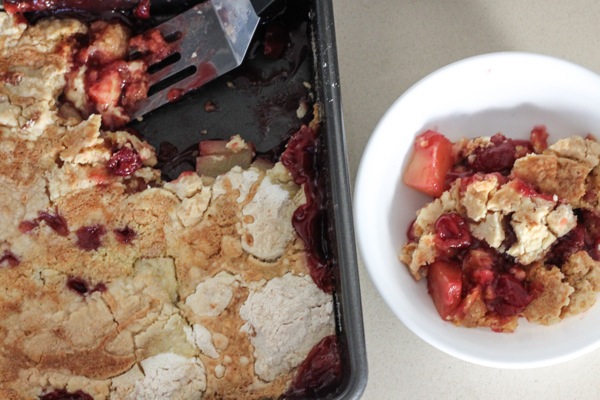 In honor of Father's Day, I had to make the Pilot his all-time favorite: dump cake! Target didn't have crushed pineapple, so I figured it would be no big deal if I used pineapple chunks. I even considered giving them a whirl in the food processor, but Liv was snoozing while I made this and instead of lugging the food processor outside, I just said a prayer it would work. As I was putting in the oven, my brain was immediately flooded with doubt. "It's a 4-ingredient recipe with THREE STEPS. I think you'd have to work to screw this one up, but then again I always surprise myself…."
Thankfully, turns out that it's a forgiving recipe. It came out just as glorious as we all remembered it.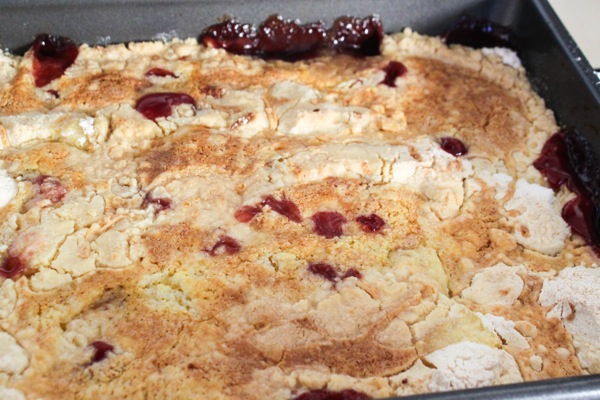 It's not much to look at, but I promise it will be one of the best and easiest desserts you've ever had. It's almost like a crispy cobbler, but better, since it involves cake mix 😉 With ice cream on top, it's basically the quintessential summer dessert.
Here's how the dump cake works: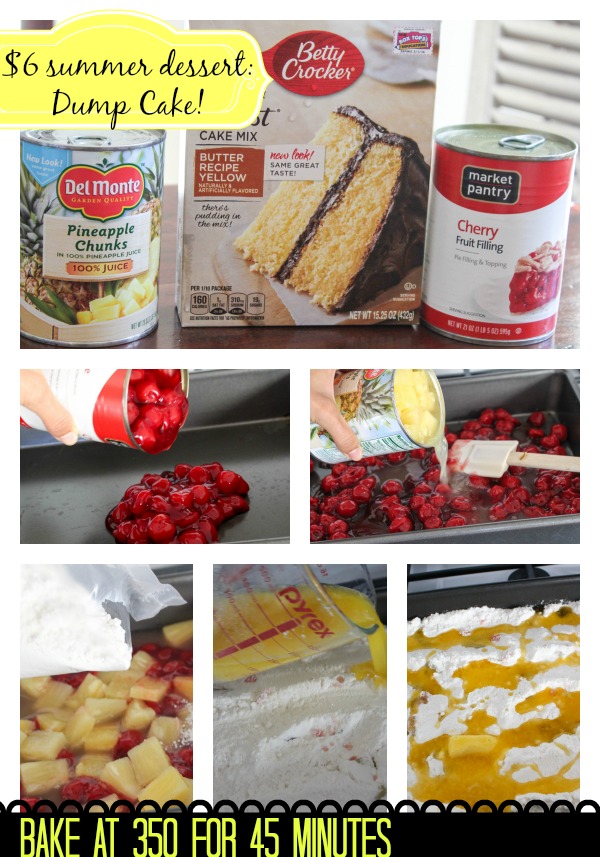 You pour a variety of ingredients into a dish and bake it until golden brown. No stirring, no measuring; you dump, bake and eat. Enjoy piping hot with ice cream, by itself, cold out of the fridge the next day… 😉
This is just how the Pilot's stepmom used to make it for him while he was growing up, so I like to make it every now and again as a little tip of my hat to his childhood. (And let's be real, I'm pretty obsessed with it, too.)
Summer Dump Cake
1

can cherry pie filling

1

can crushed pineapple (diced works too)- do not drain

1

box yellow cake mix

1

stick of butter, melted
Instructions
Pour the cherry pie filling into a baking dish.
Top with the crushed pineapples.
Crumble the cake mix on top. (That's right; just the mix! No adding eggs or oil or anything like that.)
Pour the melted butter on top, but try to do it evenly so it makes little dots to cover the entire cake.
Bake in a preheated 350 degree oven for about 45 minutes, or until browned and bubbly.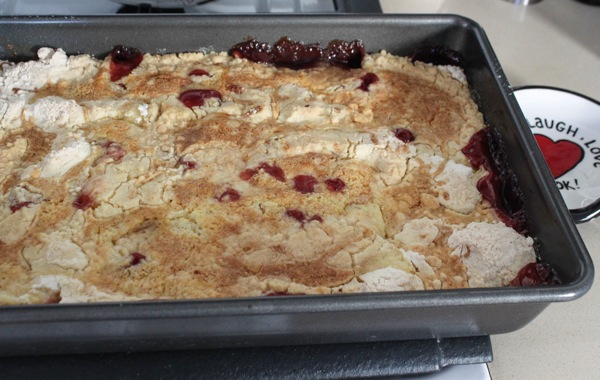 What's your favorite super easy dessert?? Mine: make healthy cookie dough. Eat it.
It's barre thirty for this girl 🙂
xoxo
G
It's giveaway time! Check out the details on the week 1 workout post (<— click to enter). You don't have to be participating in Summer Shape Up to enter the giveaways <3