Hi friends! How's the morning going? Hope you're having a wonderful week! I'm so glad you guys are excited about Summer Shape Up, too! I can't wait. 🙂 Be sure to sign up for my newsletter if you want the info early (tomorrow am).
So for today, I thought I'd share the latest Stitch Fix with ya, because it was a great one! While the style was a pretty perfect match, I still ended up sending a few items back.
Here are the goods: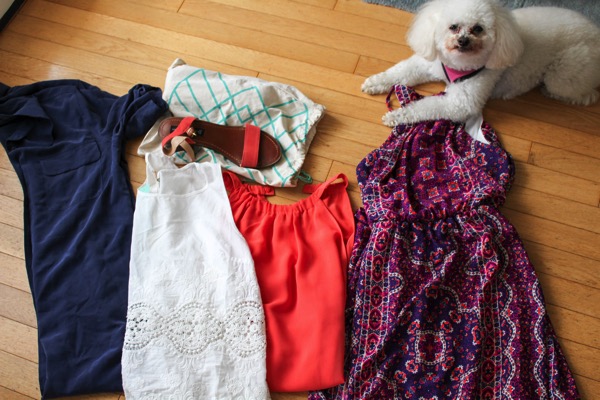 (Bella says, "Keep it all!" Such a little shopping enabler.)
STEVEN Allibi Suede Ankle Strap Sandal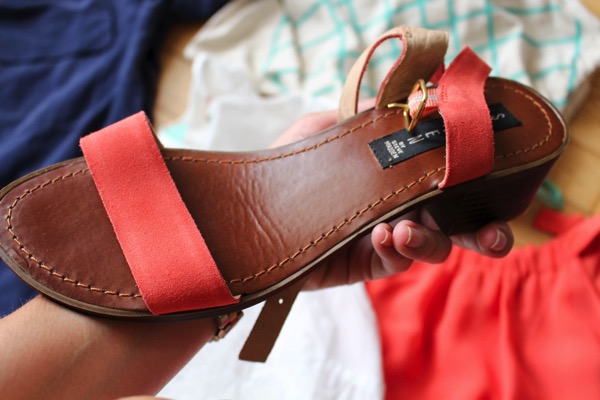 At first sight, I didn't love these. The heel was an odd height, and I have something similar from JustFab. Then I saw the orange-y tank, and thought they would match SO WELL together. It wasn't enough for me to keep them, though. Verdict: sent them back.
Ecru Pomfrey Halter Neck Silk Blouse (similar here)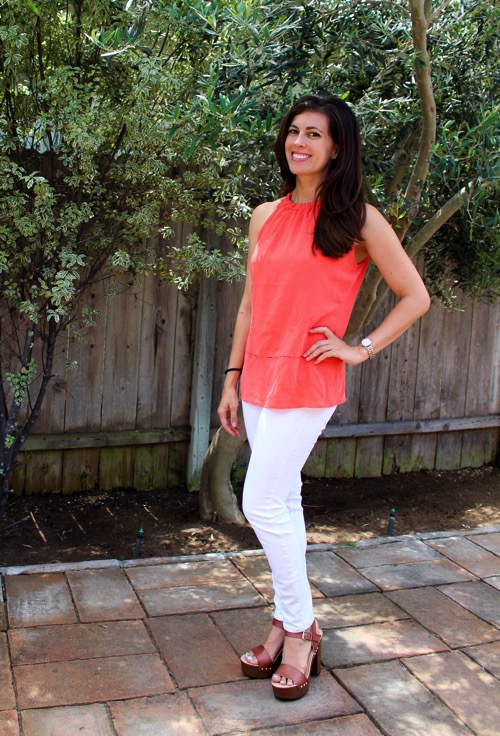 (With Joe's jeans and old JustFab sandals)
I immediately loved the soft fabric and color, since it works well with my skin tone and don't have a lot in this color in my closet. The halter neck was fun and different and I thought it would make a great summer staple. Then, I saw the price tag. $164. It felt like too much for what it was, so even though I did like it, I didn't think it was worth it. Verdict: send it back.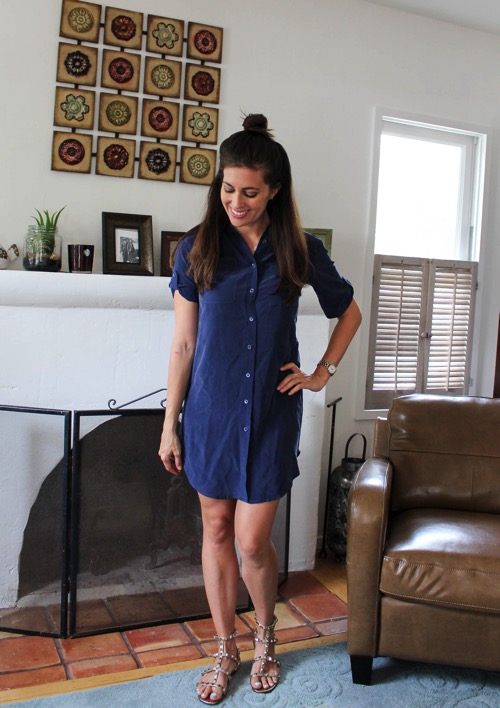 (I could have steamed it a little haha but you get the idea. With Valentino sandals -cute less expensive version here– and Marc Jacobs watch, similar here)
At first glance, I wasn't sure how much I'd like the dress. I have so much navy blue, and quite a few shirt dresses. It's one of my favorite styles since they're comfy while still looking put-together, and can be dressed up or down. When I put the dress on, I loved it immediately. I knew I would wear it a ton, so it was a keeper.
Skies Are Blue Serra Lace Detail Top (similar here)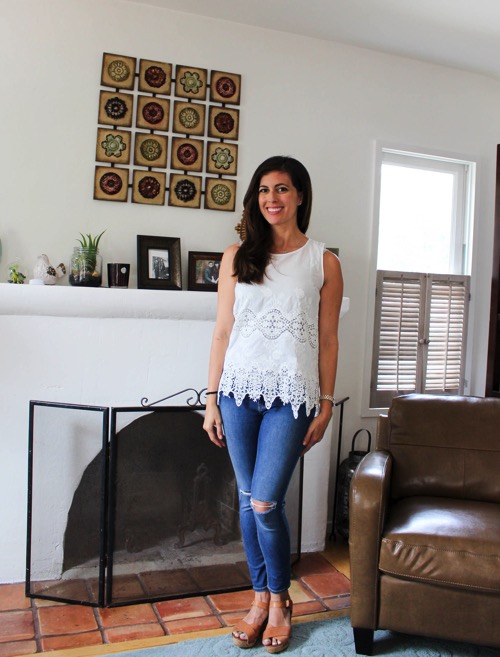 (with destroyed jeans, similar here, and old Aldo sandals)
I didn't even have to try it on to know I loved this tank. The embroidery is well done (not flimsy and doesn't seem like it will fall apart in the wash), and gives a crisp contrast to my favorite pair of distressed jeans. Verdict: keep it.
Renee C Kaleia Maxi Dress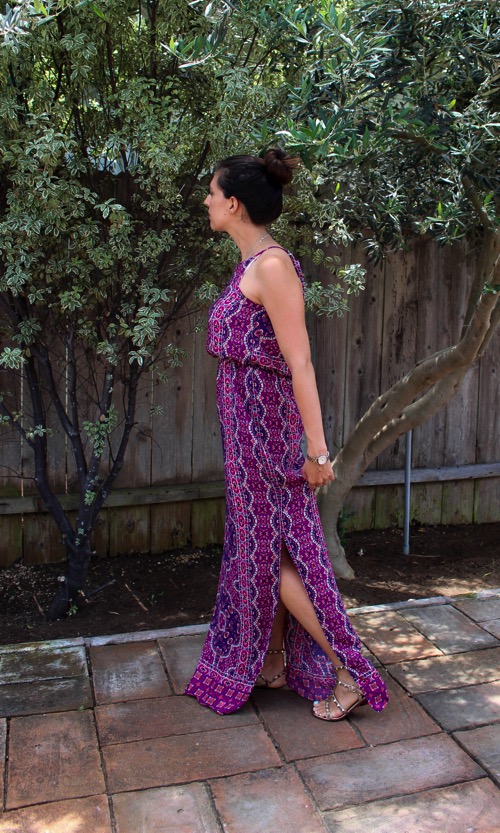 I wasn't quite sure about this one. The print is amazing, and I liked the fun slits on the side. On the other hand, it's not the most flattering waistband for me and the extra fabric just hangs around. I have a short torso, so anything that hits mid-waist (instead of upper waist or low/no defined waist at all) just accentuates the wrong part. Also, I kind of overkilled it on the maxis while I was pregnant. Even though I really loved the fun print, I sent it back.
This was one of the few fixes where the prices made me raise my eyes a bit. For example, the shirtdress above is $258 through Stitch Fix and $103.20 through Nordstrom. While I think that you're paying for the Stitch Fix styling service, and it's not necessarily their job to bargain hunt, $150 isn't anything the scoff at. The same goes for the silk tank. I wasn't familiar with the brand Ecru (which apparently is expensive), but looking at it, I wouldn't think of paying more than $80. Since it was $164, I didn't think it was worth it, even though I liked it.
My usual stylist Alexandra is on maternity leave, and Emily has been styling my fixes since then. She has nailed my style from the beginning, so it's been a lot of fun to see which pieces she picks out. Stitch Fix is great with feedback and suggestions, too, so if you like a particular item, be sure to pin it to a style board so you can link to it on your profile. If you don't like something they send, let them know why, and they're usually pretty good about making tweaks to your fixes.
Have you tried Stitch Fix or anything similar?
I'm still enjoying my Rent the Runway unlimited account, but might be canceling since shipping has gotten progressively slower each month…
Hope you have a wonderful day and I'll see ya later!
xoxo
Gina
More Stitch Fix reviews here, here and here.
In full transparency, I paid for the above items using Stitch Fix credit from referrals to the brand over the past couple of years. Thank you so much for your support! I'm thrilled that many of you have tried it and love it as much as I do <3