The weirdest breakfast ever
(and that one time I had to ride in an ambulance. Please skip this post if you're squeamish, like yours truly.)
Hi 🙂 Hope you're all having a wonderful day. I'm typing this with one hand because I had a little incident today.
It all started with this weird breakfast I had yesterday.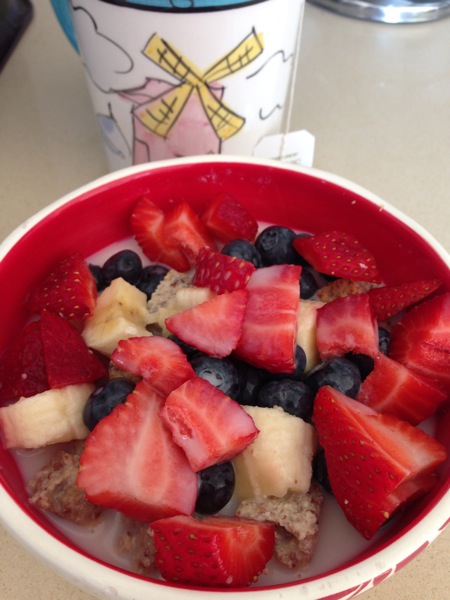 This is going to sound totally bizarre, but that's Elana's Pantry Paleo bread (made with some applesauce so it was sweet), cubed and topped with almond milk and fresh fruit. It was almost like a bread pudding (so good!!) and I knew I wanted it again for breakfast today. Livi was happily eating her oatmeal and fruit at the table, and I was in the kitchen, using a knife to shimmy the last hunk of bread out of the loaf pan. The knife slipped and went directly into my thumb. I immediately knew that it wasn't a "put a Band-Aid on it and call it a day" kinda cut.
If you've been reading the blog for a while (thank you!), you know I'm the biggest weenie with blood and medical stuff. Even though I was panicking in my head, I somehow kept it together while I tried to call 911 and hold a cloth over my thumb as it shot blood all over the kitchen and floors. The most frustrating part: my phone wouldn't dial. My fingers were slightly wet since I'd rinsed my thumb in the sink, and the keypad wouldn't work. It was pretty scary/annoying simultaneously trying to call for help and pep-talk myself out of passing out. Finally, I got the "emergency" button to work and the EMTs came quickly.
After the vitals and questions, Liv and I were off to the hospital.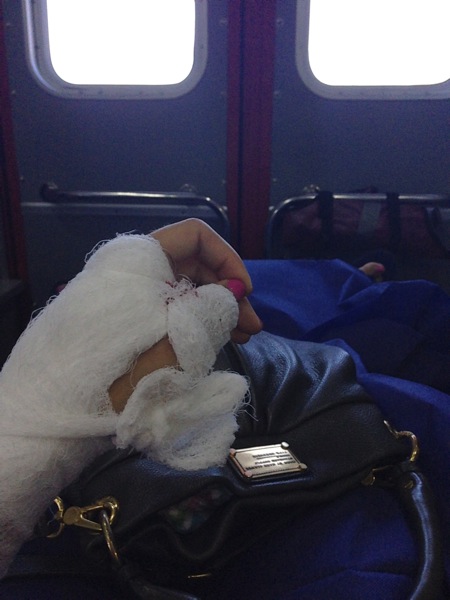 (She was strapped into the kid's seat behind me, chatting with the EMTs and waving at me)
The Pilot met us there, I got some stitches, and all is bueno now. The amazing part was that I didn't cry, even with how freaked out I was, until the nurse pulled my thumb apart to inspect the tendon. (I was close, but it was intact, thank goodness.) I'm just thankful that it I was being treated instead of anyone else, and that it wasn't worse.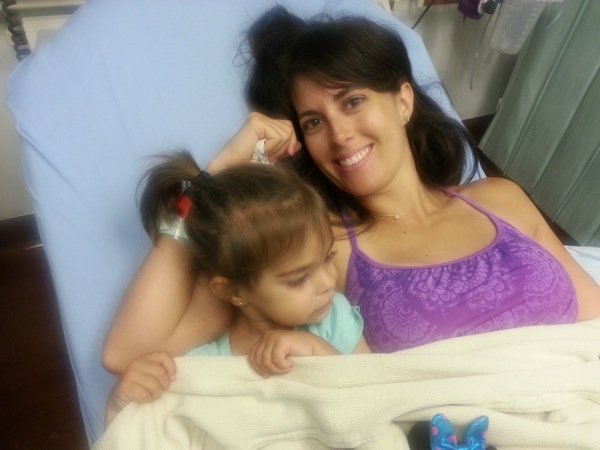 Livi was amazing during the entire thing. She was also really interested in the medical stuff, and watched intently during my shots, as I was cleaned up, and my thumb was stitched back together.
I'm also thankful for the team of EMTs (they grabbed the bag of snacks I'd originally packed for Livi's school day + her shoes and my purse), the sweet nurses (one was singing "Let It Go" with Liv), and the Pilot, who just finished cleaning up the aftermath all over the kitchen and patio floors.
Breakfast ended up being even better: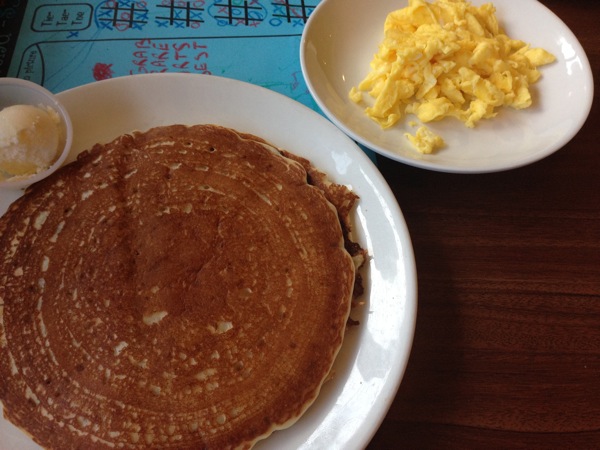 (Gluten-free pancakes and eggs at the Broken Yolk)
Hope you've had a happy and pleasantly uneventful day. Thank you to all of you for the sweet well wishes on Instagram, too <3
xoxo
Gina