[It's 5 o'clock somewhere, right?]
Hi friends! It's been a while since we've had a little wine, coffee or tea date… so here we go. 😉
If we were having wine right now, it would probably be somewhere we could share some delicious appetizers. Seasons 52? Done.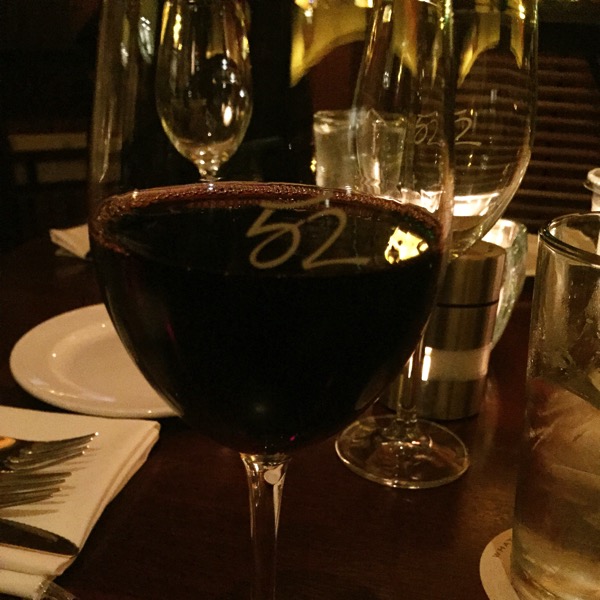 If we were having wine right now,
I'd love to hear about what you're up to! How's the New Year treating ya? How's the family and kiddos (or fur kiddos)? Any fun travel plans or things coming up this spring?
I'd probably tell you about a girls' trip some friends and I are planning for Palm Springs. We've all lived in the same city at one point or another, and are currently scattered all over the US. Since we're all about to head into "moving season" again, we decided we should plan a weekend getaway. Any recommendations?? I've never been, but can't wait to check it out. More than anything, I'm excited for a little refresher and chance to sleep in, catch up with my friends -we usually text on and off throughout the week- and lounge by the pool.
If we were having wine right now,
I'd probably take a small sigh and tell you about what's been going on lately. I'm dealing with some prolapse issues after the birth. The doctors have said it's relatively common with large babies, and the fact that I had to push her out so quickly. My symptoms vary from being in a ton of pain/discomfort, to feeling absolutely normal. I've been to the ER twice since we initially discovered it. Since the birth, things didn't feel *right* but I brushed it off, mostly because I was so worried and concerned with helping P and her reflux. Eventually, I noticed that it wasn't improving and had a pretty scary incident on Christmas night which was my first ER trip.
This is why I've been taking it super easy with the workouts, sticking with low impact and light weights until we know exactly what's going on. I hesitated to write about it, because the symptoms of prolapse aren't *pretty* in the least, which I think hinders people from talking about it. I had no idea how common it was, and that it affects 1 in 3 women over the course of their lifetime. Sometimes it heals over time with physical therapy, and other situations require surgery. I may have to have surgery anyway for another issue related to the birth.
As you can imagine, it's a sensitive issue for me, but I'm putting it out there so anyone else who is experiencing or has experienced it will know they're not alone. It's a pretty frightening thing, but I've been trying to stay present until my specialist appointment tomorrow. As usual, I'm blending Eastern and Western medicine techniques with my care, through acupuncture, Mayan abdominal massage, herbs, Urogyn appts, and physical therapy. If I think about it too much, I get so sad, scared, and anxious; it makes me feel a little sick. Needless to say, I could really use some exercise endorphins right about now, which is reason #28372 I'm thankful for hot yoga + the low impact options in the PBB plan.
*Takes a giant sip of wine*
I obviously wouldn't want to end our friend date on a downer note, so I'd probably switch it to something a little more lighthearted.
Can we talk about the movie Train Wreck? I finally got to see it a couple of nights ago, and it was everything I hoped it would be. Amy Schumer girl crush for life.
xo