Hi friends! How are you?? How was the weekend?
We're back in Tucson after an incredibly fun time in Vegas. It had been a year since our last trip, and we were so pumped to meet up with our friends Betsy and Jeremy for a weekend of basketball and shenanigans at the Pac-12 tournament.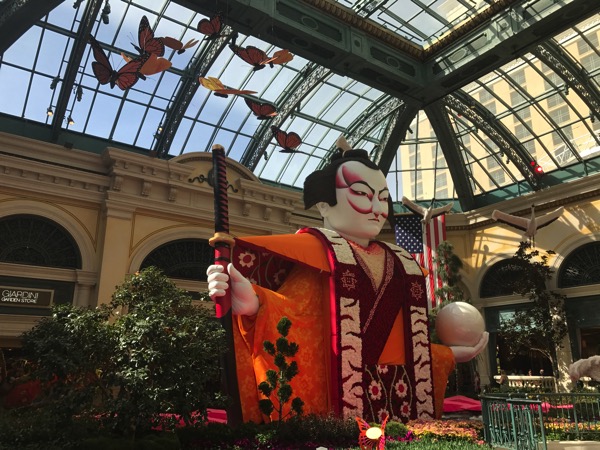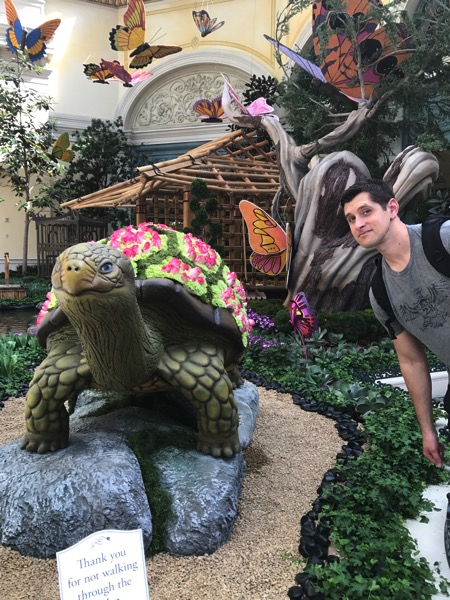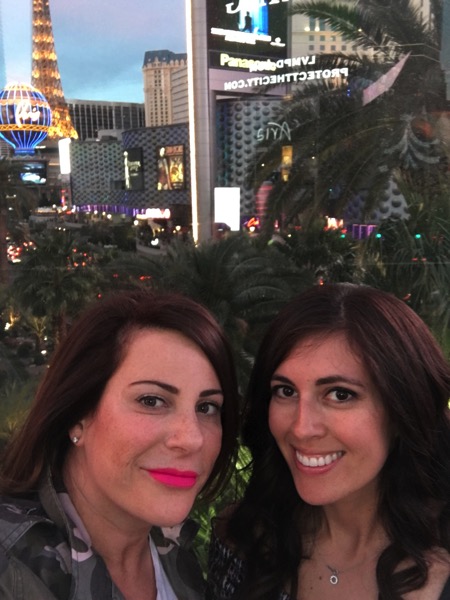 Our flight left early Friday morning, and when we arrived to the Bellagio, our room was ready. We checked in,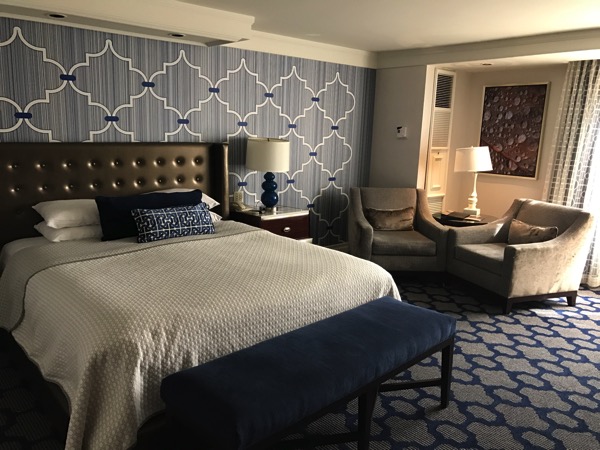 and headed with Betsy and Jeremy to our favorite spot for brunch: Mon Ami Gabi. We've had a few different breakfasts in Vegas and we always end back up at Mon Ami. Their breakfast is always amazing -they have the ideal mix of sweet and savory offerings- and they have delicious mimosas and Bloody Marys.
I rolled with the gluten-free eggs florentine, and it was everything: perfectly-cooked eggs, crispy gluten-free toast, and a creamy spinach and artichoke sauce.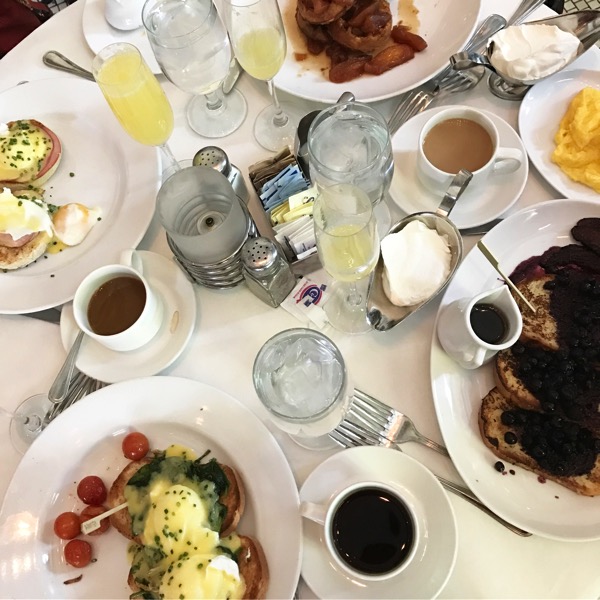 After brunch, we went back to the hotel to relax before dinner, and lounged at the pool for a while.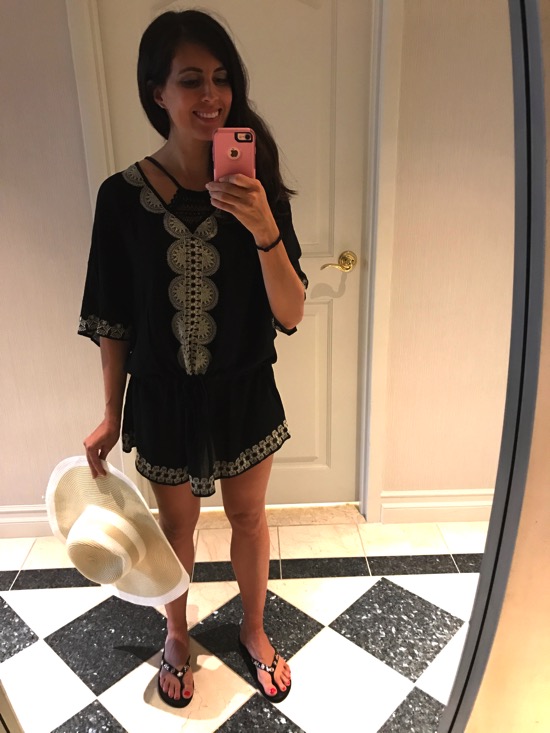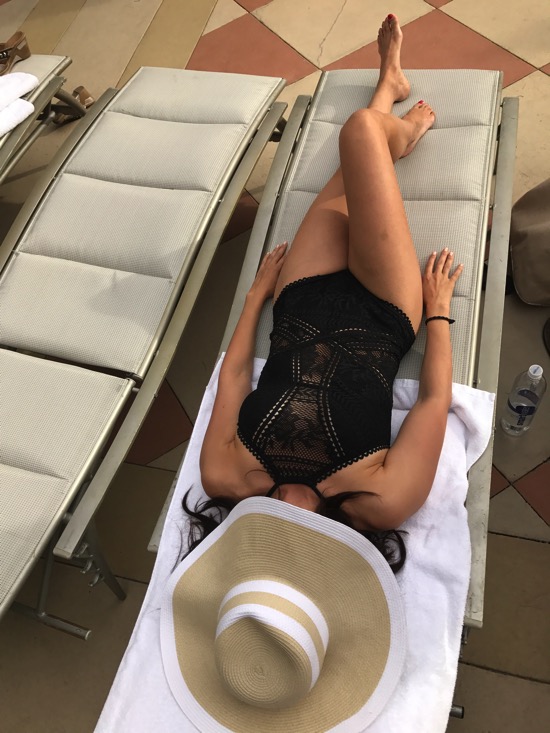 (Swimsuit is here! I was looking for a cute "mom suit" that I could chase the girls around in without having to worry about pieces moving around, and it's become my favorite swimsuit.)
With my favorite guy: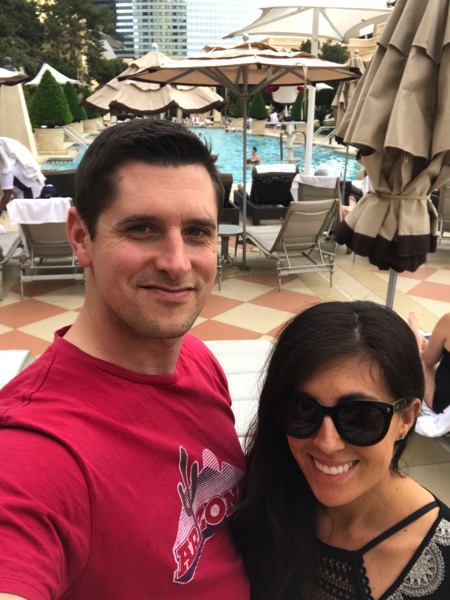 I fell asleep at the pool (oops), and we decided to hit up the gym before dinner. It was shoulders, chest and triceps day, so I toasted my upper body and got in 20 minutes of HIIT on the spin bike while listening to the POSH podcast. The Bellagio gym is pretty impressive, especially for a hotel gym. They have all of the essential strength equipment, plus a surplus of cardio machines -the only thing I missed was a TRX- and we ended up working out twice during downtime on our trip.
After our workout, we met for dinner at Yellowtail. We ordered a bunch of sushi and appetizers to share while we chatted and watched watched the fountains show from the patio.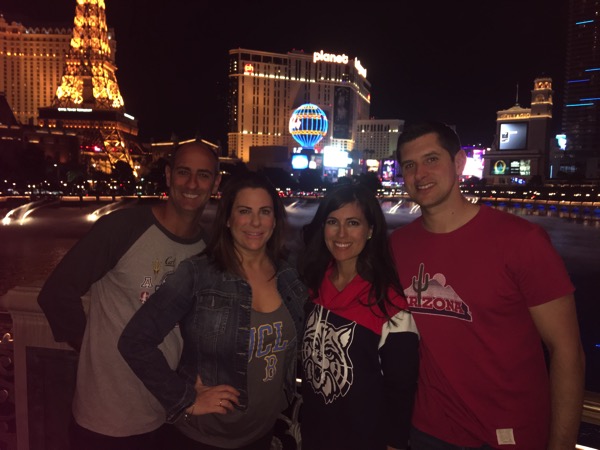 (We missed them so much.)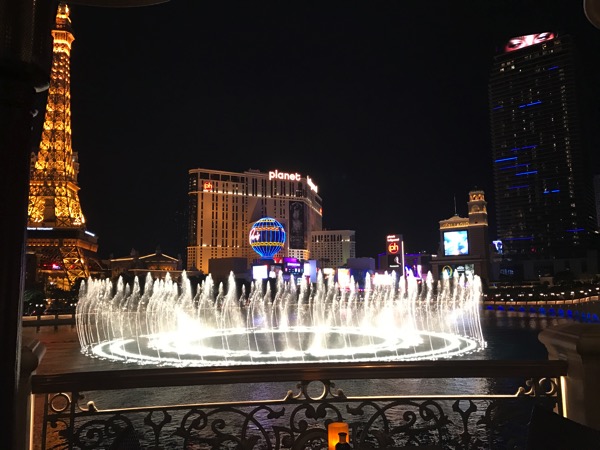 After dinner, it was b-ball time!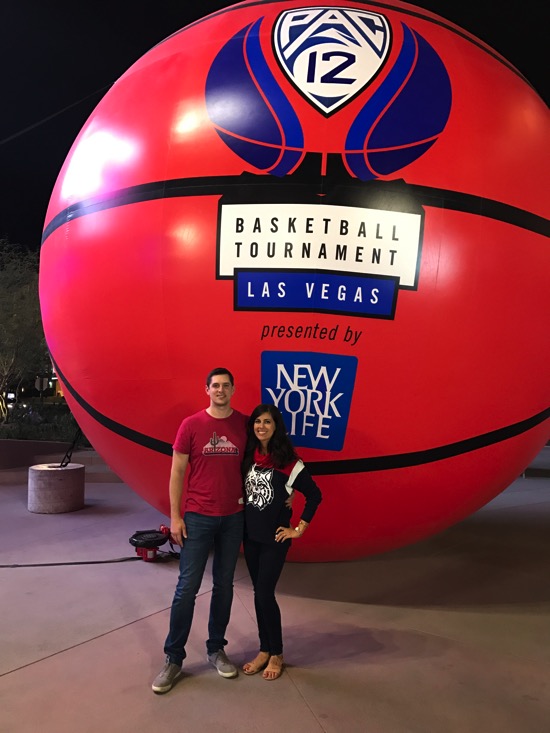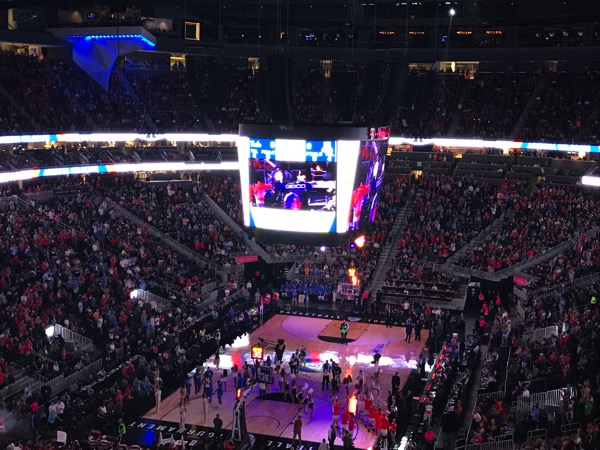 We had tickets for the last two rounds of the basketball tournament, and I was SO stoked to cheer for my beloved Wildcats. I tried to keep my heckling to a minimum since Betsy went to UCLA and was cheering for the Bruins. 😉 It was such a great game, and it was insane how many people were packed into the stadium: 19,000. As the game let out, the escalators and swarms of red shirts were chanting "U of A!" down the Las Vegas strip.
We went back to the Bellagio and got drinks and snacks for people-watching (the people-watching in Vegas is unlike anything else haha), and then called it a night.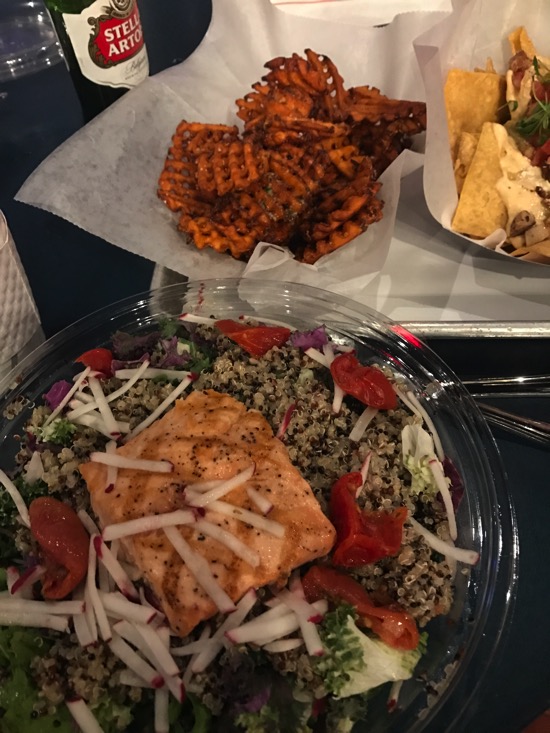 Saturday morning… we didn't really end up seeing. The Pilot and I decided to sleep "until we woke up," and that ended up being the bold time of 1pm. 1pm Vegas time = 2pm Tucson time. I can't even remember the last time I slept that late, and it was so glorious I can't even begin to articulate it. It's funny because during this trip, my body was in complete confusion. "Why are you horizontal with your eyes closed for so long? Wait, it's cocktail time? Ok, now it's gym time, so we're being healthy. Wait, now we're sleeping at the pool. Now you're jumping up and down screaming and chanting." It had no clue if it was cocktail time, gym time, crazy cheering Wildcat time, or what. In Vegas, you just roll with it.
We grabbed the fastest brunch in the history of mankind at the Bellagio Cafe, and I took a piece of toast to munch on my way to Planet Hollywood to hit up DryBar with Betsy.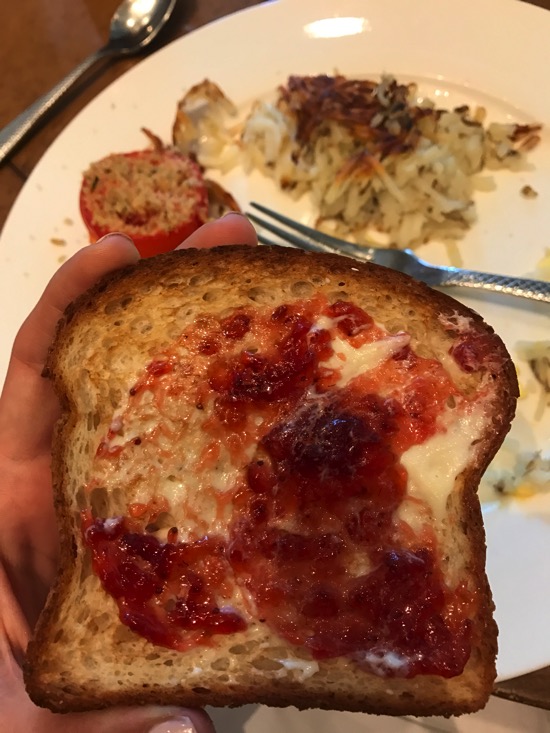 DryBar always feels like the best treat, and I love the way they style my hair (it lasts for so long!) + the super girly movies on the TV screens. This DryBar also had a full bar and a DJ. I sipped coffee and watched pieces of "Now and Then" while chatting with Katie, who reads the blog!!! She did such a beautiful job on my hair, and I definitely felt more awake after the whole experience haha.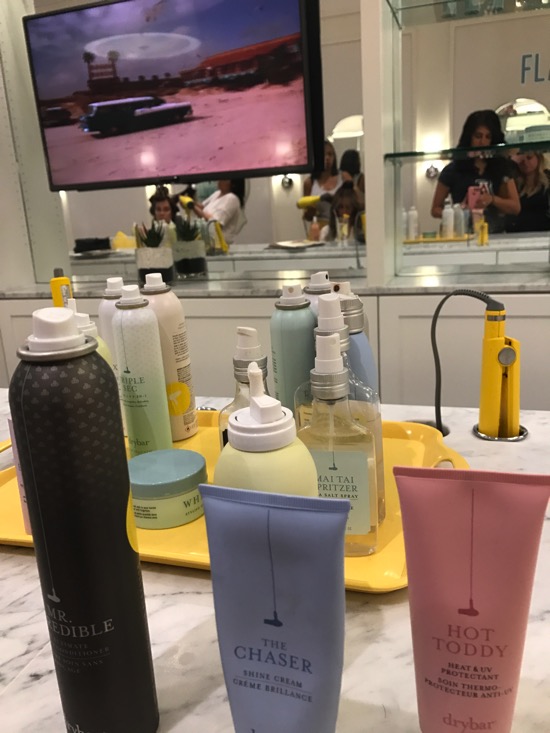 Betsy and I shopped around the Miracle Mile shops -I picked up this lotus bracelet from Alex and Ani- and met up with the boys (who were hitting the poker tables) at the caviar bar for a quick snack.
We shared a cheese board, caviar, and got some drinks. Everything was delicious, but the star of the show was the truffle popcorn.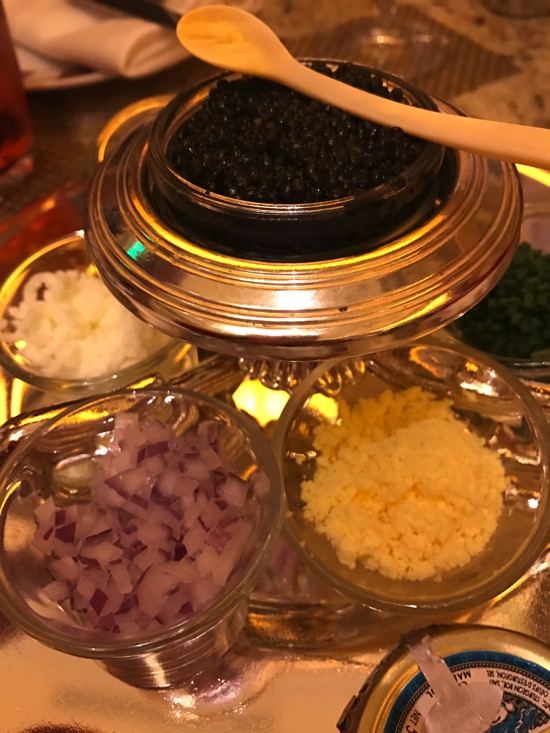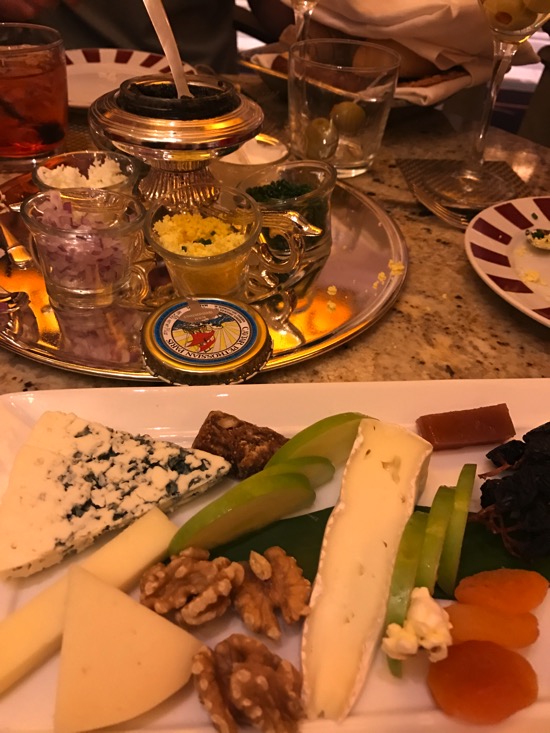 We did a quick change for dinner,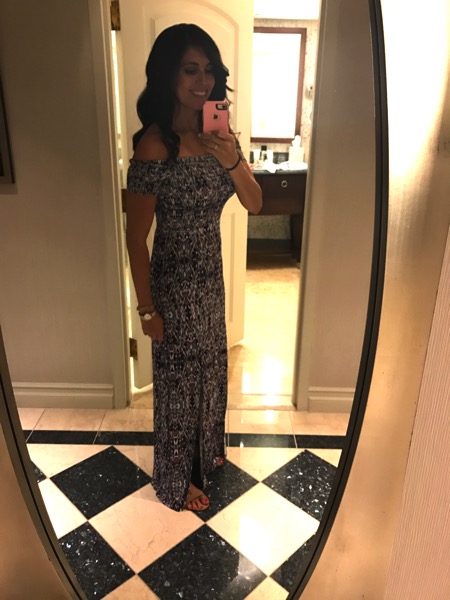 (dress is from Express)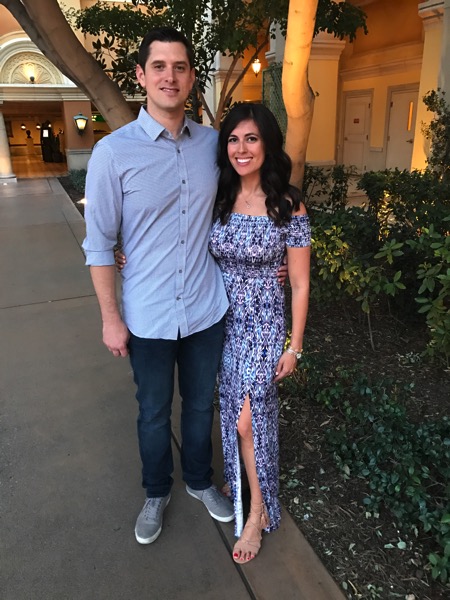 then headed down to Smith & Wollensky, which is the Pilot's favorite Vegas restaurant. It's a steakhouse, and while we were all pretty full from our giant afternoon snack, we rallied.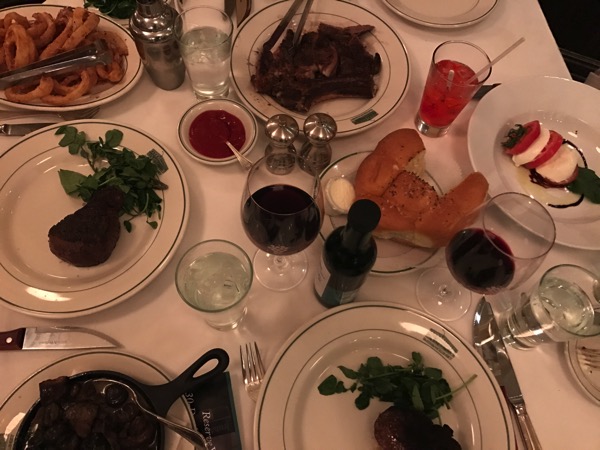 I had my outfit for the game stuffed into my purse, so I could represent the Cats for the Pac-12 Tournament game,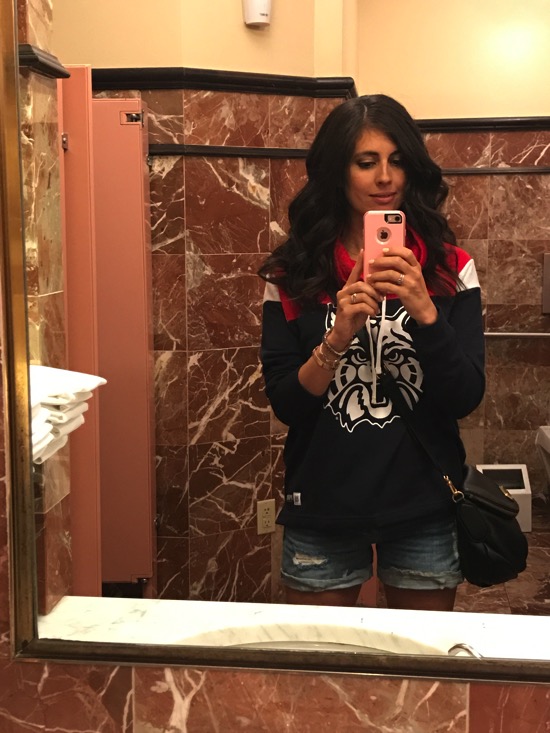 and we made the trek down to the arena.
The game was a liiiiiiittle on the stressful side. Arizona was ahead the entire time, but you could cut the tension with a knife. No one really celebrated until the buzzer, and even then, we weren't nearly as loud and celebratory as the previous night.
It was an awesome game, and we were so happy we could be there to see the Wildcats win.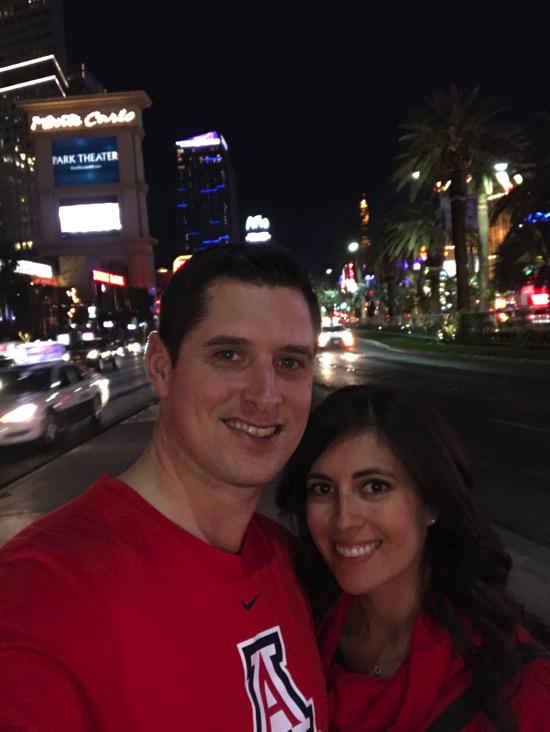 (It kinda looks like we're in the middle of traffic, but we were on a meridian.)
We debated doing the whole club thing -Bruno Mars was playing at the Bellagio- but by the time we got back, we were ready to chill. Betsy and Jeremy called it a night, and the Pilot and I went down to the hotel bar to hang out for a while.
Sunday morning, we had one last Vegas breakfast: the quintessential Vegas buffet. We tried the Paris buffet, and it was pretty good. Any time I can have macarons with coffee, I'm pretty happy about life.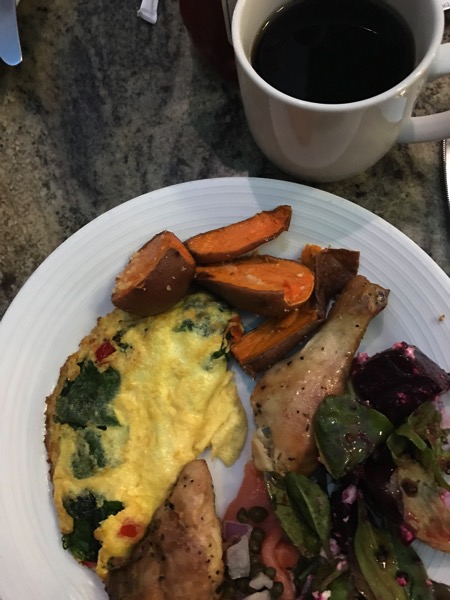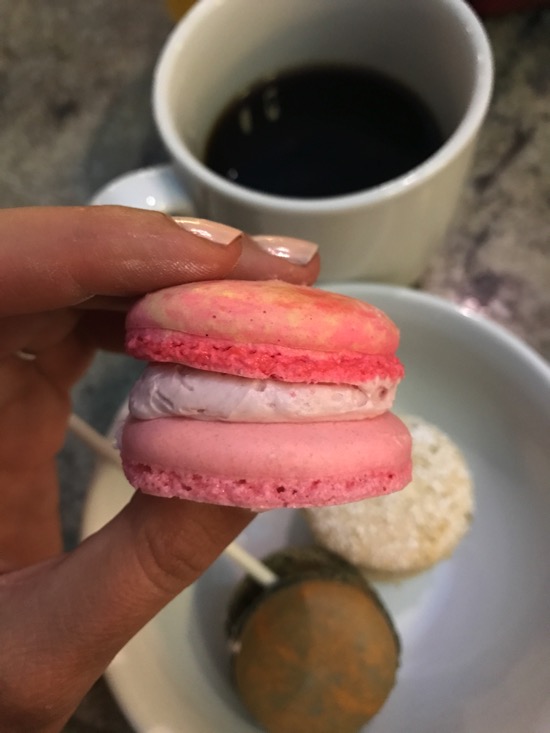 The Pilot and I got in another workout at the gym (legs day. boom), and then walked around the Strip. Before grabbing our luggage to head to the airport, we went back to the downstairs cafe for an afternoon snack. We had coffees + Bailey's, shared the cheeseboard again, and enjoyed more of the truffle popcorn.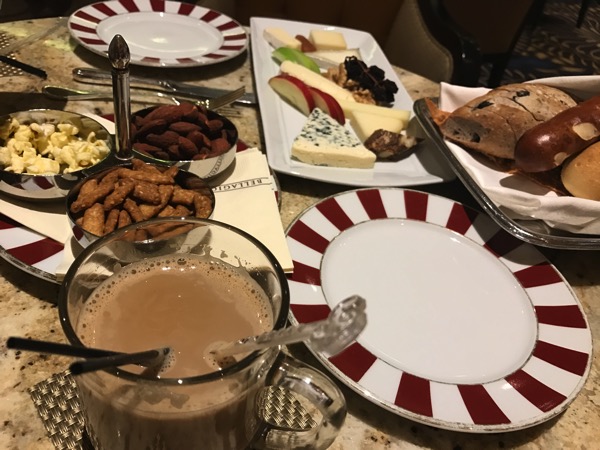 Before we knew it, we were on a plane, heading back to the girls and pups. Madre watched the crew this weekend -she's the real MVP- and they had the best time with their nanas. While it's definitely good for the soul to get some downtime every now and again, my heart misses them the second I'm away.
I hope you had a happy weekend, too! What were you up to? Did anyone run the SD half?
What's your vacation fitness mentality? Do you get in *official workouts* or do more of the sightseeing thing? For me, it depends on how long we're there and how much downtime we have. If I have time to time a class or get in a hotel workout, I'll do it, or I'll just enjoy exploring our destination on foot and get back into the routine when we're home.
See you soon, friends!
xoxo
Gina