weekend things + Hallowthanksmas party
Hellooooo. How are you? I hope you had a lovely weekend. <3 Ours had some interesting twists and turns, but some beautiful and fun moments mixed in with the upsetting moments.
We started off Friday night feeling pretty excited because Commoner & Co. is open again in Tucson! The Ares Collective team has been making moves all summer into fall, and Kyle's schedule has been bananas. They moved their central Prep & Pastry to a larger location, opened August Rhodes, opened their Scottsdale Prep & Pastry, and completely renovated Commoner & Co. Commoner is our fave of the restaurants because we love a fancy dinner and a cheese board, so we've been waiting impatiently for it to reopen. It's our go-to date night spot! When we walked through the doors on Friday night, the interior blew me away.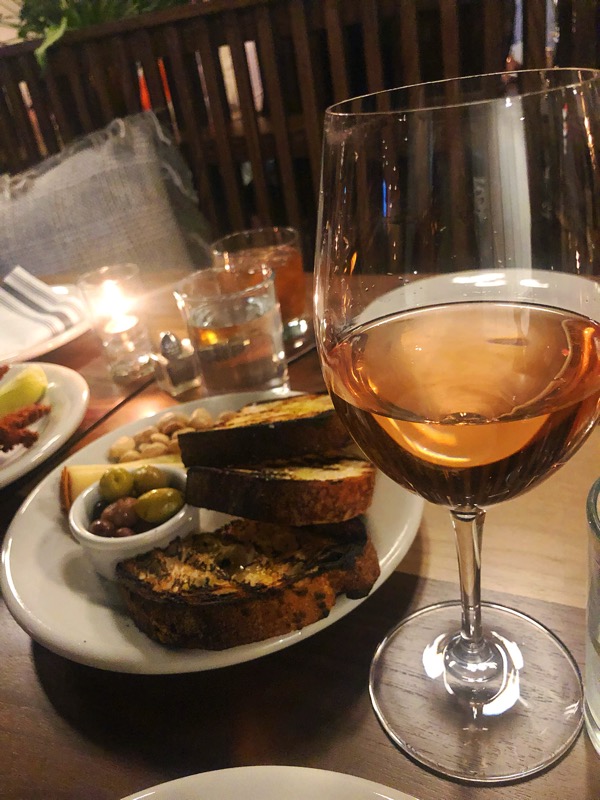 I didn't want to be a creeper walking around snapping pics of the tables and design, so please check out this Tucson Foodie feature for some great pics!!
We were all very happy to be back. 🙂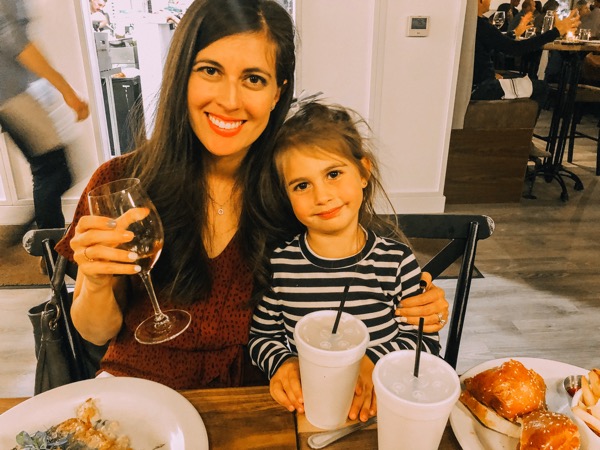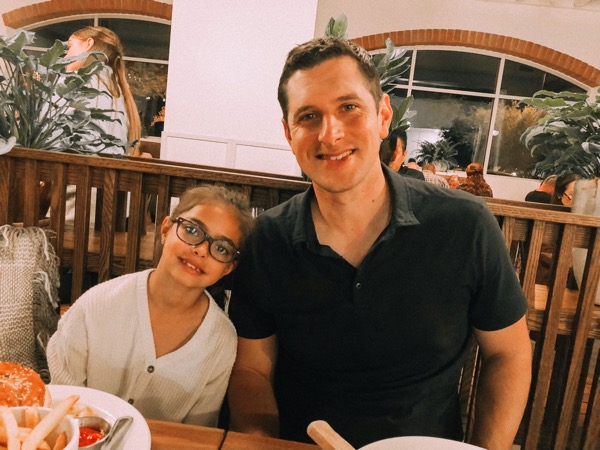 We started with the bread, cheese, and olives course + the coconut shrimp (<— SO good!). For entrees, we all rolled with our usuals: steak for the Pilot, burgers for the girls, and salmon for me. The salmon dish had a nice fall twist with butternut squash risotto. Dinner was fantastic, and we followed it up with gelato from Blue Ice across the street.
While we were at dinner, P mentioned that her ears were hurting. She rarely tells us that anything is wrong, but on the rare occasion when she says her ears hurt, it's a guaranteed ear infection. She hadn't slept well for a couple of nights and it all started to make sense. I Googled for nearby urgent care options so we could get her on antibiotics asap if she did indeed have an ear infection, and while I was checking for options, I got a phone call that my grandfather had a stroke and was in the hospital. The Pilot and I divided and conquered: he took the girls to urgent care to get P's ears checked (double ear infection, as expected), filled her prescription, and I went straight to the hospital.
I was there with the fam for a few hours and headed home for bed, without any improvements on his status.
Since the Pilot had to work all day Saturday and I had the girls (and didn't want to take them to the hospital), I decided to make the most of the day and we had pancakes together before heading to the Tucson Petting Zoo to pet all of the animals.
With our fave goats: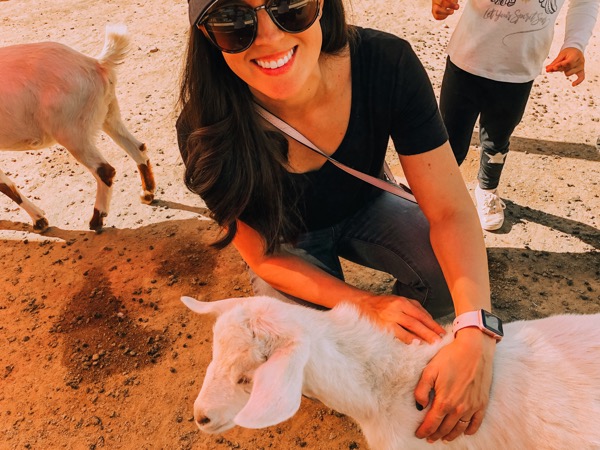 the giant rodents that are really like small dogs,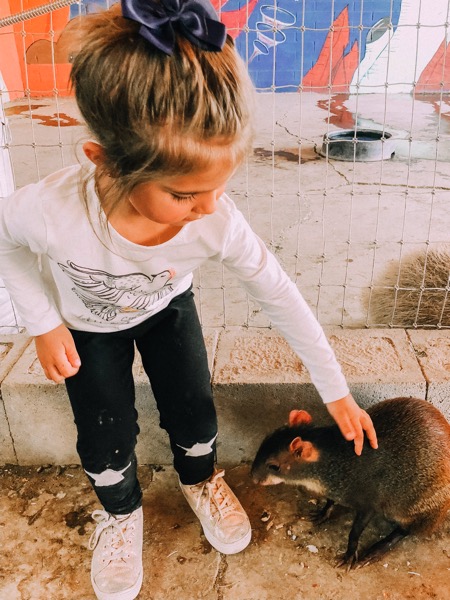 and the pigs.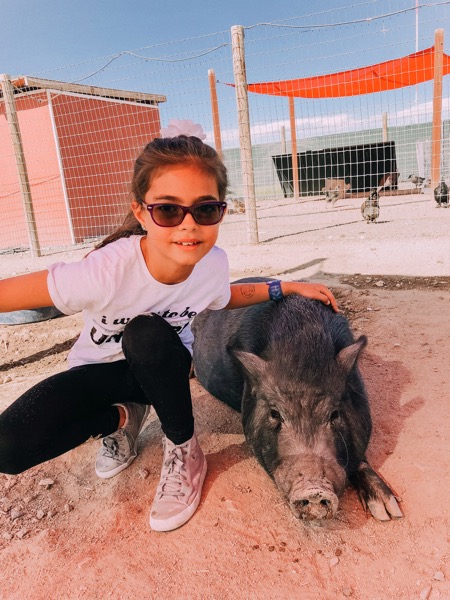 This guy's name is Hamlet he loves Liv! He must have recognized her, because she does an animal program at school where they bring in different animals to learn about them, and she fell in love with him about a month ago. She came home and adamantly exclaimed that she's never eating bacon again because she loves Hamlet too much. Anyway, I think he remembered Liv because each time she'd pet him, he'd snort and grunt so loudly while wagging his tail. He didn't do this for anyone else; only Liv. It was pretty adorable.
Later that afternoon, when the Pilot was off work, he took over for the girls and I headed back to the hospital for a couple of hours.
Our holiday party was Saturday night and I was 99% sure that I didn't want to go. I wasn't feeling holly or jolly, and just wanted to stay at the hospital. My mom finally convinced me to take a couple of hours and go on on a date with my husband, especially since he's been gone so much. I was having a "fake it til you make it" kinda night, and finally went home to take a quick shower, put some makeup on, and go to the party for a bit.
I was thinking of doing a sleek bun or something fun with my hair, but at that point, I wasn't feeling it.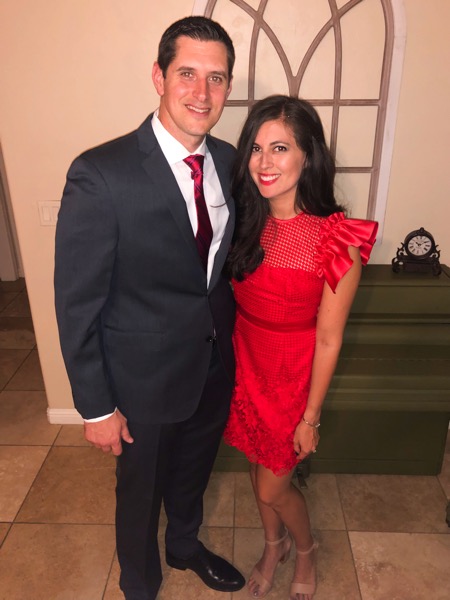 (Dress is from Rent the Runway <— my referral link gets you $30 off your first order)
The party ended up being a lot of fun. Since the timing was so bizarre – a holiday party two days after Halloween – the theme was "Nightmare Before Christmas." You could wear Halloween or holiday attire, so it was a hilarious mix of Halloween costumes (Ace Ventura was my very fave) and holiday garb (like holiday dresses, ugly Christmas sweaters, etc). The decor was Thanksgiving style. The games were hilarious, the food was great, and the cake was insane.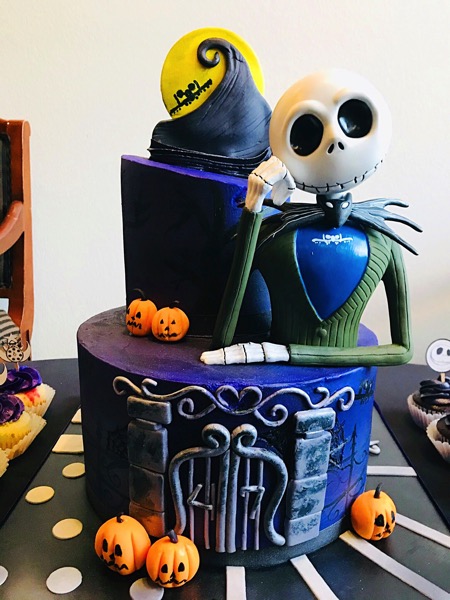 (Another incredible cake from Cakes by Amy! She did P's gorgeous Frozen cake last weekend, and I know it seems like it can't be possible, but her creations taste even better than they look.)
We didn't stay at the party super long, but had a great time seeing our friends, grabbing a drink together, and enjoying the shenanigans.
Sunday morning, the Pilot worked and Liv had a dance workshop, so it was just P and myself most of the day. We went to her swim class, grabbed groceries for the week, and hung out a bit. When the Pilot got home, we all ate dinner together and then I headed back to the hospital.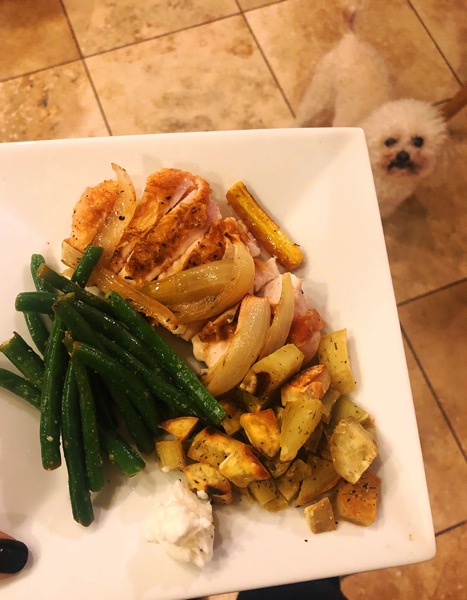 (Ina's perfect roast chicken with lemon green beans and roasted sweet potatoes)
My posting schedule may be more erratic than usual this week, but I'll still be here checking in when I can. I have a one-song workout on the way and some other fun posts planned. 🙂 If you're the praying or good vibe-ing type, if you wouldn't mind sending some my Tata's way, I would appreciate it so much. <3
xoxo
Gina