Hi guys! How's your day going to far? Thank you for the wonderful comments on this morning's virtual coffee date 🙂 I'm excited to write back to them after this post goes up. Exciting news: Summer Shape Up officially begins June 16th. Buckle up, friends! As usual, the Shape Up includes four weeks of meal ideas, workouts and giveaways. Mark your calendars, and if you'd like to sign up for my email newsletter (you also get things like weekly workout plans and this week was a sneaky giveaway), just leave a comment on this post and click the link to sign up.
Today's post is a little different: What I Ate Wednesday (on a Thursday). When I ran a little blog survey a few weeks ago -we're working on a redesign- quite a few people said they'd like to see more everyday meals and a few requested What I Ate Wednesday posts. In the blog days of yore, I frequently posted daily meals. While I shared some fun combos and ideas, the photos make my skin crawl. They're bad. With some of my old photos, I can't even tell what I was eating because the photos are so blurry… and brownish? Thanks for sticking with me through that 😉 Since I like to take my time to photograph appealing meals (for the most part) and I'm usually feeding myself + Liv at the same time, it's a little trickier to take pictures or everyday stuff and make it look palatable.
Yesterday I kept the iPhone camera close by and did my best to snap a quick pic of my meals. The photos are not Pinterest-worthy in the least, but it was a good day of eats and snapshot of what a *normal* day looks like.
Breakfast: Banana egg pancakes (2 eggs, 1 banana, 1 heaping tablespoon of flax, whisked and cooked like pancakes) with almond butter, raspberries and maple syrup + coffee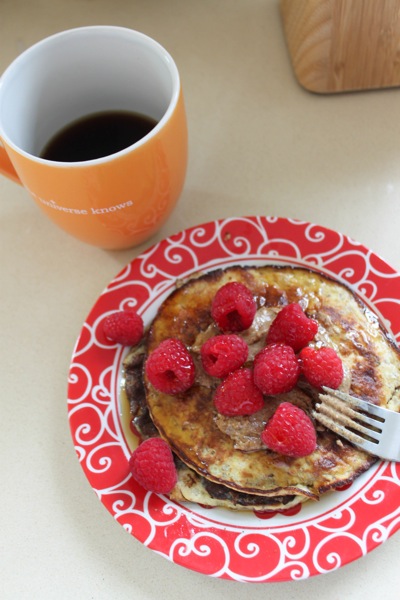 Snack: muffin at the Children's Museum with Liv. She wanted one and they were 2 for $1 so I was stuck eating one too 😉 It was delicious and I love that the cafe sources local ingredients while avoiding refined sugars and artificial preservatives and dyes.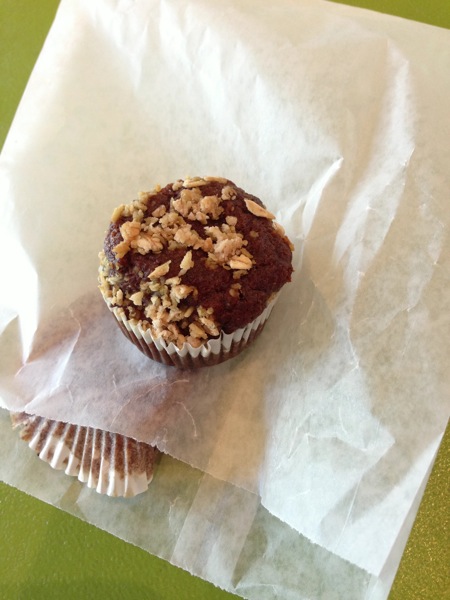 Snack Part 2: Suja Glow for the drive home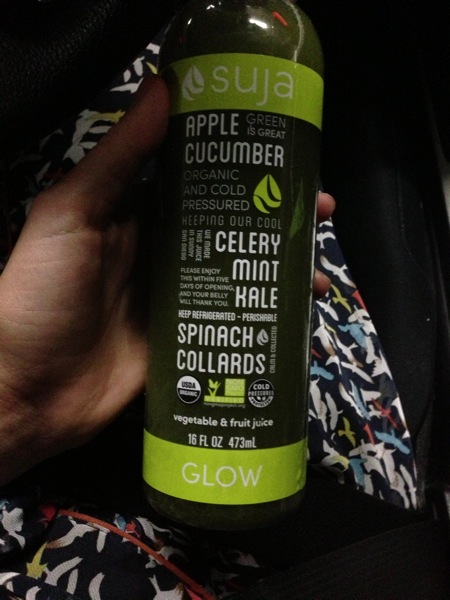 Lunch: baked sweet potato rounds topped with zucchini (sautéed in coconut oil with salt and pepper), a diced chicken breast, and a mountain of salsa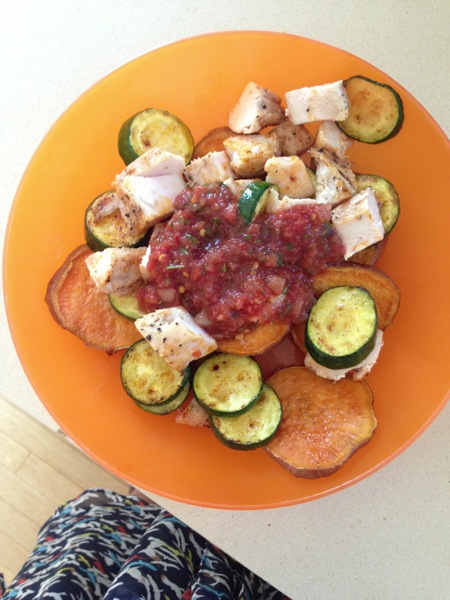 1/3 chocolate bar (I love a bite of something sweet in the afternoon)
+ coffee #2
Snack: Trader Joe's Sweet and Savory Trail mix
We went to Point Loma Seafoods to pick up fish for dinner and were hungry on the way. I grabbed this bag of trail mix (THE BEST) and we enjoyed some on the drive.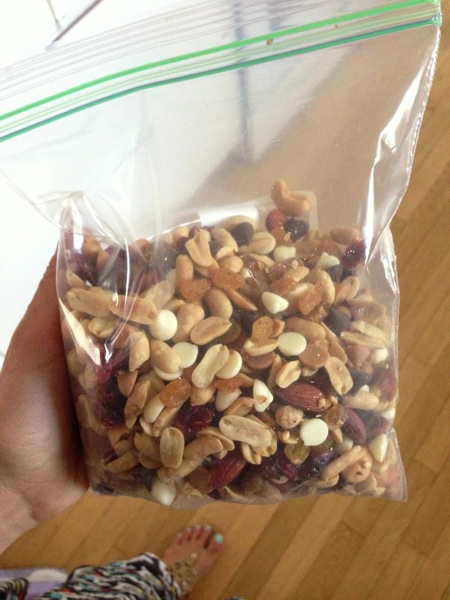 Dinner: Baked halibut with butter, garlic and lemon, grilled asparagus and corn on the cob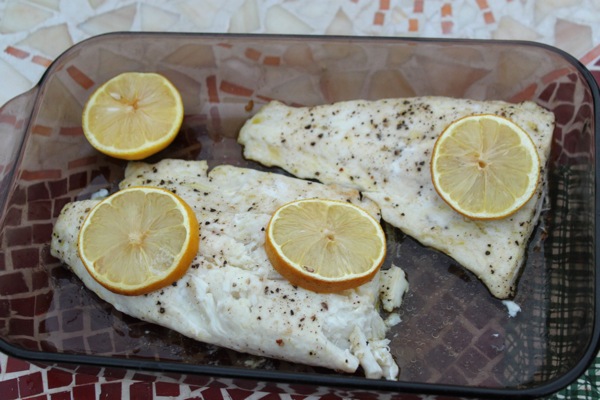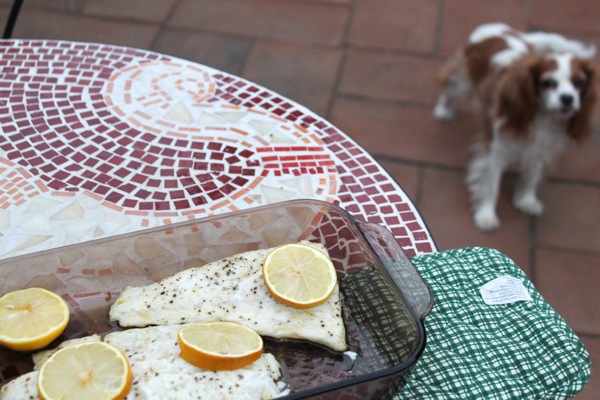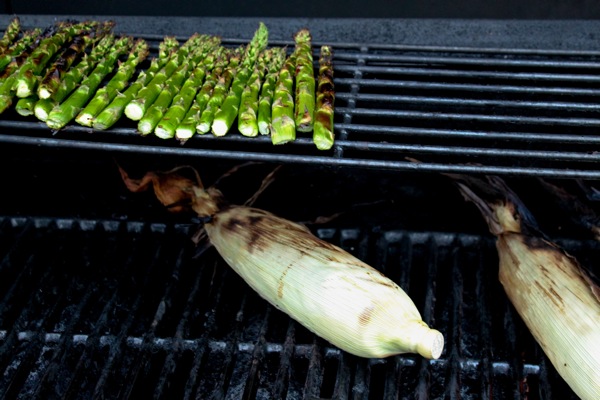 Not pictured: glass of cabernet while cleaning up the kitchen and packing up lunch/snacks for today
Workout: HIIT Scorcher + 20 minutes of easy spin in the garage
There you have it! A fairly typical day of eats 🙂
What's something delicious or new that you ate today? It's always fun to share ideas for healthy meals. (And on the not totally healthy but BOMB note: that trail mix. It's a delectable combo of flavors, textures and chocolate chip varieties.)
See ya in the morning with Friday Faves!
xoxo
Gina
More What I Ate Wednesday Posts here, here and here. If you'd like to join in the official WIAW fun, check out Peas and Crayons.