I feel like every post from now on could start like the following…
"Still waiting! So ready and so excited. Any day now!"
That would get old pretty quickly.
So instead.. let me tell you about a dream I had the other night.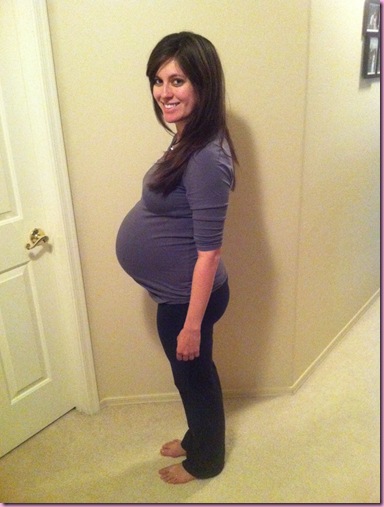 (38 weeks! Belly has definitely dropped a little lower.. drop it low, drop it drop it drop it low)
My dreams have been pretty vivid throughout the entire pregnancy –half of which I credit to hormones and the other half to our Tempurpedic because when I crash on that thing, I crash hard- and before bed I was inspecting my bellybutton, which has gone from innie, to totally level (the alien no-bellybutton phenomenon) and is now looking like it might want to pop out into an outie. We shall see…
Anyway,
we went to sleep, and I had a dream that I was having severe, intense contractions. In my dream, I looked down to see my baby's head be born… out of my bellybutton.
The baby looked up at me (the same face I've been seeing in all of my dreams), and I rubbed her head and was talking to her. I walked around with her head sticking out and decided to call the midwife, who said the longer the baby could stay in, the better. They were going to have to figure out a way to get the baby back in if she didn't do so on her own.
So I looked down and said "Ok, baby, you have to finish growing, so go back in until you're ready."
She looked up at me and sluuuuuurp. Went right back in my belly. Via bellybutton.
I can't even make this stuff up.
More notable events from the week:
– I was on the schedule to teach Zumba on Saturday and had to ask to be switched to something else. It made me really sad but there was no way. Flipping over in bed has become an Olympic event, let alone teaching an hour-long intense booty-shaking class.
– Awkward: we were walking through Target and I had a contraction, so I stopped for a second to catch my breath. Tom, who was carrying an enormous frozen turkey to buy for the turkey drive, pressed the turkey against my back for a second to relieve the pain. I can't even imagine how funny it must have looked to see a preg, with her husband in a flight suit, pressing a frozen turkey against her back. The cold actually felt really, really good, so I'm going to load up on cold compresses to take to the hospital.
– It's gotten to the point where it feels like I'm going to be pregnant forever, and I'm cool with that. It just seems like that's how things are now. The interesting thing is that Tom feels the same way. We were talking about it the other night and it's hard to believe the finish line (or starting line, rather) is just around the corner. We know that one day, labor will be begin and the baby will be born, but it doesn't feel like it's really going to happen, especially since we have no idea when.
Moms out there, what was your first sign that labor was on the way? Any interesting/unconventional ones? I've been feeling kinda flu-ish (but not totally sick) for the past week or so, which I'm hoping has to do with impending labor instead of the winter sickies.
What's the most bizarre dream you've had lately?