"Raindrops on orange/lime/grapefruit trees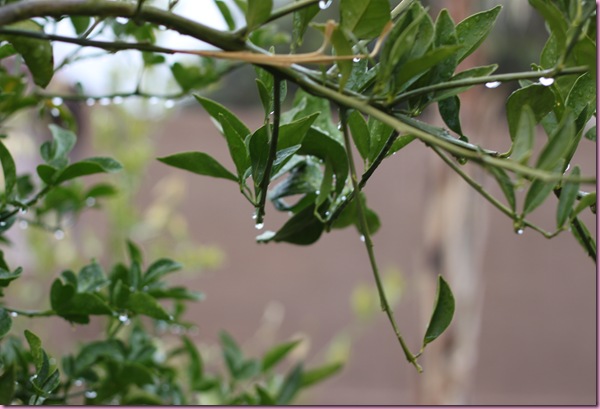 and whiskers on Bella…."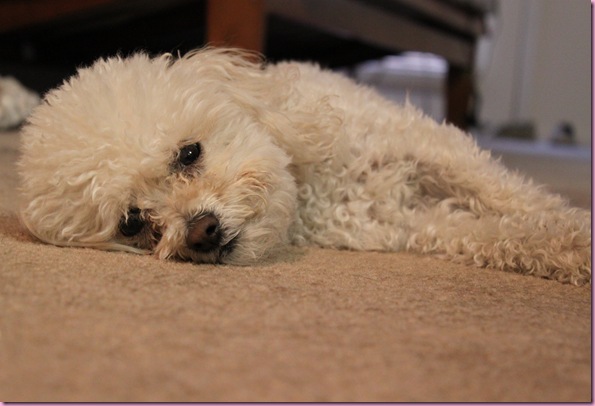 Morning friends <3 How's your Monday going so far?
I started my day off with some spiced oats: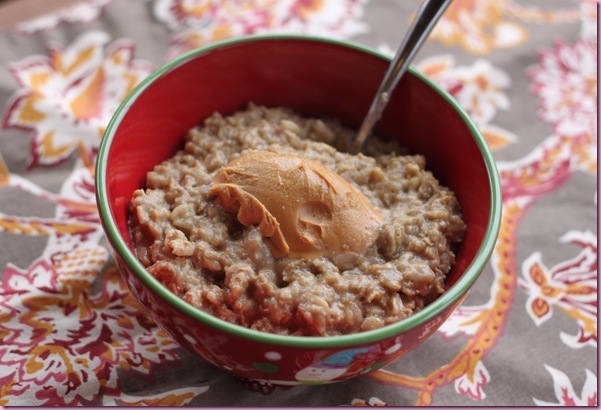 -1/2 C oats (Bob's Red Mill)
-1 scoop Sun warrior
-molasses, ginger, cinnamon, vanilla
-almond milk
-blob of almond butter
We got quite a bit done around the house this weekend. Still not finished (is a house ever really "finished?"), but a lot closer! We didn't go to any events so we could have a chance to chill, too –last weekend was a little intense. We still accomplished a lot, but didn't feel like we were running around like crazy. It was a good balance.
The office desk is built (courtesy of the Pilot handyman), the bedding is in the second guest room, master is almost finished (all we need are nightstands and haven't been able to find any we love).
Since there are only 12 days left in December, I thought it would be fun to go through this month's ideas and see how I'm doing so far:
1.) Deck the halls.

This one happened fairly quickly, and involved quite a bit of shenanigans.

Madre and the Pilot decking the halls, while Nana and I sat on the couch and laughed:

:

2.) Plan a get-together. We've gone to a few holiday events, but not nearly as many as usual. The Pilot has been working a lot, and if I'm on my feet for too long right now, this happens:

my ankles swell up and disappear. It doesn't hurt or anything like that, but does a great job of freaking everyone out. ("Oh my god, your ankles! You need to lie down. And drink some tea. And take a nap.")

This week we're having a cookie-decorating party, and Christmas morning will be over here too. I'm really excited for our first Christmas with family at our own house <3

3.) Give to others. We've been able to participate in a few local holiday charity drives/events, and the box of gifts for our angel tree girl is the only one under the tree that's wrapped. The Pilot is dropping it off at the BX today… I hope she loves it.

This is something that I need to do more often. We seem to do well with giving back over the holidays, but people are cold, hungry and in need during the rest of the year, too.

4.) Give to yourself. I've had some great lunches and dinner dates with girlfriends, plus an awesome pedicure courtesy of the madre. Definitely accomplished this one.

(Zevia Ginger Ale in a wine glass makes it feel more festive)

5.) Take it inside. This one has been easy, because I'm a petunia when it comes to working out in the cold.. unless I can run. Something about running in the cold is so invigorating and I warm up fairly quickly when I'm moving fast. Instead, I've been doing lots of Zumba, walking on the indoor track, weights, and DJ Dance Cardio classes (<—amazing).

6.) Make a soup or chili. I still haven't ventured into the soup world.

Does Spicy Thai Chicken count?

7.) Drink hot cocoa and watch a wintery flick. I've been swimming in heated up dark chocolate almond milk and watched Elf at least 8 times. Definitely a win on this one.

8.) Rock a circle scarf. I've found that this is the only type of scarf I can't mess up!

From Express, and since the rose shade is neutral, it matches pretty much everything.

Unlike regular scarves, the Pilot actually likes the infinity ones, too. Whenever I try (aka fail) at wearing a real scarf, I never end up wearing it out, and the other night I was wearing the infinity one and he said "look at you in your scarf- I love it."

9.) Start inspiration-storming. I've been writing out ideas for my inspiration board and am going to snip some ideas from magazines this week. In the spirit of the past two years, I'll share this year's inspiration board along with readers' in early January. If you want to get a head start and send it my way, I'll be sure to feature as many as I can.

10.) Take extra time to spend with those you love. I'm fortunate that this one has been so easy for me, since my family is always doing something and we can call them up on a whim and end up having brunch/dinner/movie/hang out with 14 people. Yesterday while the Pilot and my brother Trev went to pick up the office desk in my stepdad's truck, I stayed home with the madre, watched Elf and chatted with her. It was lovely <3
How are you doing on the list above? What December goals did you set for yourself?
Hope you have a fantastic day. See ya later with a new workout quickie!
xoxo
Gina