What's in the [quart-sized] bag?
Hi from Boston! It feels so good to be on the ground after a crazy day of flying.
Travel shirt: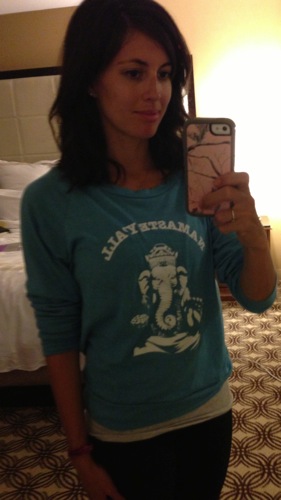 (I was not namaste-ing when we made that emergency landing, haha.)
Maybe it's just that I'm nosy, but I love learning little things like this about other bloggers. Since I haven't done one of these posts in a while, I thought I'd share the goods my quart-sized baggie for this trip. I pride myself on stuffing as much as possible into that tiny baggie. It's an art, really.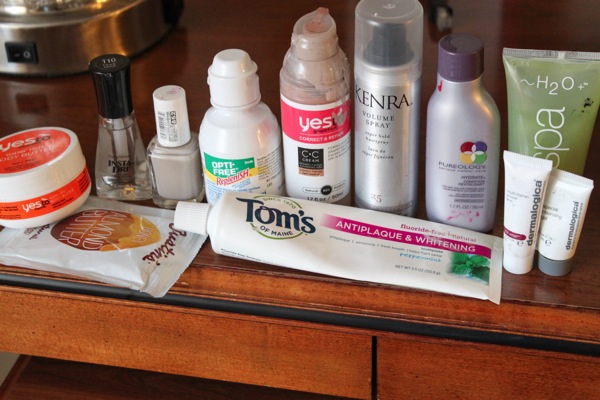 -Essie nail polish and Sally Hansen 60-second dry topcoat. Word to the world: make sure the lid to your nail polish is secured tightly. Page the fail whale.
-Yes To brand CC cream (you can see where the nail polish ended up.) This is my current favorite daytime moisturizer. It has a light, pleasant scent, SPF and enough coverage so that I don't need foundation. However, today unintentionally ended up being no-makeup Monday. No time for that while I was white-knuckling the airplane armrest… oh and that awkward point during turbulence where we dipped and I grabbed on to my neighbor's arm. Sorry, neighbor.
-Yes To Carrots body butter. This is a travel-sized one I picked up at Target, and it's especially great for travel since the airplane air sucks the life out of me.
–Rose Jelly perfume. I got a larger size and a travel one to keep in my purse. It's the most lovely, least expensive perfume I've ever tried.
-Contact solution and toothpaste. Necessary.
-Travel-sized shampoo, conditioner and hair spray. I have a ton of these at home -I take them to shower at work and get samples from Sephora- and happened to grab the SPA brand shampoo, Pureology conditioner and Kenra hair spray. Face wash and moisturizer are from dermalogica.
-Almond butter packs. I had two, but one of them was consumed on my second flight with a giant apple.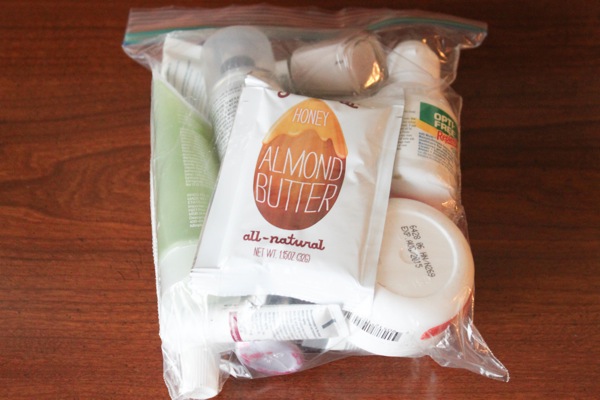 I just got to the hotel and can't wait to explore a little before grabbing a delicious seafood-filled dinner. My friend Sara and I made a YouTube workout to share so I'll get that uploaded tonight too!
Hope you're enjoying your day <3
xoxo
Gina
Anything random in your quart-sized baggie?? What foods do you take with you for travel? I make sure to have some protein powder, a little fruit, almonds or bars as back-ups if I get hungry on the plane or don't have time during a layover.
Some of my favorite healthy travel tips:
-Walk. I like to play airport cardio and walk around during layovers. Not only do I burn a couple extra calories, but it feels great to shake my legs out and move.
-Get in a hotel room workout. Some of my favorites are here and here! I'll be doing a yoga podcast and stretch later tonight.
-Seek out healthy options. It's not very challenging to find a healthy meal at the airport. I especially love being able to get giant salads loaded with veggies and protein.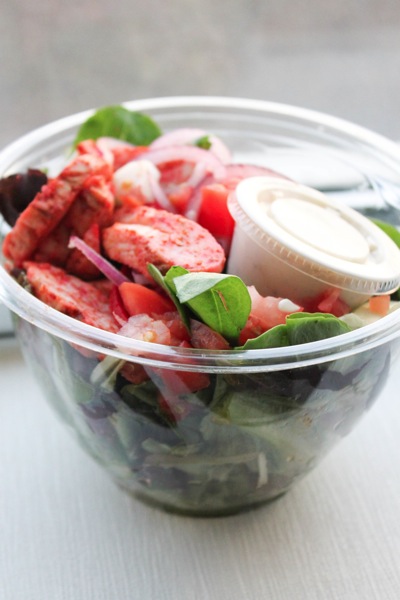 -Drink lots of water- air travel is extremely dehydrating! I'll bring a large water bottle with me and fill it when I get through security. It's nice to always have a water bottle with me during the trip, too. I feel lost without it 😉