Hi friends <3 Thanks for sending brave wishes and love to Livi for her shots. Turns out she only had to get one today (wahoo!) but was not a happy camper. The book they gave her when it was over was a nice consolation prize, along with a Tweety Bird band-aid.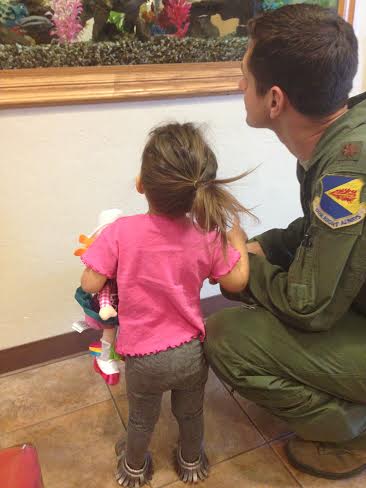 (She loves looking at the fish! I was pretty stoked that the Pilot could step away to meet us. He's usually flying during the week, so it was nice to have some back-up for the doc appointment. Usually I want to cry along with Livi… it breaks my heart)
Since most of the day has been spent at the ped's and cuddling my favorite girl, this is going to be a fluff post. Hope that's ok 😉
I LOVE reading nosy things about other bloggers. Maybe I'm totally strange, but I think the "what's in my purse" posts are really fun. It's been a while since I've done one (my last "What's in the quart-sized baggie?" one is here), and since my purse stash has become even more random over time, here we go.
Please keep in mind that my purse is an abyss of crumpled receipts and wrappers, but there are some treasures in there, too.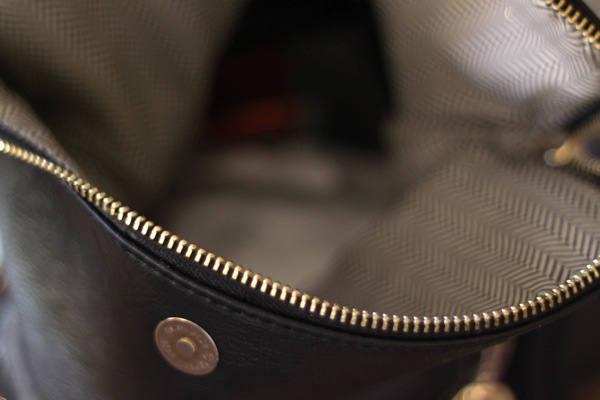 Random prize of the day goes to: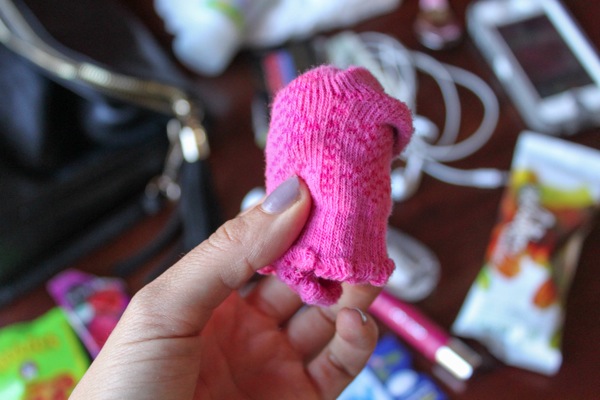 Hot pink baby socks. They don't even fit Liv anymore.
The goods: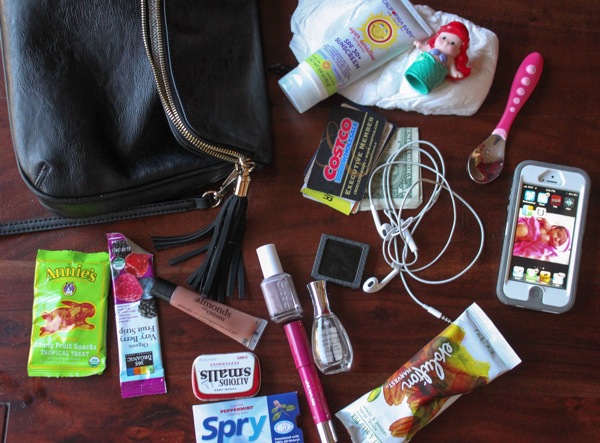 Snacks: I usually have a packed snack for us (sandwich, fruit, protein balls, jerky), but also keep extra snacks for Livi just in case. These are also great if we're grocery shopping and she decides she wants to eat everything we're buying… I can distract her with a snack from my purse until we pay. Right now the purse snacks are Annie's fruity bunnies, a fruit strips, and some Evolution nuts (for me!).
Lip gloss: I rotate between my favorites fairly often. Picture above: Philosophy almonds and cream (love!!) and Revlon lip stain.
Nail polish: I don't usually carry nail polish and top coat around, but my last manicure was in the car while the Pilot was driving. Fancy, haha. That one is Essie Chinchilly.
iPod and headphones: my trusty little iPod -I use it for teaching and podcasts- and headphones for phone calls while I'm driving.
Cards and crumpled dollar bill: I stopped using a wallet (no idea why) and just carry the cards I need around with me. It makes losing them extremely easy. As far as the dollar goes, I can't help but hear an old man's voice in my head saying, "Now, don't spend it all in one place!" 
Baby sunscreen and diaper: necessities.
Little toy and a spoon: the tiny toys are awesome for when we go out to eat. I also like to have a spoon or fork on hand that Livi can use, since restaurant ones are gigantic.
The purse I've been carrying around was from one of my Stitch Fix boxes: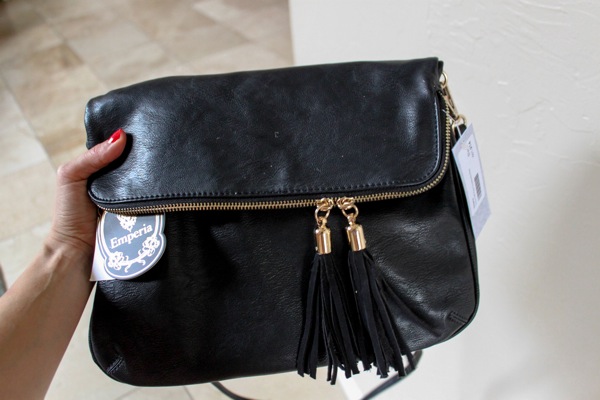 The brand is Emperia. This Mary Poppins bag holds a ton of stuff, and matches pretty much everything.
So tell me friends: what's the most random thing in your purse right now??
What snack do you usually carry around with you? I alway have a water bottle and some type of fruit.
Hope you have a great night and I'll see ya in the morning <3
xoxo
Gina