On a Wednesday! #punctualityFTW
Hi friends! How's the morning going?? It has been sweltering hot here -I have no clue what has happened- so we'll probably head back to the beach or bay to cool off. The week is already flying by, and I can't wait for the weekend because we're surprising the girls with a Disney trip. Liv has no idea we're going out of town, and I can't wait to tell her where we're headed when we get in the car. P was so little last time we went, so I think she'll enjoy it a lot more this time. She just has to see the Mickey Mouse characters and see starts laughing and clapping. Also, a Mickey Mouse rice crispy is calling my name.
So for today, I have a WIAW (<— What I Ate Wednesday) post. I always enjoy reading these posts to get new ideas for healthy meals, especially those I can make quickly. Here's what I ate yesterday, which was a pretty *normal* Tuesday:
7:30am: green tea while making breakfast for the girls and getting them dressed for the day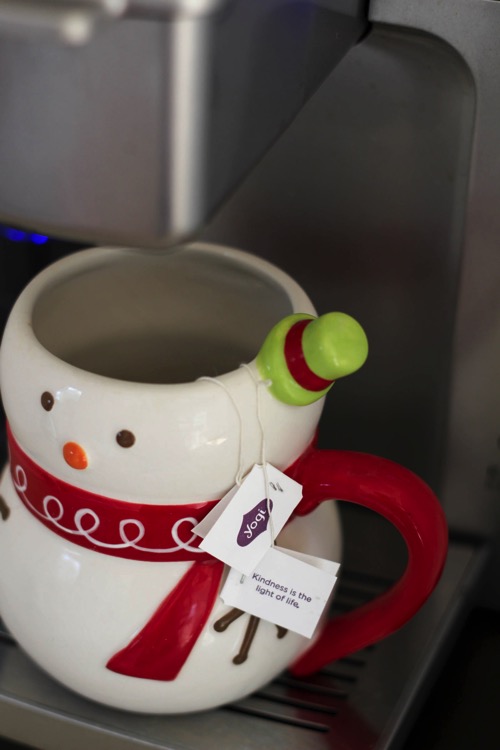 (I usually have tea or my morning drink first thing when I wake up)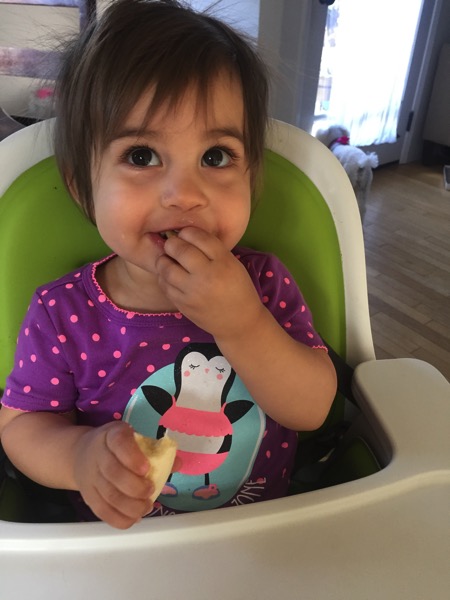 After preschool drop-off, P and I headed to the gym where I got in a short leg workout. I did a round of Squatember, minus some of the impact rounds since I teach at night and didn't want to totally crush myself.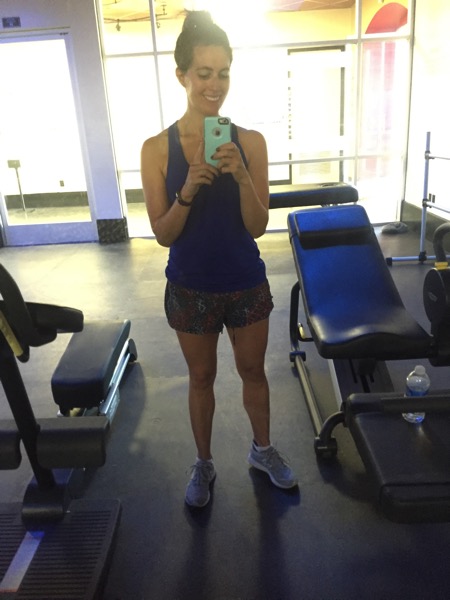 10:30am breakfast: coffee, 1 egg + 2 egg whites, pumpkin protein oatmeal (1/2 cup oats, 1/4 cup pumpkin puree, 1 scoop goat whey, pumpkin pie spice, and a drizzle of maple syrup)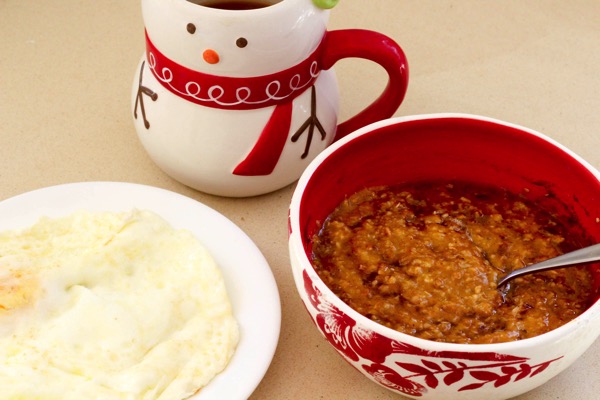 P only ended up napping for 30 minutes (wah), so we went to storytime and to run a couple of errands.
12:00pm snack: Go Macro bar + a peach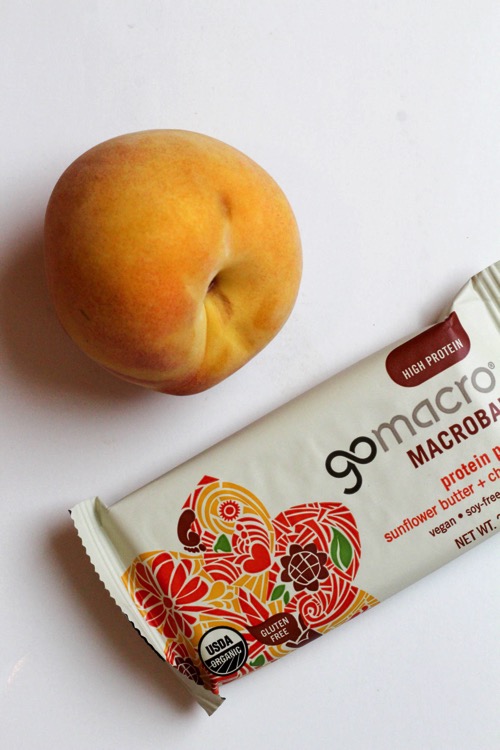 We went back home to try for nap #2, and thankfully it was a success 🙂
2pm supplements: liquid herbs from my naturopath, prenatal vitamin (I always take prenatal, even though we're two and through), aloe vera, and collagen. I just started using the Vital Proteins brand since I had a tub from Blogfest, and love it. It dissolves really well and is completely tasteless. I'll mix the herbs, aloe vera juice, and collagen with water in a tiny glass and take it like a shot. Due to the herbs, it tastes like sadness in a cup.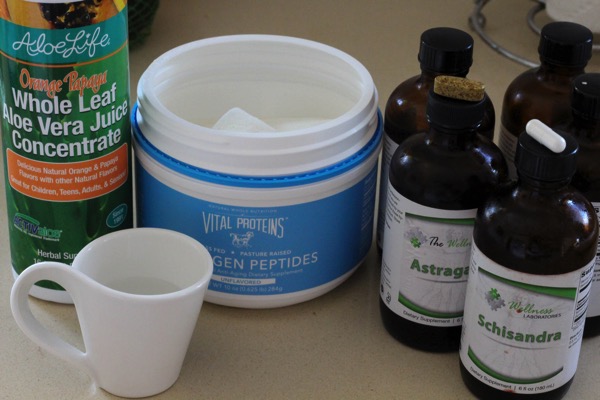 2:30pm lunch: salad (spinach, grilled chicken, zucchini, feta, bell peppers, Italian dressing), and sweet potato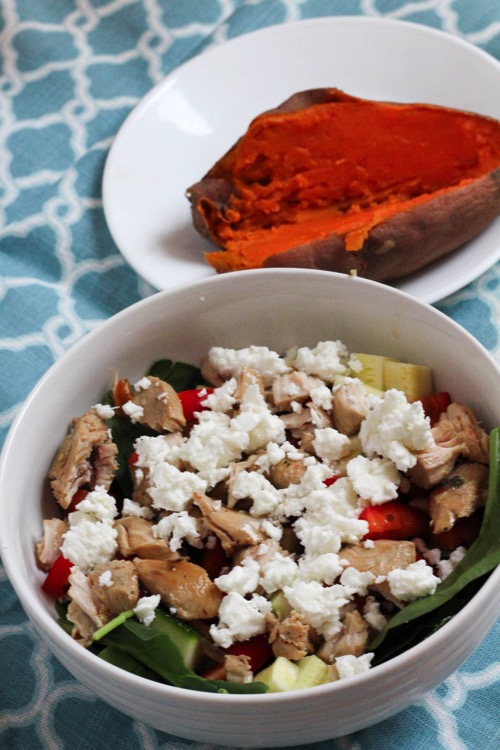 3:00 pm pick-me-up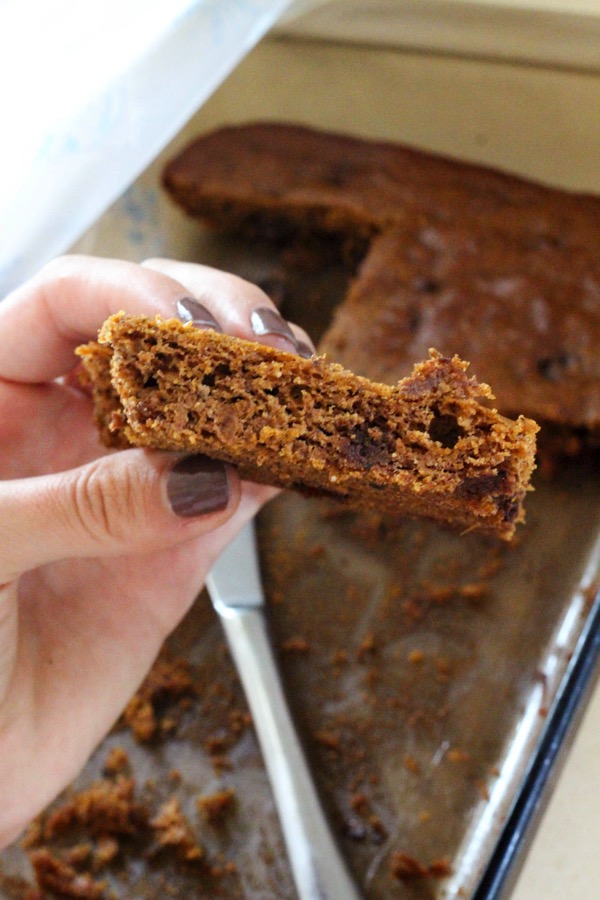 4:30pm unpictured: kid's cup of mango sorbet
The Pilot was working late, so the girls and I headed down to the beach,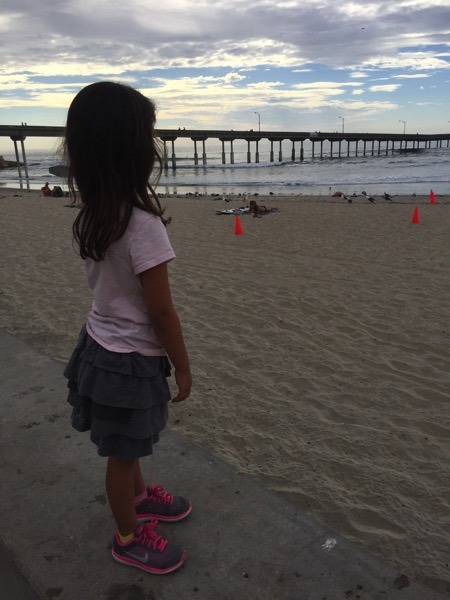 and stopped at Lighthouse for ice cream. Livi had a birthday cake ice cream, I enjoyed the mango sorbet, and we got some for the Pilot to enjoy when he came home. I also gave P a few bites of my sorbet since it was dairy-free (and didn't appear to be colored with any food dyes) and it rocked her world.
For dinners, 1 of three things will usually happen:
1) We'll eat something that I prepped during the day
2) the Pilot will cook, or
3) We'll get takeout.
We're try to minimize takeout to a couple of times a week -it gets so tempting with two small kiddos because it's SO EASY, but we like to cook, and eating out constantly is expensive- and figured it could be a Postmates night.
Tender Greens arrived at the doorstep and was waiting for me, along with a glass of vino, when I came home from teaching barre.
8:00pm hot plate with salt & pepper chicken, roasted veggies, and romaine salad.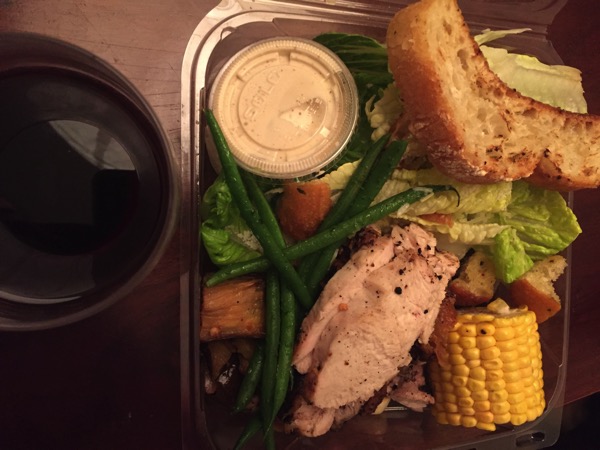 Sometimes before bed, I'll have a cup of cereal or some protein yogurt, but didn't feel like I needed it. I had a mug of hot tea during my daily 11pm laundry folding/sorting ritual. 😉
What I liked about this day of eats:
I feel like it was a pretty good mix of protein, produce, delicious stuff, and I felt satisfied/energized. It did feel a little higher than usual on the sugar between the bar, sorbet and wine, but it's NBD. I also ate breakfast fairly late, but that's how it usually goes when we're chasing around.
What could have been better:
I would have liked to have dinner earlier, but I don't like to teach with a full belly. I was definitely ready for it when I got home!
Obviously, it would have been better if I could have cooked at home -we're trying a new salmon dish tonight- but I'm thankful that we have so many healthy options here, and friendly Postmates.
What was the most delicious thing you ate yesterday? Any new snacks or meals you're loving?
More WIAW posts here, here, here and here. For the OG WIAW fun, check out Peas and Crayons.
See you soon with P's 11-month recap!
Have a very happy humpday.
xoxo
Gina