Helloooooo. Happy humpday! How's the week treating ya? I'm getting SO EXCITED for Thanksgiving. My pie pants are packed haha. I can't wait to see our Tucson family. We haven't seen baby Everly since April, and she's trying to walk now! We have lots of fun family events planned, and it's going to be the best ever.
For today, I've got a WIAW (What I Ate Wednesday) post! It's been a little while since I've shared one and I figured that this particular day was a very *real* day of eats. Sometimes when I do WIAW posts, I can't help but be more cognizant of what I'm consuming. I find myself trying to maximize veggie intake and minimize dips into the almond butter jar. For this WIAW, it was pretty much a typical day: I taught a barre class + got in my own personal workout, Liv was at school, P was home, and I managed to cook real food for dinner.
Here's what the day looked like:
7:50am: the rest of Livi's waffles on the way home from school drop-off. I eat her leftover waffles pretty much every day and she leaves the bites in the bottom that are entirely soaked in syrup. Since I don't usually have real breakfast until a couple of hours later, I appreciate the little sugar buzz, especially since P hasn't been sleeping (STILL. HALP ME.) and it gives me a little pep in my step.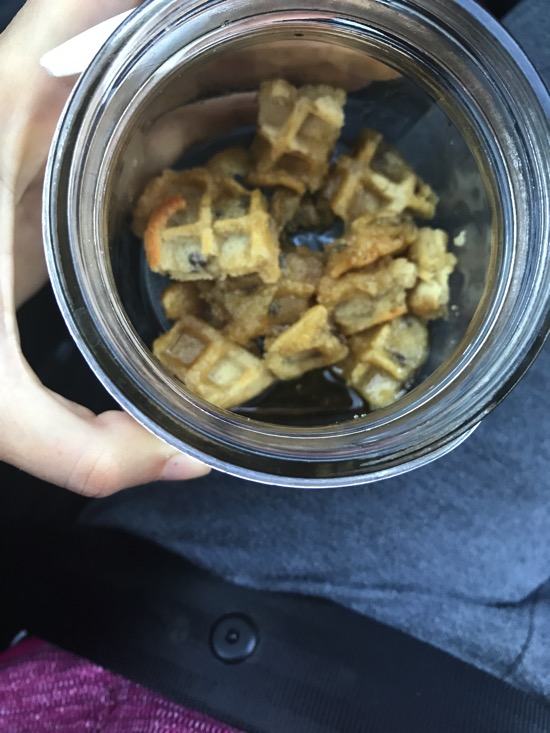 9:15am: real breakfast. This is 2 eggs with 2 egg whites, 2 almond flour tortillas, and sriracha.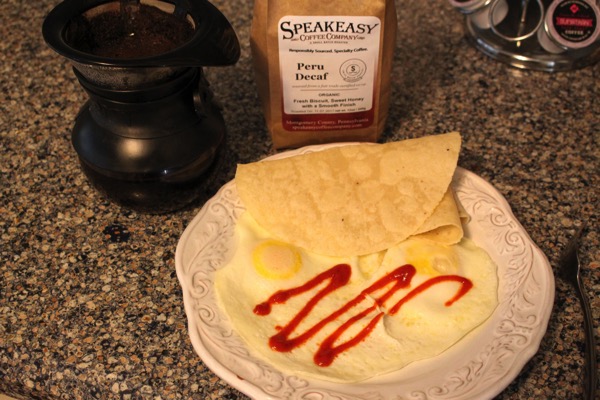 I've been enjoying the Speakeasy decaf coffee so much lately! A good friend recommended this brand because they use the Swiss water method to extract the caffeine. (If the company doesn't specify how the coffee makes their decaf, chances are that they use chemicals.) It's so delicious and mild! I'll drink the coffee with almond milk, cinnamon and a small drizzle of maple syrup.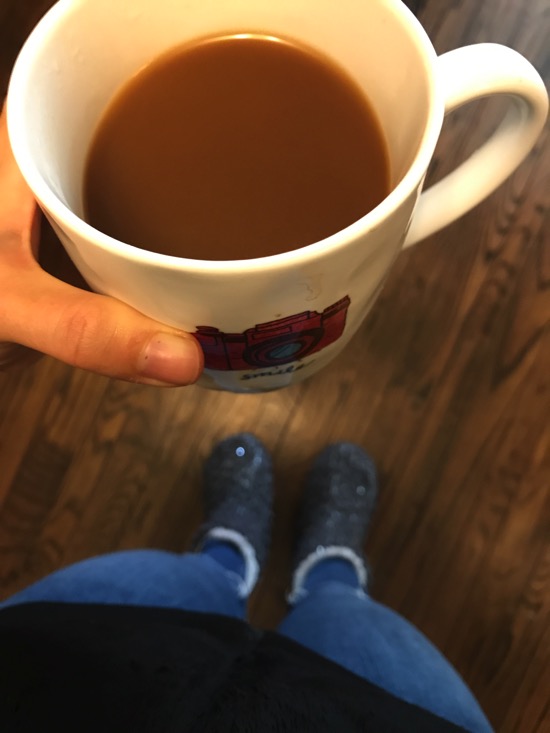 12:30pm: I snack on Simple Mills crackers with Kite Hill almond *cheesy* spread. The truffle dill flavor is fantastic. I wasn't sure how I'd like the texture, but it's like a fluffier, lighter version of cream cheese.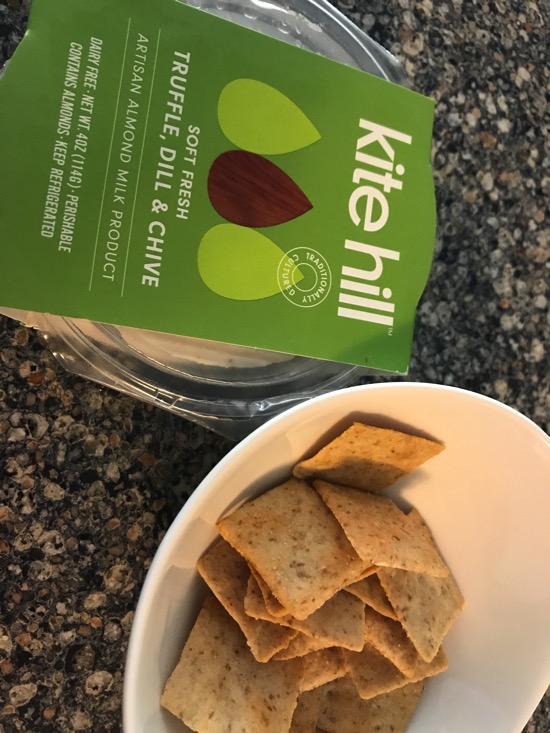 + 2 tiny apples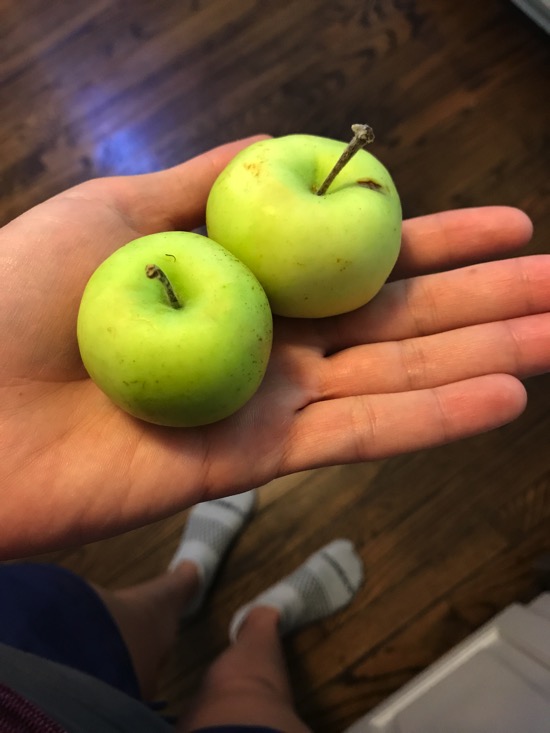 (Aren't they precious?)
1:00pm: I get in my workout in the garage. I'm going through the Post Baby Bod advanced plan – it's been a great way to build back my fitness to an advanced level safely – and get some HIIT intervals with the jump rope + heavy strength. I'm done in about 40 minutes and chug a Daily Harvest cacao avocado smoothie before P wakes up.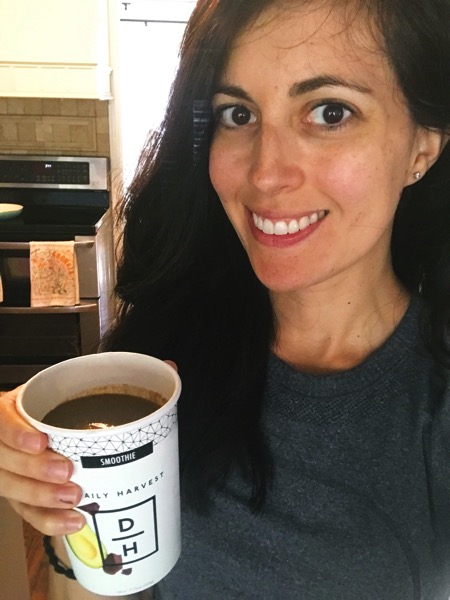 The smoothies are two servings, so before blending, I split the container's worth in half and freeze the rest for the next day. I add almond milk to the blender with 1 scoop of Vital Proteins collagen, a handful of spinach, a tablespoon of almond butter, and a teaspoon of Moon Juice dust.
5:45pm: poke bowl time! We picked up some tuna tataki from Whole Foods. It's wild-caught and pan-seared with garlic and pepper before it's frozen. (You can find it in the freezer section by the sushi.) We have to get more of this. It was insanely fresh and delicious and paired perfectly with sushi rice (cooked in the Instant Pot for 12 minutes then seasoned with sesame seeds and rice vinegar), seaweed salad (from the sushi bar), avocado, cucumber and pickled ginger. I didn't know if the girls would be into it, but Liv ate her entire poke bowl! P wasn't such a big fan, but she made up for it in copious amounts of avocado.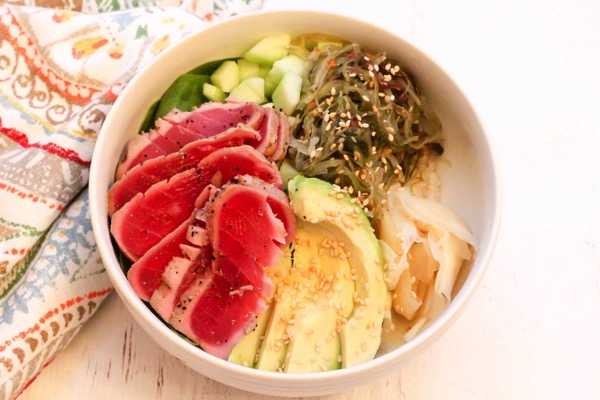 I head to teach barre and add in an intense lunge sequence. I'll take a video for Instagram soon because it was a serious quad burner.
8:15pm: a piece of leftover birthday cake with Liv and Tulsi rose tea before winding down for the night. I mentioned before that I don't usually *love* vanilla cake, but I love this cake.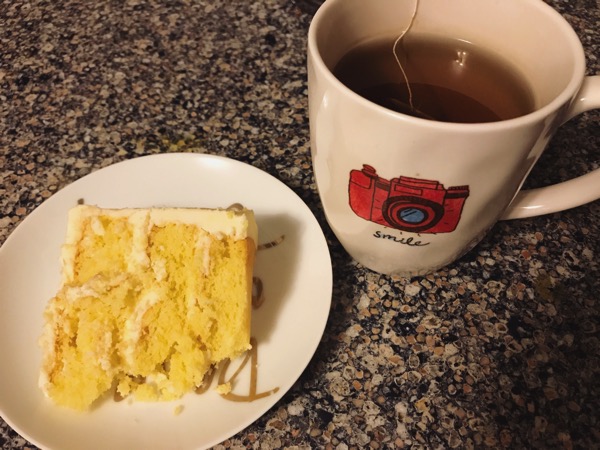 What I liked about this day of eats:
It was a satisfying mix of all of the things I love: eggs, almond butter, smoothies, poke bowls, CAKE. I felt satisfied and energized all day. It was also a good mix of protein, which I think helped to make the meals more filling. Eggs usually give me an excellent start for the morning (let's be real, it's not a day if I don't have eggs at some point) and the poke bowl was a special treat. It brought me back to San Diego when we could get them whenever we wanted. *Hangs head and cries softly*
What I could have done differently:
I was kind of low on the produce front. Sometimes I'll sauté veggies to go with my eggs, and I'll almost always have a big salad at some point during the day. Thankfully the smoothie was packed with lots of good produce (zucchini, avocado, spinach) and I got a little bit more in with the poke bowl (seaweed, cucumber, more avocado). Ideally, I like to try to eat the rainbow, and my rainbow this particular day was mostly green. The day ended with cake, so I'm still calling it a win.
Speaking of wine (win = wine), I didn't have any that night. I've really scaled back on the vino since P's sleep habits crumbled to the ground. If I have a glass before bed, I feel so much more tired when I have to wake up with her during the night.
So, tell me friends: what was the best thing you ate yesterday? Do you have any food goals you try to hit each day? I stick with my "eat like a PRO" mentality (aim for PROtein and PROduce in every meal/snack) and also try to add in greens when I can.
xo
Gina