Heyyyyy 😀 How are ya?
I'm bueno over here after having a glorious lonchi 🙂
Quinoa Confetti Casserole (recipe in Eat, Drink and Be Vegan)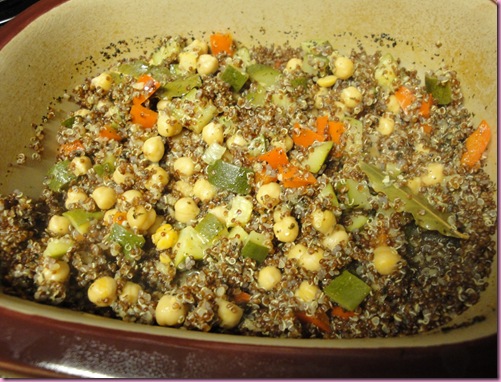 I had a lurvely bowl full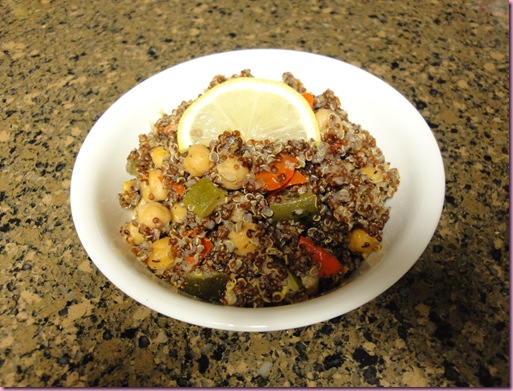 The pilot had some, too as a pre-gym snack.
His words: "Um, feel free to make this again sometime." I think he liked it 😉
And the classic beast
Organic greens, grape tomatoes and Annie's Goddess dressing
This morning, I got up early for a cardio sesh since it's a cardio and yoga day <3
I munched a slice of millet bread with maca and cinnamon before leaving the casa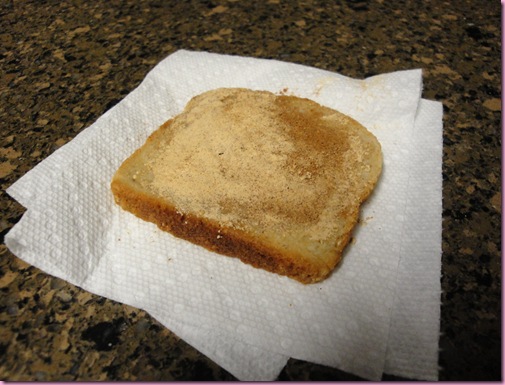 And went to the gym where I did 30 minutes on the elliptical with the new Oxygen mag and 35 minutes on the Revolving Apparatus of Death (alternating between hill walking, running and sprint intervals). I was a sweaty and triumphant beast when it was all over 😉
Protein: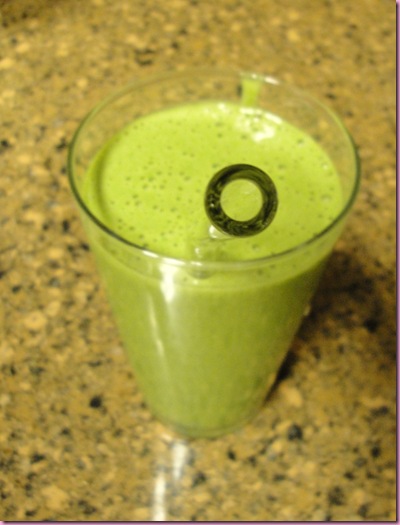 -1.5 C almond milk
-1 banana
-1 scoop vanilla Sun Warrior
-handful of frozen organic spinach
-1/2 t spirulina
I showered my sweaty face, dropped off my clients' lunches and picked up some necessities from the Health Food Store.
I got the usual suspects (almond milk, almond butter, bars) but also picked up something NEW!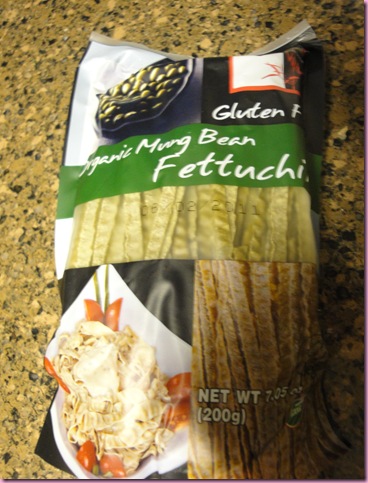 Mung bean fettucine!!!
No idea what this tastes like, but I'm excited to play around with it 😀 Perhaps with a pesto sauce?? We shall see. Has anyone tried this already??
Now I'm sipping on some green ginger tea and am about to truck along on a little project that's been in the works.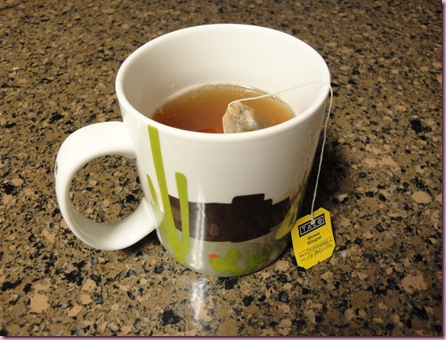 As you guys probably know, today is Groundhog's Day and the Phil-meister said that winter is going to stick around for a while longer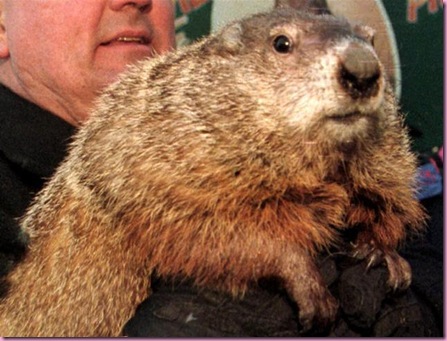 (Source)
In honor of the movie Groundhog's Day (where Bill Murray lives February 2 over and over again) and Sarah's post, I checked out my bloggy post from February 2 of last year.
Here it is:
_________________________________________________________________________________________________________
The Early Bird Doesn't Zumba
Helloooo! Hope you all had a great day back to work and escuela. My day has been bueno, but looooooooong. As things get crazier and crazier this semester, posting will be a little sporadic. I'll still post every day, but who knows what time it will be

I started the day way earlier than humanly necessary and had an Early bird b-fast cookie:
I topped this one with goji berries and a sprinkle of FEED granola that I picked up at Fresh Market in Orlandy.
I went to the base gym to teach 7am Zumba and, shocker, no one showed up. I know for a fact that this is WAY too early for Zumba– my Wednesday night class is usually packed but some Monday morning, no one shows. I don't blame them—7am is PT hour, so military guys are all over the place and it's more lift-weights-and-grunt time than prime booty shaking time.
So that my trip wasn't worthless, I did a short workout before coming home to the sleeping puppies:
Stairmaster
20 minutes, level 6

Stability ball hamstring curl
body weight, 3 sets of 12

Inner thigh stability ball plie and squeeze
body weight, 3 sets of 12

V-glutes
3 sets of 12

Standing stability ball calf raises
20 lbs, 3 sets of 10

Leg extension
25 lbs, 3 sets of 12

Total time: 45 minutes
When I got back to the casa, I had a snack of a two egg white stada with salsa, Ezekiel and a macaroon (for, ahem, healthy fat)
I got ready for work and had this before leaving:
Work was pretty uneventful, and I came home for my lunch break to make the following:
Salad with chickpeas and Goddess dressing and an Ezekiel soup-dipper
Whole Foods creamy tomato soup (1.5 cups)
Tomato soup is so comforting. It wraps my heart in creamy goodness haha.
I went back to work to TA one more class, then came home and did something I haven't done in forever: took an hour nap with the puppies.
Waking up so early for nonexistant Zumba is seriously exhausting.
When I woke up, I was snacky (of course) so I had some patriotic fruit:
Then I hit the gym for a insane booty-kicking run sesh. More to follow in the "something to do" section at the end of this post.
I came back, with the U-shaped sweat on my shirt that's a sign of a killer workout and made some quick dinner before heading to class.
In a skillet,
-1 onion, diced and cooked on med-high in olive oil for 5 minutes
-2 cloves garlic
-1 can organic whole, peeled tomatoes
-italian seasoning, salt, pepper, red chili flakes
-3/4 cup chickpeas
-2 servings of shrimp (which I defrosting beforehand)
Here's what I got:
I LOOOOOOOVE SHRIMP!!!
Here's my serving (I saved the other half for tomorrow.. so yes, leftover's are in the near future)
Succulent little shrimpies.
Dessert:
I went to class and teach decided it would be a nice night to keep us late (arghhhh) so I am so ready for jammie time.
Hope you all have a wonderful evening and I'll see ya tomorrow!
Much love,
G
Something to do: Treadmill workout!!! Here's the one I did today: Run It Off A couple of changes that I made were that I walked at 4.0 for 3 minutes to warm up (instead of 3.5) and also ran an additional 7 minutes at 6.0 mph with a 2.5% incline before cooling down. This was an INTENSE and beautifully short workout. Let me know if any of you try it!!
______________________________________________________________________________________________________
Notes:
-I still live for shrimp and breakfast cookies
-I'm still insanely busy, but that's the story of my life 🙂
-Rarely eat cow's dairy anymore and would probably swap the Ezekiel for millet bread
-I'm even more glad that I dropped out of school – I was MISERABLE in the program here!
-My photo quality has gotten a tad better 😉
-The pilot was deployed when I wrote that post! So glad to have my hubby here with me
-Other than that, things are pretty much the same <3
Well, I'm off to get crack-a-lackin' 🙂
Have a wonderful Groundhog's Day <3
Gina
Something to do: Check out the raw goodies that are available from my twinnie friends! Lori and Michelle have opened an online store through their blog and now everyone can enjoy their insanely delicious raw snacks. Their flatbreads and crackers rock my face off 😀