Cookie winner, Lazy Dinner
Hey guys! Hope you're having a fabulous morning!
Looks like ya'll wanted some raw goodies 😉
This winner of the raw cacao cookies, almond butter, bars, and whatever else I throw in the package is…..

Lauren from Eat, Drink and Be Hopeful!
Congrats, Lauren 😀 Email me your info and I'll ship out the goodies tomorrow.
You guys gave me SO many ideas for fun new raw creations, including:
-Molten chocolate cake
-Crème brulee
-Red Velvet cake
-Cheesecake (which I've made before, but would like to change up a little)
-Cupcakes
-Tiramisu (have also made this one, but would like to play around with it)
-Carrot cake
-Girl Scout cookies.. you know there are some raw samoas in the near future 😀
I can't wait to play around in the kitchen!!
You never would have guessed with my mediocre dinner from last night 😉
Amy's vegan soy-free Chili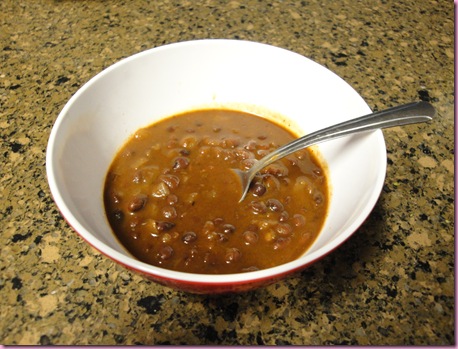 and a mini salad beast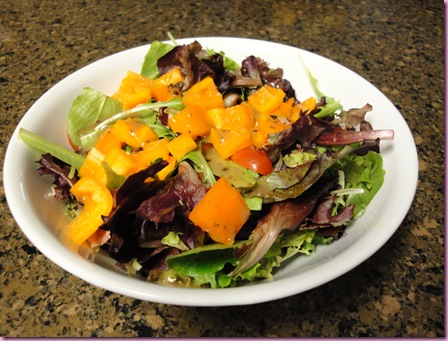 It's "delicious" factor made up for the "not very exciting" factor 😉
I've noticed that since my days have gotten busier in the past couple of weeks and since we've been spending weekends out-of-town, my dinnertime cooking has fallen by the wayside. Mini goal: Go back to making "real" dinners as time allows it. Last night, my poor pilot had an organic chicken breast, baked sweet potato and a PB&J thrown at him as he was running out the door- he flew late last night, so I knew I wouldn't be making a real dinner.
Usually, I plan out all of our eats for the entire week. (Check out this post for some info on meal planning)
This hasn't been happening lately because:
1. The pilot has been working weird hours
2. We've been out-of-town, eliminating my Sunday planning and grocery ritual
3. I've been working a lot more than normal
Because of all of these things, I've been "winging it" every night, and things have gotten a little blasé in the food department. Time to get back into action!
I often get asked how much money we spend on groceries. I'm not gonna lie, it's a hefty amount especially since I buy organic produce whenever possible and will only buy organic meat. By failing to plan lately, I've been spending even more because of impromptu grocery trips and it's totally unnecessary. Planning saves dinero and sanity! 😀
Do you plan your meals in advance?? Or do you wing it?
I'm off to run on the revolving apparatus of death and then get my clients' meals together.
See ya after yoga 🙂
xoxo,
Gina
Zumba song of the day: "Ritmo Caliente" by Bnada Zarape (an awesome quebradita song!)