Winter Shape Up 2015: Week 1
Hi friends! I am SO excited about this year's Winter Shape Up! Here is the week 1 schedule. Please feel free to modify or adjust as you see *fit* 🙂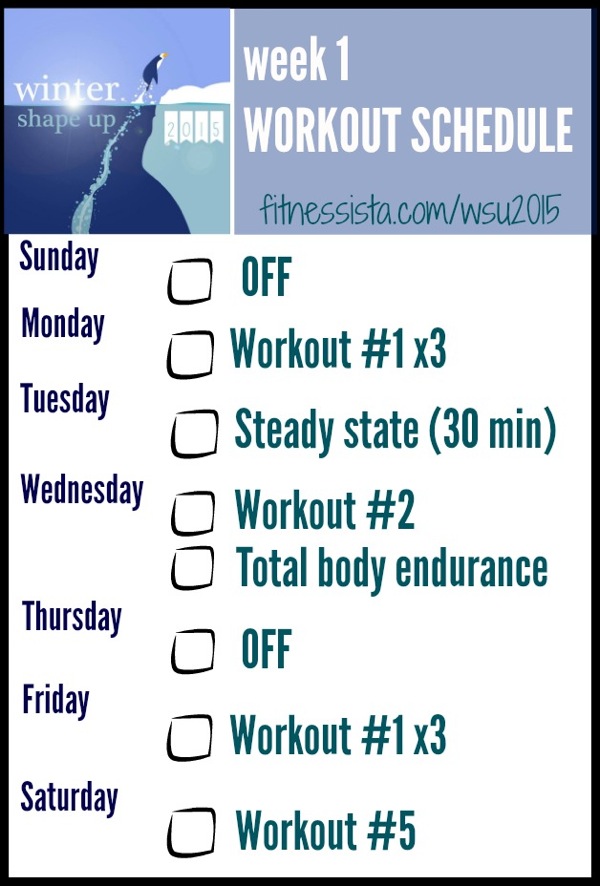 Workouts for this week:
Workout #1 (Follow along video option)
Steady state: for this workout, you are going to complete 30 minutes of steady state cardio with a mode of your choice. Go for a run, a brisk walk, hop on the StairMaster, try a mix of your favorite cardio modes, or take a class you enjoy. If you take a class, make sure it's not interval-based, and go for more steady state, like dance, kickboxing or Zumba.
Workout #2 (Follow along video option)
Ideas to shuffle the workouts around:
-Make sure that you are not doing strength on consecutive days. Try to do workout #1 1-3 times total. Three is just a maximum amount; if you do the workout just one time though, that's great!
-Alternate cardio intensities. For example, I would not do workout #1 and workout #2 on consecutive days since they include intense intervals! Sandwich an easy steady state or off day in there.
-As always, check with a doctor before making any fitness changes. Honor your body and modify as needed.
For all of the weekly workouts and meal plans, be sure to check out the intro page!
Special thanks to this year's Winter Shape Up sponsors:
Wild Blueberries / Cabot / Sabra / Sizzlefish / About Time / Fitfluential
This week's featuring sponsor is About Time.


They have a variety of protein-packed products, sweetened with Stevia, and in a variety of delicious flavors. I've had their birthday cake protein powder before and thought it was delicious! Some of their other whey protein powder flavors include: cinnamon swirl, mocha mint, peanut butter (!), chocolate, strawberry and banana. They kindly offered a jump start pack for a lucky Shape Up participant, which includes a 2-lb. container of whey protein powder, and Cleanse (which has green coffee bean). The prize is valued at $85.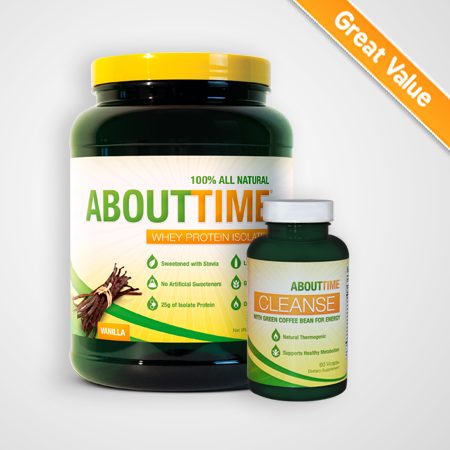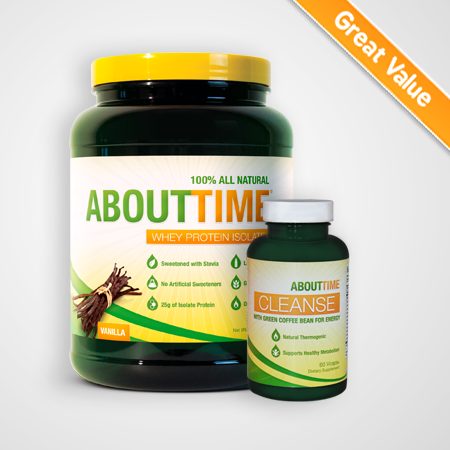 To enter, leave a comment below (on this week 1 workout page) each time you complete one of the workouts above. (So Sunday, you get a freebie: it's a rest day!) The lucky winner will be announced in the Week 2 workout schedule post.
Let's get this Shape Up party started!!
xoxo
Gina