Hi friends! How's your day going? The weather here is absolutely dreamy -I think this is magnified by the fact that it was super humid this weekend in VA- so Liv and I have been enjoying some time outside.
Today, I'm excited to share a new book with you that I've been loving, and it just so happened to be co-authored by bloggerfriends whom I've known for years and deeply admire: What You Can, When You Can by Carla Binberg and Roni Noone.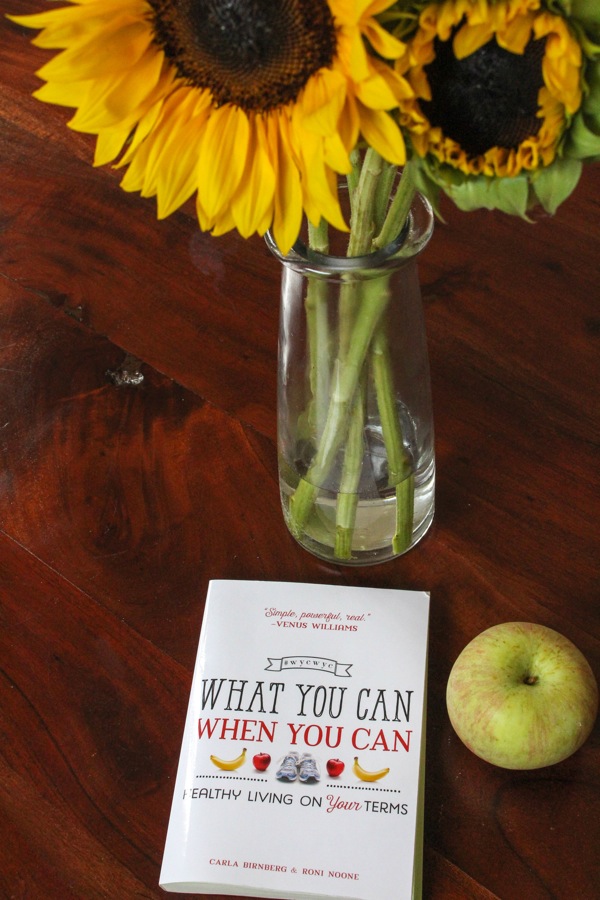 They sent me a copy last week, and I was able to read it from front to back during our weekend travels.
Here's what WYCWYC (pronounced "wick-wick") is all about:
We all know we should eat better, exercise more, get better quality rest, and so on. Tell us something we don't know, right? After all, every statistic we have about Americans and our health proves that no matter how good our intentions are, we are failing to change the habits that undermine our well-being. But how do we achieve our healthy living goals when they're so daunting? Who has the time, the willpower, the resources to do all that nutritious eating, muscle building, restful sleeping, and work-life balancing?
Carla Birnberg and Roni Noone have the answer to that—the answer is you. You have the power to make healthier living easy and exciting, just by adopting one simple mantra: "What you can when you can." It's all you need.

What You Can When You Can (#wycwyc) is a book, a movement, a mindset, and a lifestyle—one that harnesses the power of small steps to let you achieve your health and fitness goals on YOUR terms. The #wycwyc (pronounced "wickwick") philosophy applies to anything and everything that contributes to a healthy, happy life: nutrition, exercise, physical and mental rejuvenation, and so much more.
Here's why I LOVE it:
I feel like many diet and fitness books encourage a "total life overhaul," which at first can be daunting and overwhelming, especially if you're just starting a health and fitness journey,. I also think it's the quickest way to burn out: try to do too much, too quickly, and it's often a recipe for failure. (And then feeling badly about yourself and the cycle all starts over again.) It's something I write thoroughly about in my own book, but when I was first getting started in health and fitness, I fell into the "all or nothing" trap, which hurt me far more than it helped. The beauty of WYCWYC: it's broken into small, attainable steps you can make in your health routine and life, which will lead to huge progress over time. I love the idea of bite-sized goals that you can accomplish and stick with for the long term.
In the theme of WYCWYC, this book is also extremely compact and skimmable; you pick it up and read bits and pieces as they apply to your life, or as you need them.
Here are the categories that WYCWYC focuses on, along with a sample tips from that section.
It's all about the mindset: Aim for persistence, not for perfection.
Rethink and take charge!: Stop MUSTurbating (<— love this so much) and making yourself badly for things you "should," "ought" or "have"' to do.
Daily considerations: Activate your wait times. Think of all of the times throughout the day you spend waiting, and instead, do something productive or that enables you to de-stress.
Food for thought: Think of what you can ADD instead of take away, i.e. more steps throughout the day, more time laughing with friends, fruit instead of dessert, more vegetables to your meals.
Tricks of the trade: Prioritize sleep. As someone who has a deep love for sleeping, I really appreciated this section. 😉
Since reading it, and learning more about the movement, I've found so many instances of WYCWYC in my own life. Last week, I really wanted to get in some cardio, but the Pilot was working and gym childcare closed in 30 minutes. I turned on a Zumba DVD and had a little dance party with Liv. During this weekend's wedding festivities, I was starving between the rehearsal and rehearsal dinner, so I drove down the street to CVS and grabbed a Larabar to hold me over until dinner. We didn't have gym access, so I got in an online workout during out hotel stay and we took a long walk around property. It really is about doing what you can with the means you have, whether it's time, location, finances, availability, etc.
And now, a giveaway! Two lucky readers will each receive a copy of What You Can, When You Can.
Enter via the widget below!
I'll choose the winners this Thursday night (midnight EST) and announce in Friday Faves.
xoxo
Gina