Your fitness stories (Jamie, Rebecca, Samantha and Erica)
Yesterday, I write a little post about my Zumba story and put the call out for some of yours. The key to consistency is finding a workout you LOVE and I was so excited to hear about what pushes your workout buttons. I received quite a few awesome comments and stories via email, and thought it would be fun to share some of them. Thank you again so much to those of you who sent them in. While I won't be able to post all of them, I've read them all and hope to share quite a few this week!
The first one is from Jamie, a fellow Zumba instructor:
In the summer of 2005, I sat in my mom's living room, reading an Oprah Magazine. It said, "do something this year that you've never done before and write it down now"
I wrote down, "attend a group fitness class" I'm not kidding, they scared me to death; I was absolutely terrified of them. Everyone sitting there- watching you, staring at you- judging somehow-and that summer I got up enough courage to take a group class- a spin class and I loved it.
I love that memory because I remember thinking that there was NO way I could ever take a group class and now, I teach one. It's really crazy what we're all capable of if we face our fears.
I got my personal training certification and group fitness certification in November of 2009. My mom always says that we take little steps to finding our passion and this one was a stepping-stone for me.
In March of 2010, I began working at the gym on base in Germany and on a whim signed up to get certified in Zumba. I had only heard of it from the fitnessista and I (unlike her) have absolutely no dance background- so why wouldn't I sign up for this? I drove to Dusseldorf, Germany with my mom and I was the ONLY English speaking one there (I found this out when I had to raise my hand and ask the instructor…."UHHHH WHAT did you JUST say lady!?"
Anyway, I cried halfway through the certification. I couldn't get a basic step and I just lost it. "Why am I here, why did I come, why did I think I could do this?" Those were all the things that were running through my head.
I began teaching Zumba for free in May of 2010. I had a group of ladies that would show up mid-day to shake their rumps with me. It was one of the best environments for me and I hope I made it that was for others.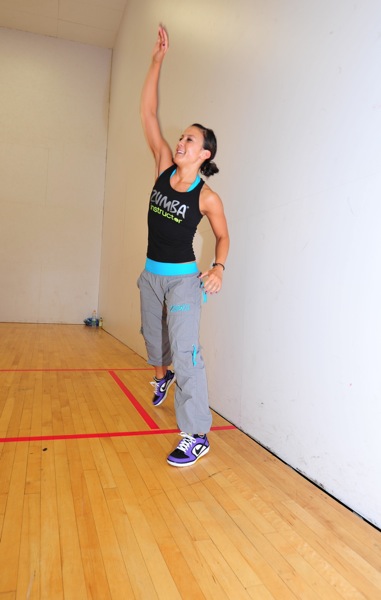 In March of 2011, I began to teach at night and one night I had over 100 people- it was the coolest thing I have ever been a part of. The year I started teaching at night coincided with the year that Nick was gone for deployment (this was also nice because 99% of women were going through the same thing and they all could relate to my random tear-laden eyes before class)
I am not lying when I tell you- my Zumba ladies-or Zumba saved me from many blue days. I have been in tears multiple times before class and not wanted to teach, but knowing that people were counting on me- forced me to put on a happy face and it turns out by the end of class, I would feel ten times better. I don't know if I could have made it through deployment without it.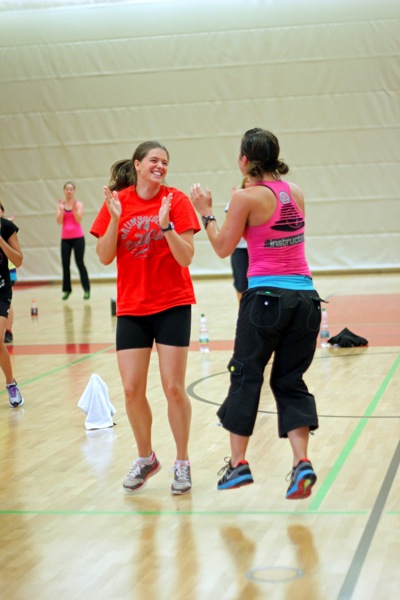 This community changed me. I overcame so many of my fears- coming to a place that was judgment free and was able to shake my booty for a hour. It brought out a confidence in me that I always knew I had.
One of my favorite quotes is one that my brother told a pee-wee football team before their championship game:
"Hey guys..it doesn't matter what you do out there…just better yourself. Be better than the last play, better than the last practice, better than the last game. Be better than yesterday"
We can be our worst enemies or our own best friend. Don't compare yourselves to others. Just strive to be a better YOU and with that I thank the ladies of Baumholder, Germany for making me- a better me.
Here's one from Rebecca about her love of running:
About four years ago I moved from Toronto, Ontario to Ottawa. Moving to Ottawa meant saying goodbye to all my family and friends, and also goodbye to my full-time teaching job. Although I was lucky to get some part-time occasional work right away, I found myself with lots of time on my hands.  As someone who had never been in some sort of educational institution the day after Labour Day (when school starts here) – I felt at a loss of what I should be doing. I had almost no friends, no career and no money. So I decided to take up running!
I was a track athlete in high school – running sprints, hurdles and relays.  However, all my races were short – max being 400m. I remember one year competing in my school's annual 1 mile run and it being the worst "race" ever – I came in dead last and said that I would never run long distance again. 8 years later, I'm not sure what came over me, but I decided to go out for a run one day.  I could barely make it past a KM without stopping the first few times. For the first few weeks I stuck with running 2K and 3K. Eventually I did get a more steady job (which included coaching track and field!), but I still continued to run.
While sitting in the lunch room one day, people were discussing the upcoming Ottawa Run Weekend races (our biggest race of the year). On a whim, I decided to sign up for my very first 5K race. I set the bar fairly low – wanting to finish in 40  minutes. At this point in my running career, I had no idea how slow or fast I was running. I did not know what a Garmin was, nor did I have any clue what a negative split was. I was a nervous wreck the day of the race – but I was looking forward to it. I figured that it wouldn't be too bad. During the race, I did have to stop for a rest a couple times – but I came in well under my goal in 33 minutes. Later the summer I signed up for more races – and eventually ducked under the 30 minute mark.
The following year, I signed up for more race – but running had to take a backseat as I found out that I was pregnant. I ran the Ottawa Run Weekend 5K again, but because of the high humidity and being pregnant – I ended up having to walk half the race. This past season I had my little running buddy with me! We went on runs almost every afternoon that the weather cooperated. Although I did not PB – I did manage to get a sub-30 time in one race while pushing Max in the Chariot! I also ran my first 10K and half-marathon. To think, the girl who couldn't run 800m before, now can run 21+ KM's!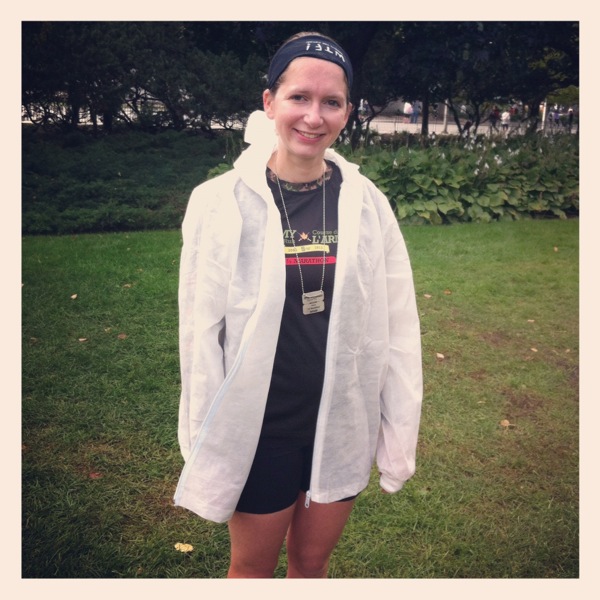 In the past couple of years I have taken my love of running to the next level. I have encouraged people to sign up for races, starting a running (and other things) blog, and worked on my own fitness. I am positive that my 2013 season will be my best yet! I am also looking forward to signing Max up for his first 1K race one of these days!
Samantha's running story:
My fitness story might be different than a lot of people that read 'health blogs' because I have never been overweight and I have always been an active person. I did 3 sports in high school (swimming, cheerleading, and gymnastics), but gained about ten pounds in my first year of college. I knew that I wouldn't be happy with myself unless I became active and athletic again, so I joined a gym. I tried running on the treadmill and hated it with a burning passion. I tried the elliptical and thought it was the most boring thing in the world. I tried weight lifting and didn't have a clue what to do. This went on for maybe another year and a half before I realized how badly I wanted to find a fitness passion. I have always admired runners, but like I said, I couldn't stand to run on the treadmill for more than 2 minutes at a time.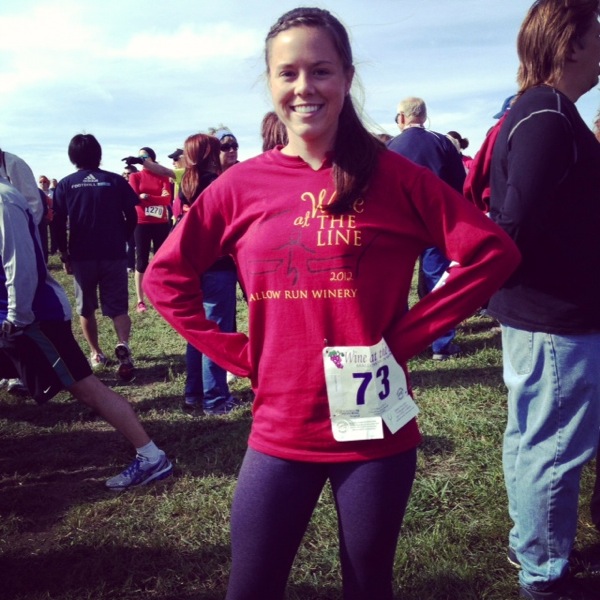 I thought running would be something that I would always hate, but I would do it to be more fit. I started doing intervals on the treadmill and hated it a little less, but I still couldn't run a mile without walk breaks. Gradually through this process of trying to be a 'runner' I realized that I needed to slow my pace down and focus on building up my endurance. After slowing my pace wayyy down I was able to run a mile without stopping! This was so inspiring to me. I kept running and slowly building up my distance. This was a very slow process, but I was starting to LIKE running. Not love it, but like it. I liked how strong I felt afterwards. I liked telling my fiance that I ran more than I did the week before. I am proud to say that all my friends now call me a 'runner'! I run about 4 times a week varying distances between 2 miles and 10 miles. I don't take walk breaks anymore and 99% of the time I feel amazing when I run! I honestly think it has helped me in every aspect of my life: self-esteem, stress relief, sleeping, eating healthy, etc. I am signed up for my first half-marathon and I couldn't be more happy with my fitness story. I hope others that think the way I did about being a 'runner' will give it a chance and push through the hard stuff because it's worth it.
and Erica, who is a fellow group fitness instructor:
I started seeing a personal trainer in 2009, after really hitting a low in terms of my self esteem and body image. I grew up feeling very aware of my body in ballet and figure skating. As I finished high school and went to college, I hit a place with my weight that seemed to stick. I wasn't super overweight, but I felt so heavy. I thought about it constantly but didn't really tell anyone. It continued like this for years. After I finally sought help with a trainer, I started to gain confidence. I always loved going to the gym, dancing, and working out, but I never really made much physical progress, so the trainer gave me the structure I needed to reach goals. As I lost weight I gained confidence and my sister suggested getting certified to teach group fitness. Doing that was the best choice of my life. Once I got certified I started a small bootcamp class made up of friends willing to be guinea pigs. What it has grown into, after almost 2 years, is not something I can easily put into words. My class is full of old and new friends, people who inspire me with their determination and progress. I can have a bad day, but the moment I walk in to teach, that feeling dissolves and I'm happy to be doing something I love. I have had ups and downs since I started teaching, but in those moments during my classes and training sessions, I am happy, I am confident, and I wouldn't give it up for the world.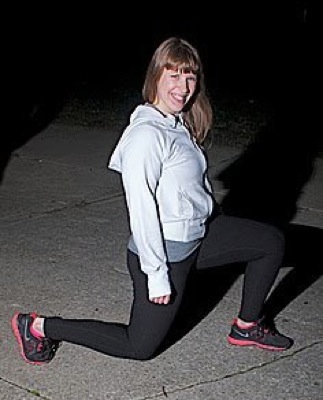 So tell me friends, who was your first fitness inspiration when you were first getting started? For me, it was a personal trainer at the base gym in Fayetteville named Michelle. She taught spin classes and also did figure competitions. I met with her a few times to discuss strength training strategies and nutrition. She was especially insightful and encouraging, and helped me to back off the cardio (a little- I still love me some cardio) and really get into strength training.
See ya in the morning!
xoxo
Gina
NEW fashion post: Bleach pen DIY! I can't wait to try this one.